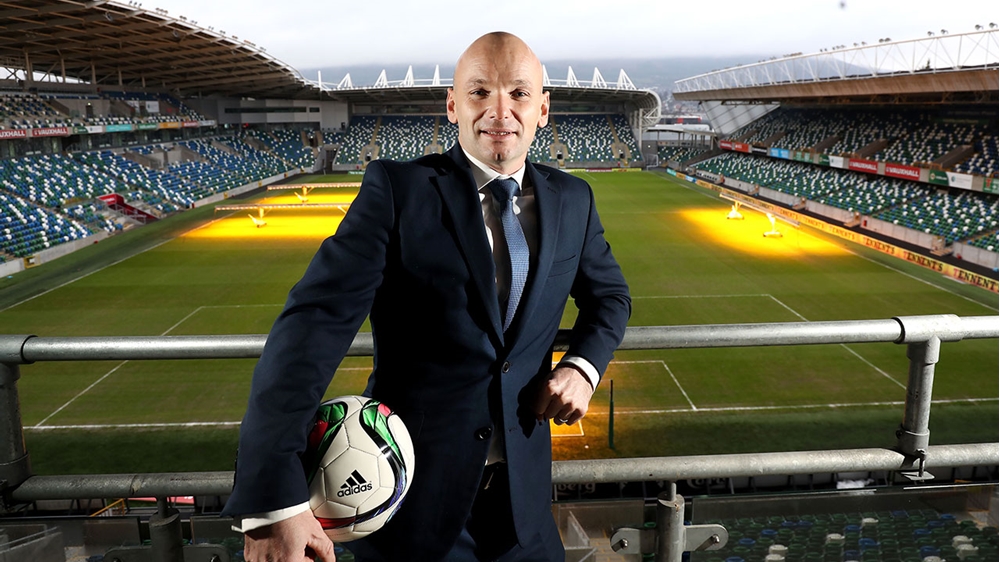 The Irish Football Association has appointed Sean Murphy as its first Chief Operating Officer.
Sean joins the association from Ulster Bank where he has been Managing Director of Personal Banking in Northern Ireland for the last two years. 
He said: "I am really looking forward to being part of the Irish FA. The role combines what I am passionate about in my personal life with what I am passionate about in my career. 
"From my years in Ulster Bank I have seen how Northern Ireland has really begun to thrive from a business perspective. I believe that football is integral to the ongoing success of brand Northern Ireland. Football has the power to bring people together. It bridges the religious divide."
The avid football fan added: "During my time with the bank I have always found that companies can only be elevated through people and I see this very much continuing in my new role." 
Irish FA Chief Executive Officer Patrick Nelson said: "We are extremely pleased someone of Sean's calibre will be joining us. He brings a wealth of business knowledge and business acumen to the association."
In the COO role Sean, who will bepart of a revised Senior Leadership Team reporting to the CEO, will focus on ensuring the IFA delivers against its business goals and objectives.
He will be responsible for football operations, including domestic competitions, player registration, international teams administration and club licensing, along with sales and marketing, ICT, stadium operations, HR, security and quality management within the organisation.
People management and leadership, optimising operational effectiveness and corporate performance as well as supporting the CEO and Board in the development of a change programme will be among his main duties, too. 
Sean, who lives in Crumlin, County Antrim, supports Manchester United, Barcelona and Northern Ireland. Ironically his "best football moment" came in April 2008 when he attended the UEFA Champions League semi-final at Old Trafford in which Paul Scholes scored a wonderful volley for United in a 1-0 win over Barca.
The new COO, who took his Level 1 coaching badge with the IFA, coaches Crumlin United's under-14s, who play in the South Belfast League, and is a member of the Crumlin United Academy committee. He is also a regular spectator at Crumlin United's Amateur League games.
He played the game at school and in university but not at club level. And he loves "watching all football".
Sean, who has a Bachelor's degree in Politics and Economics from Queen's University in Belfast, joined Ulster Bank in 1996. He will take up the newly created post with the Irish FA this summer.
He was Regional Manager of the bank's Northern Ireland branches for several years and also spent two years as Regional Manager of the bank's branches in the Republic of Ireland between 2007 and 2009.
In October 2015 he became Regional Managing Director of Branch and Private Banking in Northern Ireland.