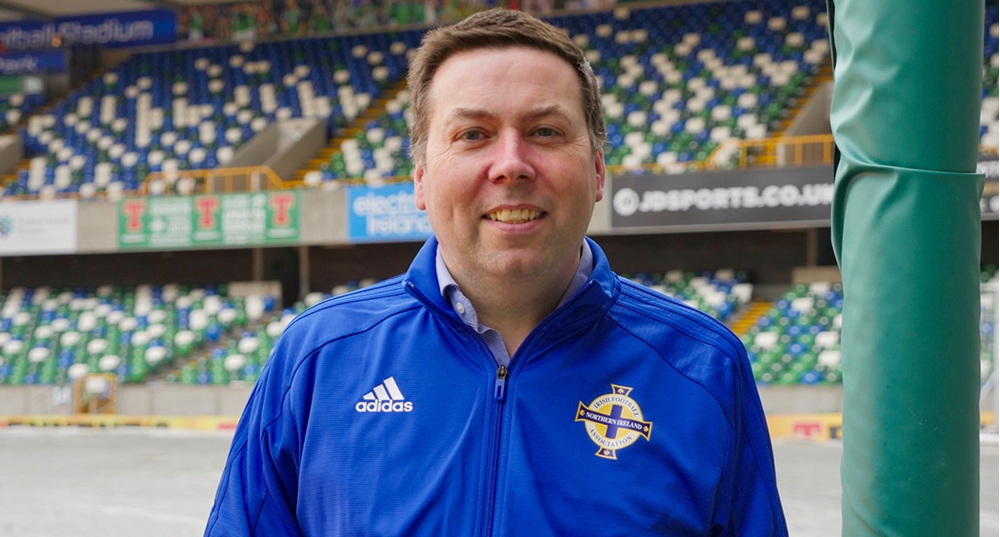 In an ongoing Q&A series we are highlighting the people who make the Irish Football Association tick.
Name: Keith Gibson.
Job title: Football For All Manager, Irish FA Foundation.
How long have you worked for the IFA/Irish FA Foundation? 11 years.
What's your role within the association? I am fortunate to head up a varied team within the foundation. The Football For All team covers disability football, refereeing, girls' and women's domestic football, outreach programmes, safeguarding, post primary education officers and the Peace programme.
Describe a typical working day for you. I don't really have one. It can be out at a Game of Three Halves fun day, meeting with clubs or community groups, helping to run a special schools competition or strategy planning for the women's and girls' game. Every day is very different, which is what I like so much about this role. 
What's the best thing about your job? I love football and how it makes such a difference in people's lives. To be able to be a small part of thatis a very rewarding way to spend your day.
What are the biggest challenges you face in your role? Turning negativity around. And dealing with people who say 'we have always done it this way, why change?'.
What are you most proud of? I spent seven years in Craigavon as an IFA grassroots officer. The programme that we built - Team Craigavon - is something I am still proud of. Nowadays I am delighted to be part of a hard-working team that delivers quality programmes and makes a difference in a lot of people's lives.
Where did you work – and in what roles – before you joined the IFA? After leaving school I worked in TSB/First Trust Bank for 20 years as a computer programmer.
Are you/were you involved in football beyond your role with the association? I was a coach at Ridgeway Rovers for several years, also at the Linfield Academy, and I still do a lot of community coaching when I get time.
Are you involved in any other sports? I still play cricket in the summer at Stormont, and will continue to do so as long as the tea and buns are of good quality.
Where did your love of football emanate from? I was going to watch my dad play on Saturday afternoons from a very early age and my earliest memory is playing in the street with my cousins. Then I started going to watch Irish League games and playing in the BB leagues. I just loved it from the first moment I kicked a ball. To be able to work in football is a dream come true.
What qualifications do you have? I have a UEFA A coaching licence, a BSc (Hons) in Management Practice and a Latin 'O' Level!
Who (if anyone) has provided inspiration for you during your career?  My family have always been a big inspiration and support. When I changed from banking to football a lot of people thought I was having some sort of mid-life crisis but my family backed me fully to follow the dream. Lots of other people - too many to mention - have inspired me, from my first football coach to my colleagues now. I like to be around positive people who want to see football and society changed for the better. I am fortunate to know lots of those people.
Any other interesting facts about you that we should know? My record of three goals in 220 appearances for Grosvenor still stands.