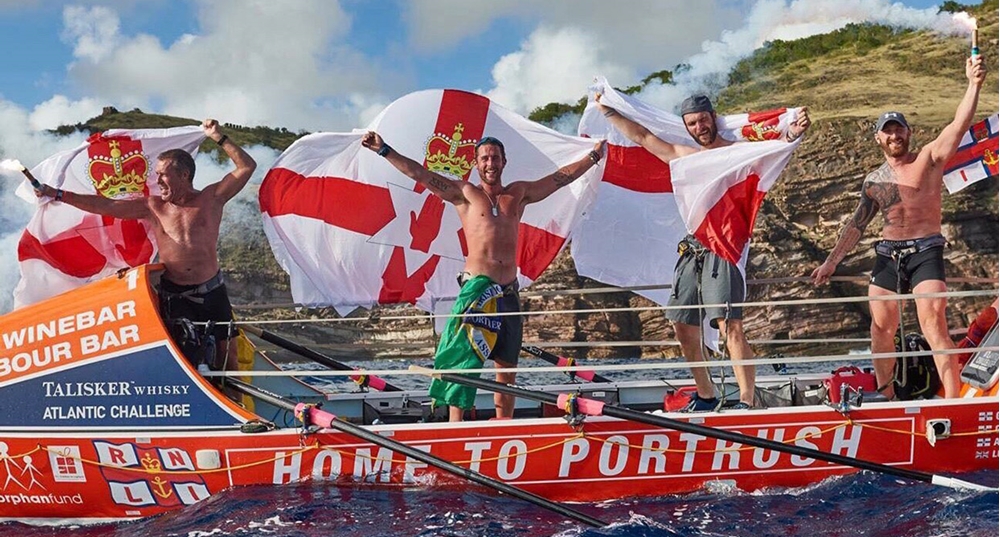 The first Northern Irish rowing team to complete the Atlantic Rowing Challenge finished it while wrapped in a Northern Ireland flag - and it turns out they are huge Northern Ireland fans.
The four-man Home To Portrush team - consisting of Ally Cooper, George McAlpin, Gareth Barton and Luke Baker - were naturally elated after their efforts in the world's toughest rowing race.
It started in December from La Gomera in the Canary Islands and finished in Antigua - a distance of 3000 nautical miles.
The boys, who completed the challenge in a boat just seven metres long and two metres wide, had predicted a February finish but managed to cross the finish line on Sunday 14 January at 8pm, placing them fifth overall out of 28 teams.
We caught up with Ally Cooper to let the team know they were our January Fans of the Month. 
How does it feel to be our first Fan/s of the Month for 2018? 
It feels great. My first memories of watching the team are on TV at the 1982 World Cup and I have followed them through thick and thin since. We have the best fans in the world so to be put forward for this is a real honour.
What are your experiences of Northern Ireland games?
Always the best atmosphere anywhere. I have friends living in other countries who are jealous of the way we always are behind the team no matter what. I have mates who told me how much in awe the German players were of the fans during the game at the Euros. I remember the time when we struggled to score a goal never mind win games and the fans were always behind the team.
To cross the Atlantic takes a lot of determination, fight and commitment – are these traits you feel you all share with our national team?
I think those traits are embedded in all Norn Iron people. We have lived through hard times and come out the other side through hard work and determination. We are a small country with a big heart and always punch above our weight.
During the race we weren't the most gifted rowers and didn't have the combined power that some of the other teams had but we more than matched them in heart!
Unfortunately we also came behind a Swiss team just like the play-off but they knew they were in a fight and we pushed them right to the end. Plus, while they were a really nice bunch of lads, it was also nice to finish above the team from the Republic of Ireland.
How do you see Northern Ireland performing in the upcoming Nations League?  
I think we have a great chance. Neither team (Austria or Bosnia and Herzegovina) will want to come to Windsor and we should win the home games. And I can see us picking up a win away from home. With Michael signing a new contract the squad will be on a high and should go from strength to strength. GAWA!
This wasn't just a fantastic achievement, it was also for a fantastic cause...
We are very aware of the contribution that the Portrush lifeboat (RNLI) makes to the local community. Each shout costs on average £6000 and all money comes from charitable donations.
As a seaside town all volunteers and crew are our local unsung heroes. Our challenge is to raise much-needed funds for our local station and also some other charities very close to our heart, namely Row For Ross and Willie's Orphan Fund.
You can make a donation to Home To Portrush's Just Giving page by CLICKING HERE and see a selection of images from their journey in the gallery below.