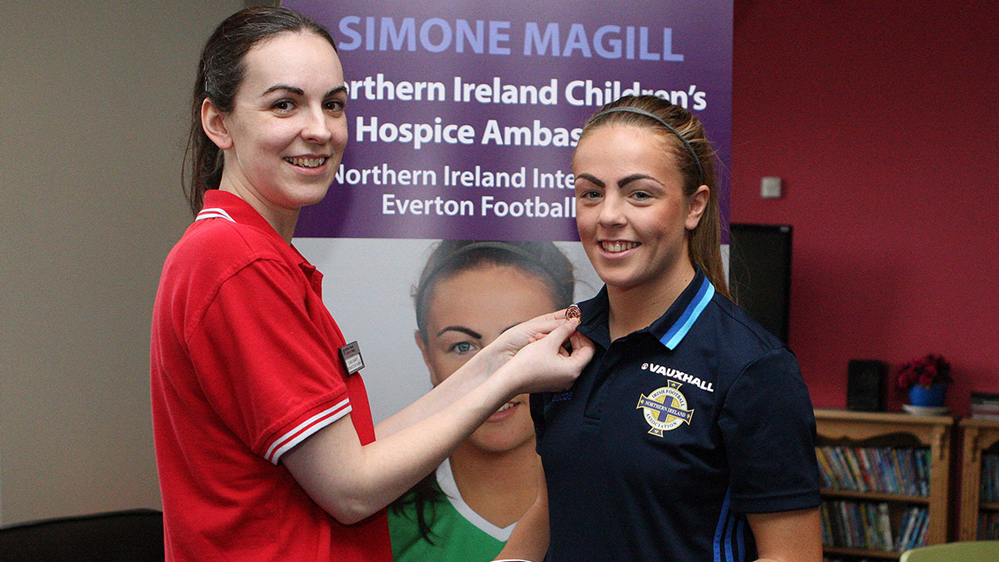 Senior women's international Simone Magill has become an ambassador for the Northern Ireland Children's Hospice.
The 23-year-old from Magherafelt, who plays for Everton Ladies, took time out from preparing for a Women's World Cup qualifier away to Slovakia next week to tour the hospice and receive her ambassador's pin from nurse Ciara Barry. 
She was accompanied to the Newtownabbey-based hospice by Northern Ireland Senior Women captain Marissa Callaghan and team-mate Julie Nelson.
Simone, who holds the record for the fastest-ever goal scored in women's international competition, joins an illustrious line-up of ambassadors associated with the charity, including Celtic manager Brendan Rodgers, TV host Eamonn Holmes and world youth golf champion Tom McKibbin.
A sports education graduate, Simone became the first player from Northern Ireland to become a professional with a Women's Premier League club in England when she joined Everton in 2013. In 2014-15 Everton fans voted her player of the season.
The international striker, who made her international debut for Northern Ireland aged just 15 and has won 45 senior caps, said: "I am extremely proud to become an ambassador for Northern Ireland Children's Hospice, a charity I hold very close to my heart. 
"It is the only children's hospice in Northern Ireland and we all know and appreciate the amazing dedication that goes into providing palliative care and support to young patients and their families.
"It was without any hesitation that I agreed to become an ambassador of this wonderful charity. I am very humbled to be a part of it and very thankful for this opportunity to work alongside staff, families and patients." 
Northern Ireland Hospice Chief Executive Heather Weir said: "Northern Ireland Children's Hospice is very fortunate to have the endorsement and support of two great young sports stars, Simone Magill and Tom McKibbin. 
"When I first learned of Simone's career I was fascinated. I think it's wonderful that someone so young has achieved so much both academically and in her chosen sport. There's only one girl in the world who can say she scored the fastest goal in international football, and she's one of our own. We are very proud to have her in our team and excited about working with her in the future."
Grace Stewart, Head of Clinical Services at Northern Ireland Children's Hospice, said: "It's great to see Simone take on the role of ambassador. Through her profile and popularity she will reach new audiences and raise awareness of our work in the hospice and in the community, and that level of support is priceless."