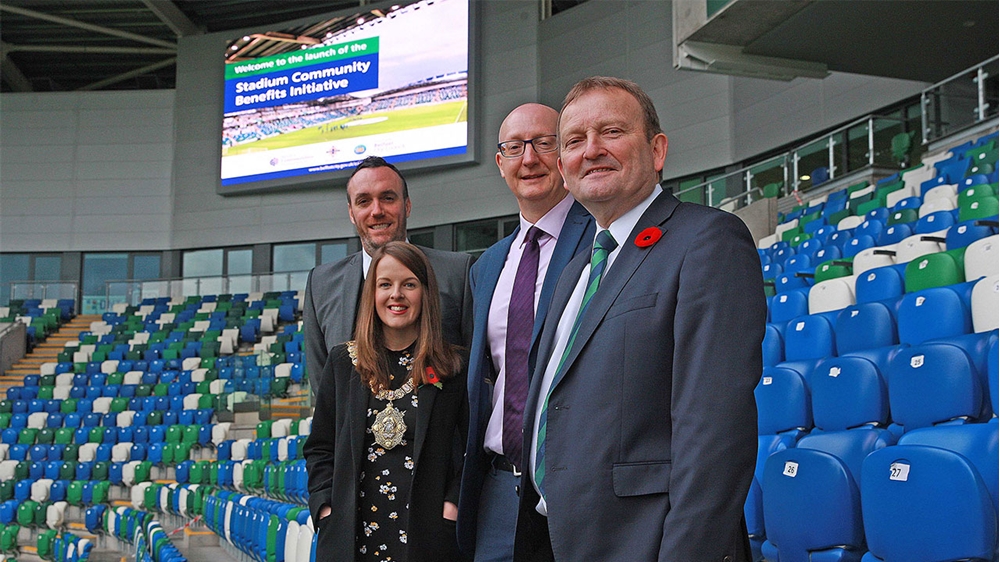 A new initiative, aimed at maximizing the potential of the new National Football Stadium at Windsor Park to deliver positive social benefits to the wider Belfast community, has been officially launched today (Thursday).
The Stadium Community Benefits Initiative is a ten-year, £1.5 million programme developed by Belfast City Council, the Irish Football Association (IFA) and the Department for Communities.
The initiative will see the new Stadium act as a catalyst for a wide range of programmes and projects aimed at promoting community engagement through schools, clubs and youth organisations; supporting new and existing football clubs to increase their capacity to develop and grow; as well as generally promoting wellbeing and healthy lifestyle choices among the wider population.
The scheme will offer coach education, funding support, volunteering opportunities and a wide range of other activities, including walking football and Futsal. It will also see the Stadium and its facilities made available for the hosting of community-based events.
Michael Boyd, Irish FA Director of Football Development, said: "The Irish FA aims to promote, foster and develop football for all in Northern Ireland and is committed to using the National Football Stadium at Windsor Park to bring positive benefits to communities across Belfast.
"This initiative, which the Association is funding with Belfast City Council, will enable us to use football to deliver programmes in areas such as mental health, capacity building, community relations and wellbeing. I look forward to seeing the impact it has in the months and years to come."
Launching the scheme, the Lord Mayor, Councillor Nuala McAllister, said: "Belfast City Council is delighted to be working in partnership with both the Irish Football Association and the Department for Communities to deliver this innovative programme, which is one of many projects that the council has committed to deliver in collaboration with our City partners, to help us achieve the City's ambitious vision set within the Belfast Agenda.
"The Belfast Agenda was created by key city partners, residents and community organisations and sets out our joint vision and long-term ambitions for our great city. By 2035 we want Belfast to be a city here everyone benefits from a thriving and prosperous economy; that is welcoming, safe, fair and inclusive for all; that is vibrant, attractive, connected and environmentally friendly; where everyone experiences good health and wellbeing; and where everyone fulfils their potential.
"Many of these ambitions can be realized through sport.  Sport has helped to bring local communities together, helped to put their differences aside and form a bond over a common interest.
"Local sports clubs, community organisations, coaches and volunteers give tirelessly of their time to provide opportunities for the people of Belfast to take part in a wide range of sports and physical activities, in all parts of the city. Through the work of local clubs, our young generation are given a chance to learn and develop essential life skills: learning how to work as a team, developing social skills as they interact with their team-mates and opponents and acquiring a work ethic as they strife to obtain their personal best.
"Through the creation of this exciting new initiative we aim to support local clubs and community organisations to increase their capacity to deliver more programmes, creating more and better quality opportunities, to ensure we get more people more active more often. We also intend to support our local coaches and volunteers to fulfil their potential through the delivery of coach education schemes, club development training and mentor programmes.
"The Stadium Community Benefits Initiative has the potential to make a real difference in communities' right across Belfast."
Fergus Devitt, Director of the Active Communities Division of the Department for Communities, concluded: "During the delivery of the Regional Stadia Programme, the Department for Communities has worked closely with the Irish Football Association in their delivery of the National Football Stadium at Windsor Park, and with Belfast City Council to complete the new Olympia Leisure Centre.
"The Department for Communities and our delivery partners are determined to maximise the legacy impact of these significant capital projects.
"Through sustainable development that is carefully linked back to the community level, the Stadium Community Benefits Initiative seeks to improve the quality of life now and for future generations. This presents a valuable opportunity to reach out to those who have been socially marginalised and excluded across Belfast."
For more information on the Stadium Community Benefits Initiative, and how to become involved, visit http://www.belfastcity.gov.uk/leisure/sportsdevelopment/stadiumcommunitybenefits.aspx.