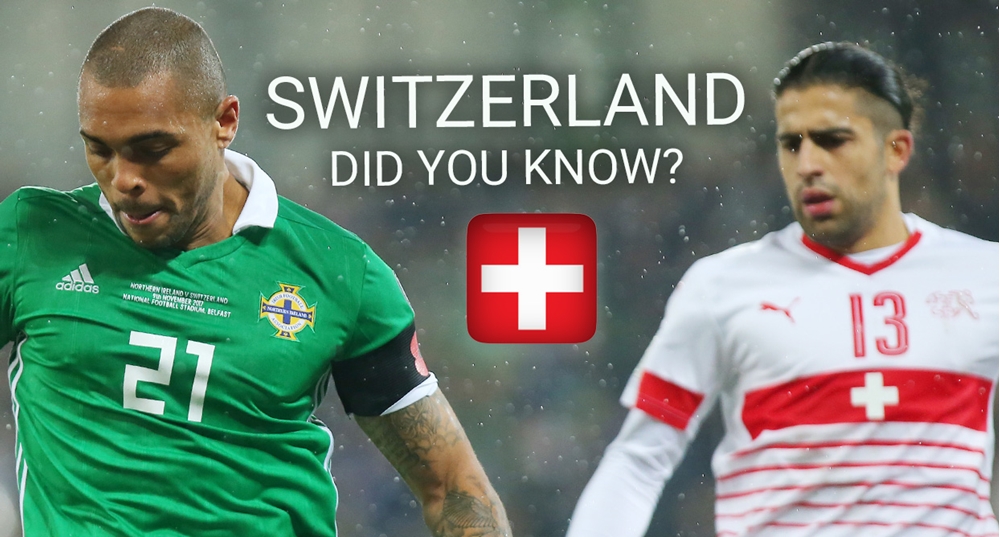 Northern Ireland are about to play one of the biggest games in our history and need to beat Switzerland in Basel to qualify for next summer's FIFA World Cup finals in Russia.
What better way to prepare for the game against the Swiss than to research exactly what they're famous for? For example, did you know Switzerland invented Velcro? Some of you may find that to be a bit of a rip off.  
Here's some facts about Switzerland that you may not have known:
-       Switzerland supplies the coffee machines for more than 21,000 Starbucks shops across the globe
-       Swiss citizens are required to own a bomb shelter – there are more than 8,000 built into the natural surroundings
-       They perform particularly well in yachting events – even though the country is completely landlocked
-       The country is home to more than 450 varieties of cheese
-       The Swiss make about 200 million litres of wine a year and consume nearly all of it themselves – only about 2% makes it to other parts of the world
-       They have the highest percentage of people over 100 years of age in Europe and one of the longest average life expectancies of any country in the world
-       Switzerland is one of only two countries in the world to have a square flag (the Vatican being the other)
-       It is prohibited to own a 'social animal' unless you have two of them – this would include guinea pigs, mice, ferrets, fish, canaries and pigs
-       Albert Einstein developed his famous formula E=MC2 in Switzerland
-       The only tool on a Swiss Army knife that was not made by the Swiss is the corkscrew - which comes from Japan
-       There is a 500-year-old statue of a man eating a sack of babies in Bern, Switzerland – although no-one is 100% sure why
-       Every main entrance to Switzerland is wired to explode in the event of an invasion
-       There is a political party called the Anti Powerpoint Party. It works towards decreasing the use of Powerpoint in professional presentations.
-       If you're in Switzerland you may notice it being abbreviated to CH because of its Latin name, 'Confoederatio Helvetica' – which is where the font Helvetica comes from
-       There is a giant three-legged chair in Geneva, Switzerland
Certainly an interesting country, now let's hope for a fantastic result! 
Northern Ireland play Switzerland in a FIFA World Cup Play-off second leg today, Sunday 12 November. You can follow the game on all our social media channels.