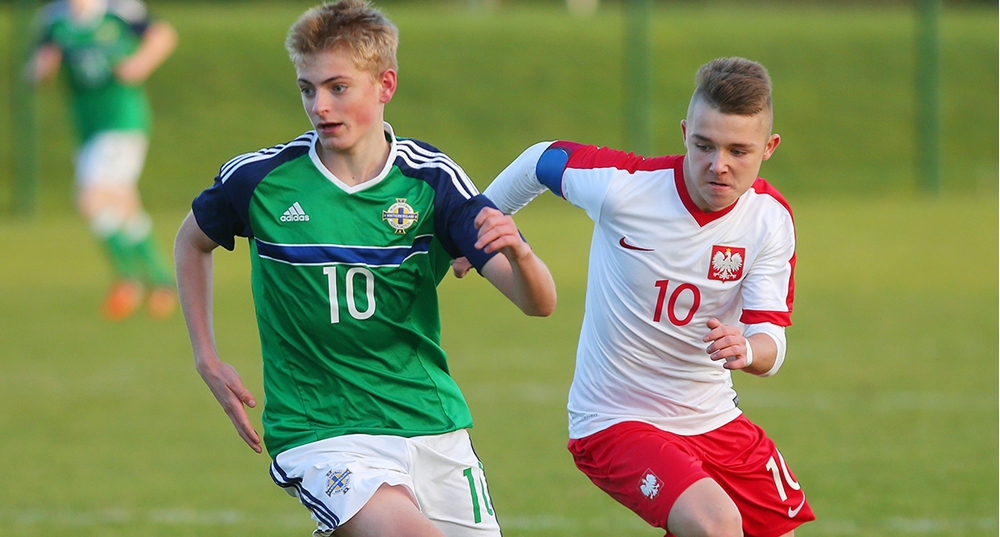 Northern Ireland's U16s lost out to a strong Poland side this afternoon in the first of two friendly games against the Poles this week.
The visitors from eastern Europe dominated the early exchanges but Northern Ireland gave as good as they got across the bulk of the 80 minutes and were a tad unlucky to lose 2-0. It was an entertaining encounter.
Queen's University's Dub complex in south Belfast was the venue for part one of this week's double header.
Poland started the game brightly and only a last ditch tackle from Trai Hume prevented the Schoolboys' side from going behind in the opening minutes.
However, the Poles broke the deadlock shortly after when Michal Rakoczy latched on to a misplaced pass to beat a defender before finishing past Conner Byrne in the Northern Ireland goal. 
Byrne was called into action again minutes later when a free-kick evaded the defence and the keeper reacted smartly to keep the ball out.
Northern Ireland's first effort in the game came from Eoin Teggart, whose shot from a tight angle just missed the post.
Carl Johnson was next to threaten when he beat a pair of Polish defenders only to blaze his shot over the bar.
The second half started in similar fashioin to the first with Poland on top. Conner Byrne reacted well to push away a Bartosz Zynek goalbound effort and then shortly after he was alert to save an Arkadiusz Baran strike from distance.
Encouraged by energetic captain Dylan Boyle, Northern Ireland created a couple of half-chances, the best of which saw an Alberto Balde header drop just wide of the target.
The second Polish goal came around the midway point of the second half when Filip Marchwinski blocked an attempted clearance by the keeper and slotted the ball into the net from close range.
The game lost its flow a little after a string of changes by both sides but Northern Ireland did threaten late on. Chris Hutchinson dragged a shot wide of the upright when well placed.
Substitute Charlie Lindsay had a fantastic chance to get himself on the scoresheet on his debut when he robbed the Polish goalkeeper of the ball and unleashed a shot but it was blocked on the line by a recovering defender.
Afterwards team coach Darren Murphy said the Poles had provided strong opposition but he felt the Northern Ireland team acquitted themselves well. He pointed out three members of his panel were playing a year down from the U16 age group, while 13-year-old Lindsay was playing two years down.
He further revealed Northern Ireland have not defeated a Polish team at underage level since 2003 but he hopes to put that right in the second game, which is being staged at Stangmore Park in Dungannon on Thursday (30 November) at 3pm. 
Northern Ireland: Conner Byrne, Jack Scott, Sean Stewart, Trai Hume, Dylan Boyle, John McGivern, Carl Johnson, Ben Wylie, Peter McKiernan, Eoin Teggart, Alberto Balde. Subs: David Walsh, Jesse Carson, Chris Hutchinson, Gerard Storey, Conor Bradley, Barry Baggley, Ben Gallagher, Charlie Lindsay.
 You can view a gallery of images from the game below: 
Northern Ireland vs Poland Under 16s