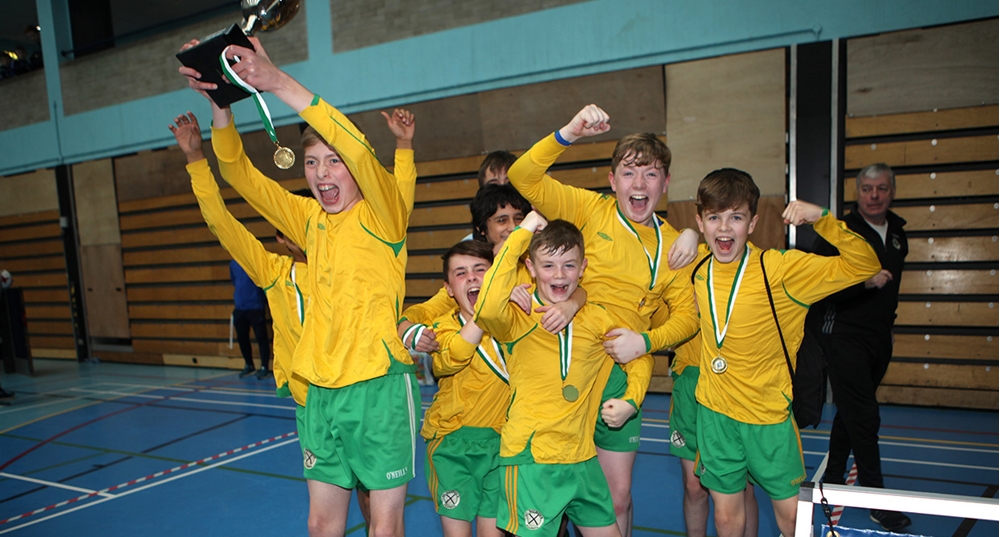 Teams from across Northern Ireland picked up silverware in this year's Post Primary National Futsal Finals.
Nine regional heats were held across the country with 960 girls and 620 boys participating in Year 8/9, Year 10/11 and Year 12-plus (girls only) tournaments.
And the winners of each regional heat made their way to Lisburn LeisurePlex to compete for the national futsal trophies.
The girls' finals covered three age groups with 29 teams participating.
In the year 8/9 tournament east Belfast school Bloomfield Collegiate met Ballymoney High School in the final and after a tight fought contest Ballymoney High secured the title following a 2-1 victory.
Former winners St Louise's College (Belfast) met a very strong Enniskillen Royal outfit in the year 10/11 final. It was a tightly contested game and Enniskillen Royal ran out 1-0 winners with Linfield Ladies player Casey Howie scoring the decisive goal.
Belfast Model School for Girls played last year's winners and near neighbours Mercy College in the 12-plus decider and it turned out to be an exciting derby match. Mercy won it 2-1 to retain the title.
In the boys' finals there were 16 teams competing in the 8/9 and 10/11 categories from across Northern Ireland.
Mind you, it was a local Lisburn school which shone on the day in the Year 9 competition.
St Patrick's Lisburn won three games to secure a semi-final spot along with Abbey Community College (Newtownabbey), east Belfast school Our Lady and St Patrick's Knock and Holy Cross Strabane. 
In two thrilling semi-finals it took penalties to split OLSPCK and St Patrick's with the latter going through to the final, while Abbey overcame Holy Cross in another entertaining game.
St Patrick's were deserved winners in the final despite a gutsy performance from Abbey Community College.
In the Year 10/11 tournament last year's winners Laurelhill (Lisburn) won their group to book a place in the semi-finals along with OLSPCK, who were best runners-up. In the second group Boys' Model (Belfast) and Enniskillen Royal progressed to the semi-finals.
In the first semi Boys' Model defeated Laurelhill and shortly after OLSPCK booked their place in the final with a convincing win over Enniskillen Royal.
Boys' Model took an early lead in the final and eventually ran out worthy winners.
See below for a gallery of pictures from the futsal finals:
Post Primary Futsal Finals