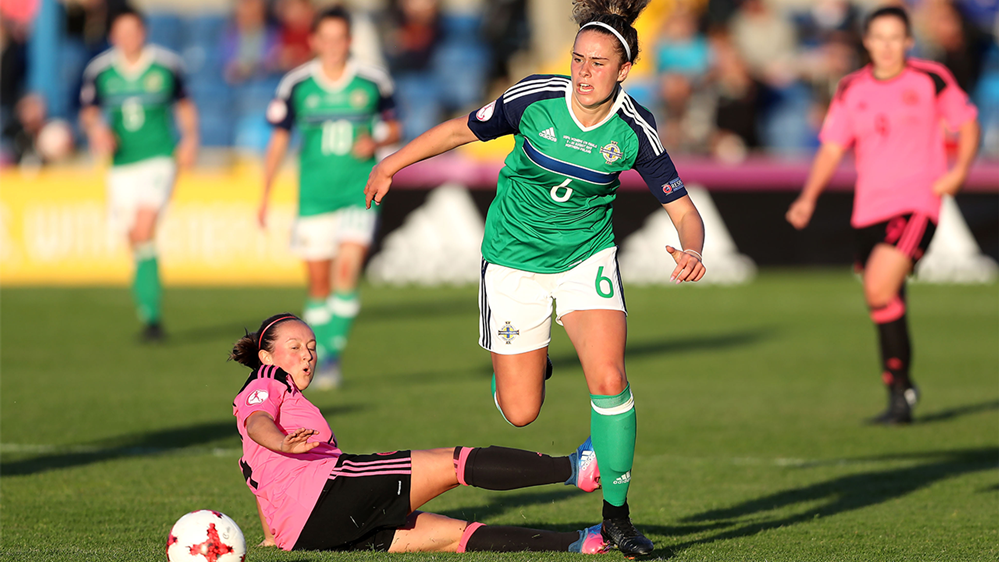 Midfielder Brenna McPartlan has revealed she would love to take part in another major tournament with Northern Ireland.
The Manchester City women's development squad player put in some solid performances for her country during the UEFA Women's Under-19 Championship back in the summer.
And her reward is a first call-up to the Northern Ireland Senior Women panel - for next week's World Cup qualifier with Slovakia. 
She revealed today she "absolutely loved" the big tournament experience in August, when Northern Ireland hosted the UEFA WU19 finals, and she would love to get to a major tournament again. 
The 18-year-old midfielder, who combines her development as a player at Man City with sports studies at college, feels the step up to the senior squad is "massive", however she is really enjoying the experience.
Alfie Wylie's squad have been training at the Bangor Fuels Arena over the past two days before jetting off to Slovakia tomorrow ahead of the game in Zilina next Tuesday (28 November).
"Being here will help me improve as a player. I am with more experienced players and I have learnt a lot. The intensity is a lot higher and it's been really good," she said.
At Man City Brenna gets to train with the first team squad once a week and she says training with Northern Ireland's senior women is similarly tough. 
She pointed out: "At this level you have got to get results. It's all about winning. And the way you play is different. You need to be stronger, more physical.
"I want to learn when I am here. And hopefully I will get more opportunities to play for Northern Ireland in the future."
After losing out to Norway (away) and Republic of Ireland (home) in the first two games of their Women's World Cup France 2019 qualifying campaign, the Senior Women will be aiming to put points on the board when they take on the Slovakians next week.