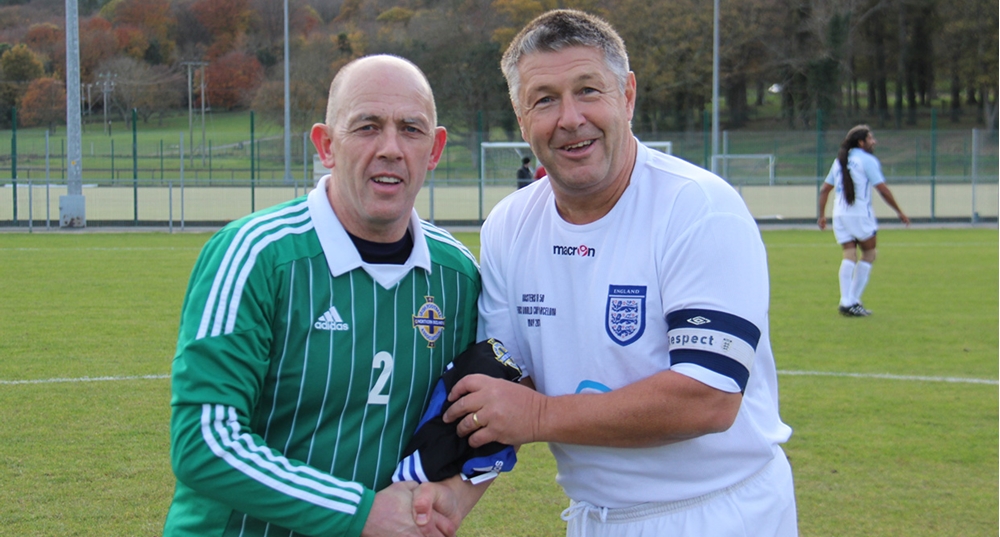 Northern Ireland Veterans played England in an Over 50's international game at Bear Park in Newcastle Co. Down at the weekend.
The picturesque setting of Newcastle Co. Down with the backdrop of the mourne mountains and the immaculate surface of Bear Park, home of local club Tollymore United set the scene for an excellent day.
The game started with its usual pattern of sussing each other out and the cagey old foxes moving the ball about both swiftly and smoothly as the old pro's look for weaknesses in each others armory.
Northern Ireland took the lead in the twenty-fifth minutes with a far post header from ex. Ballymena player Ian Hamilton after good work from Heath down the left who fed Gormley who delivered an inch perfect cross for the reliable Hamilton.
The game flowed well and although Northern Ireland had the majority of possession, the dogged England side kept plugging away and their constant aim of hitting Northern Ireland on the counter attack paid off when after sixty minutes they equalized when Steve Adkins slid home from eight metres after a mix up in the Northern Ireland defence.
Northern Ireland pressing for the winner nearly backfired when England won a penalty after hand ball on the line from Fra Miskelly.
Fortune favoured Northern Ireland when seventy-three year old former Glenavon player and manager Terry Nicholson got down well to his left to save the penalty.
In the end a draw was probably a fair result and as they say in football, everyone went home happy.
Chairman of NI Veterans football, Seamus Heath commented; "Although we love our football and take it seriously the other side of veterans football is the health & well-being aspect, friendships and social interacting which it offers and as we grow older it becomes an even more important factor."   
Veterans football is currently at an all time high in Northern Ireland with NI squads competing at over 40's, 45's, 50's and 55's. Over one hundred and eighty registered players are reaping the benefits of the IFA's 'Back in the Game' programme that is ongoing throughout Northern Ireland.
Next up is our annual 'Davy Smyth memorial trophy' game against the IFA's staff team, the 'Badgers' which is managed by our director of football, Michael Boyd.
Michael commented; "Veterans football is an important part of our strategy and we are witnessing excellent participation throughout our country with local clubs forming their own veterans sector and they can see a pathway to our NI Veterans team which plays on a local, national and world stage." 
You can view a gallery of the day at the bottom of the page. 
Anyone interested in getting involved in veterans football, should contact Ifa RGDO Seamus Heath at: seamus.heath@irishfa.com / 07515062882
Northern Ireland vs England O50