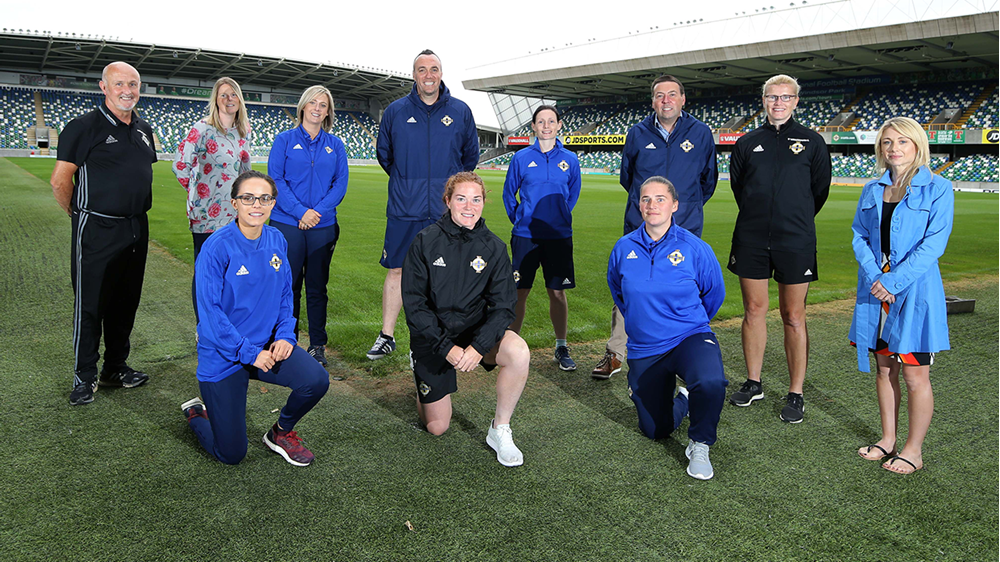 The Irish FA has set up a new Girls and Women's Football Sub Group bringing together the staff who focus on participation and player development.
The sub group will focus on ensuring a co-ordinated and strategic approach is taken to developing both girls and women's football.
Irish FA Domestic Women's Manager Gail Redmond said: "We are working very closely with UEFA and partners like Electric Ireland to strategically develop both girls and women's football. With UEFA's support we have recently recruited two new Girls Participation Officers and we are working with the UEFA Grow team to make sure we embed best practice.
"Through delivery of Let Them Play, our youth football strategy, and our new Girls and Women's Football Plan which is currently in development we are seeing real progress in participation in our new youth development programmes. This new sub group will help us move even further forward together."
Irish FA Director of Football Development Michael Boyd added: "I am setting this sub group up to help give girls and women's football a fresh focus. Developing the girls and women's game is a top priority for the Irish FA.
"We have made some good progress in this area in recent years but there is room for improvement. There is fantastic experience in this sub group and it has great potential to help us serve this key area of the game better in the future".
New Girls Participation Officer Clare Carson said: "Myself and Lauren Moore are excited to be the first ever girls participation officers within the Irish FA and to build on all the amazing work being done in the women's and girls game.
"Our focus in the next year will be to build opportunities for girls aged four to seven to start their journey in football, focusing on the fun factor, fundamentals for football through girls-only after schools taster sessions and festival days throughout the country."
On top of this the Irish FA has established four girls-only participation programmes starting in Derry-Londonderry, Dungiven/Mid Ulster, Bangor and Belfast, with another starting in February 2019.
The aim will be to have at least one centre established in each council area within the next two years to give girls a link from school activities to a community programme that can then link into local clubs, creating a clear structured pathway from classroom to club.
The overarching aim is to grow the number of girls falling in love with the sport from a young age and to encourage them to join local clubs, leading to stronger foundations at girls' clubs. Alongside this there will be support with mentoring and education within clubs.