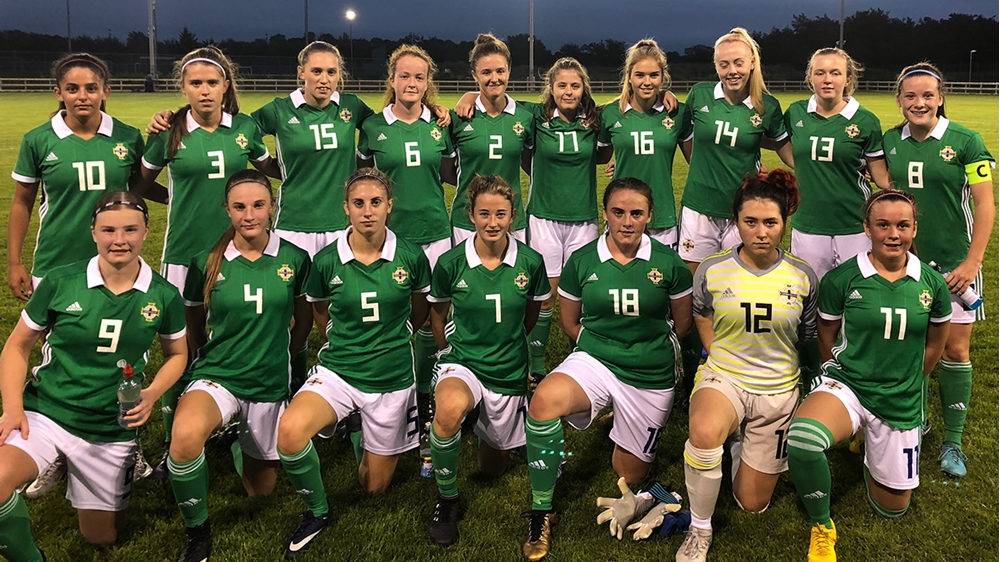 An injury to goalkeeper Lauren Perry put a dampener on a solid display by Northern Ireland Women U19s in the first of two challenge matches against Hungary Women U19s.
Perry, who is also part of the Northern Ireland senior panel, was stretchered off in the 22nd minute of the game at the Riada Stadium in Ballymoney after falling awkwardly on her knee.
She was due to have a scan on her injured knee today, but she will definitely not be available for the second challenge match, which is taking place in Ballymoney once again tomorrow (22 August) at 7pm.
Last night's game was a pretty even affair. In the first half both sides created half-chances but there were no clear-cut opportunities.
The game sprang to life after the break when Megan Bell fired in a cross which Kelsie Burrows duly converted to make it 1-0 to Northern Ireland.
Alfie Wylie's side then doubled their lead in the 55th minute. Bell was chopped down on the edge of the area and from the resulting free-kick she smashed the ball into the top corner. It was a cracking effort.
The Hungarians, however, then freshened things up with a series of substitutions, found a second wind in the closing stages and deservedly clawed their way back into it.
They pulled a goal back on 65 minutes when Ninetta Janosi poked the ball home during a melee inside the area.
Their equaliser, five minutes later, was an absolute peach. Sara Pusztai hit a cracking shot which fizzed past Lauren Currie, Perry's replacement, into the net to leave the final scoreline at 2-2.
Northern Ireland: Lauren Perry (Linfield Ladies), Yasmin White (Glentoran Women), Naomi Donnan (Linfield Ladies), Alexandra Collighan (Chichester City Ladies), Kelsie Burrows (Linfield Ladies), Caitlyn Hamilton (Crusaders Strikers), Rebecca McKenna (Linfield Ladies), Megan Bell (Linfield Ladies), Emily Wilson (Crusaders Strikers), Louise McDaniel (Linfield Ladies), Kaitlyn Canavan (Motherwell). Substitutes: (used) Lauren Currie (Glentoran Women) for Perry 22', Abbie Robinson (Crusaders Strikers) for Canavan 75', Aine Smyth (Ballynahinch) for Collighan 88'; (not used) Jenna McKearney (Glentoran Women), Chloe Atkins (Unattached), Khloe Cooper (Bradford City Women), Zoe Kilpatrick (Linfield Ladies).