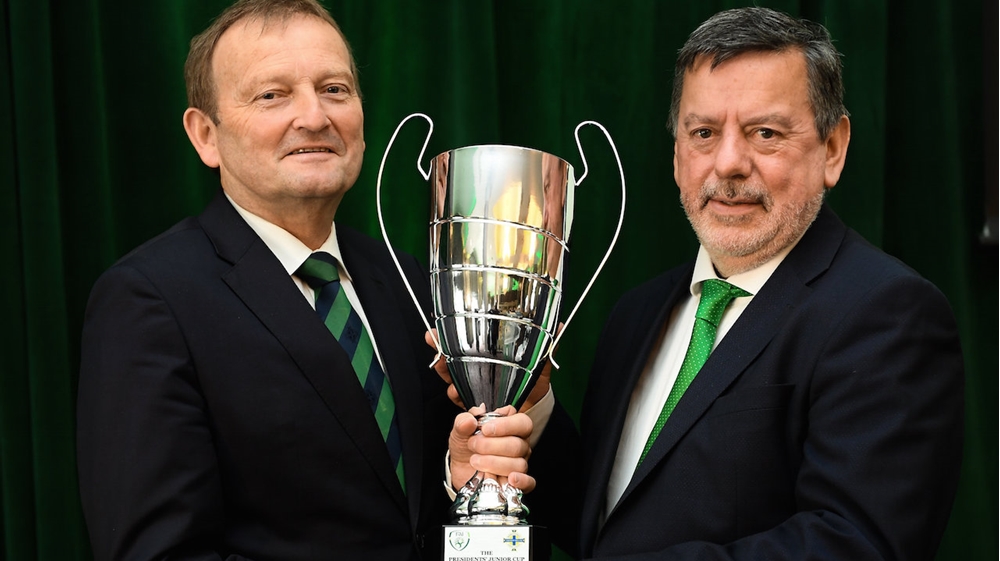 The winners of Northern Ireland's Irish Junior Cup and the equivalent competition in the Republic of Ireland will be vying for a new trophy in Dublin next weekend.
Enniskillen Rangers and Wexford's North End United are set to meet at Home Farm FC's stadium in Whitehall to contest the inaugural Presidents' Junior Cup on Saturday 25 August.
Details of the cross-border competition were revealed at the annual Football Association of Ireland Delegates Dinner and AGM, which this year was staged at Rochestown Park Hotel, Douglas, Co Cork.
Irish FA President David Martin, who became the first Irish FA President to address the FAI gathering, presented a trophy at the delegates dinner which the winners of next week's game will get to keep.
He said he hoped the match between the respective Junior Cup winners would become an annual fixture with Junior teams from both countries playing for a perpetual trophy.
Fermanagh and Western League side Enniskillen Rangers have won the Irish Junior Cup over the past two seasons - their most recent success was a 2-0 victory against Greenisland back in May - while North End United won the FAI Junior Cup for the first time in their history in May.
Outgoing FAI President Tony Fitzgerald and FAI Chief Executive Officer John Delaney, as well as Tanaiste (Irish Deputy Prime Minister) Simon Coveney, extended a warm welcome to the Irish FA President.
Addressing 400-plus guests at the delegates/grassroots awards dinner last night, Mr Martin said he was delighted to accept the invitation to attend the event and insisted relationships between the two associations were good and that both governing bodies had "lots in common" and were keen to forge an even stronger relationship.
He said the upcoming Presidents' Junior Cup match as well as a Junior international friendly between the two countries in Newry next week were proof of good co-operation.
The President also said he was looking forward to the forthcoming World Cup qualifier between the Republic's Senior Women and Northern Ireland Senior Women in Tallaght on 31 August, as well as the friendly between the countries' senior men's teams in Dublin in November.
Tanaiste Simon Coveney said he welcomed Mr Martin's "leadership" in improving relations between the two associations and said his address had shown Northern Ireland and the Republic of Ireland "are and should be friends and neighbours".
Earlier today Mr Martin attended the FAI AGM where the newly elected FAI President, Donal Conway, also extended a warm welcome to the IFA President.
Image: Irish FA President David Martin and Donal Conway, the new President of the FAI, with the inaugural Presidents' Junior Cup. Enniskillen Rangers and Wexford side North End United will compete for the trophy in Dublin next weekend.