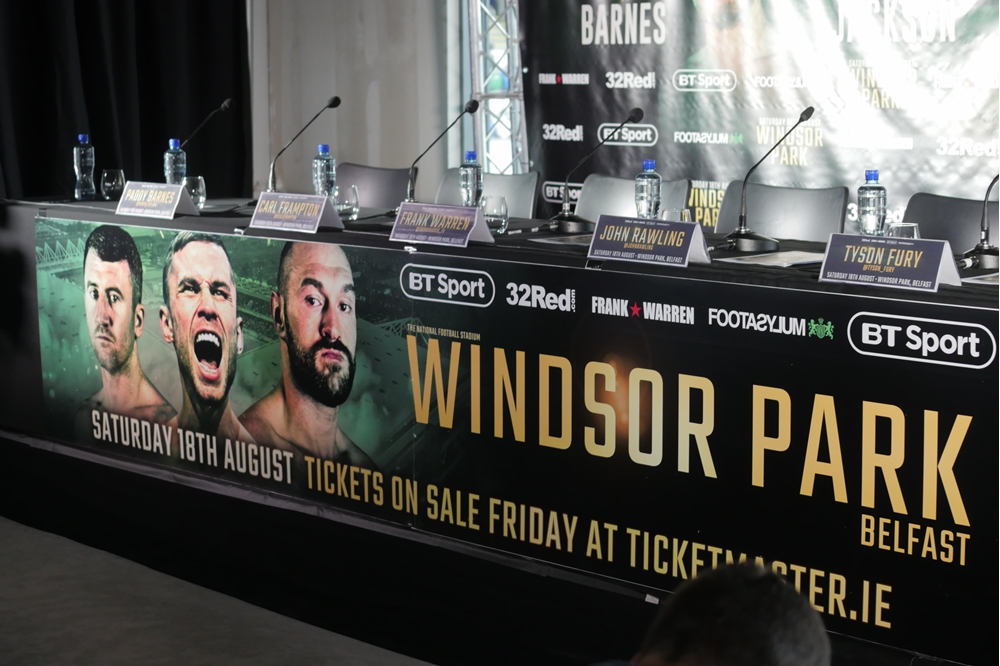 Boxing promoter Frank Warren has issued the following information for fans attending Saturday night's boxing event at the National Football Stadium at Windsor Park.
Please see  important information about the contest below. This to ensure your safety and enjoyment. 
1. Search

Everyone entering the stadium will be subject to a search. Please allow time for this search as part of your travel time to the stadium.

2. Prohibited Items

Backpacks, holdalls, luggage, oversized bags and cushions (bags larger than 35cm x 40cm x 19cm will not be permitted).
Other items that are not allowed include:
Team Sports Shirts, apparel, scarves and insignia of any kind.
Sectarian regalia.
Glass, cans, aluminium bottles or thermos flasks of any kind including liquid products which can be consumed.
Any explosives or combustible materials.
Flammable liquids of any kind in any container.
Laser pens/pointers.
Video cameras and professional cameras (unless accredited media).
Laptop computers, iPads and Go Pros. 
Large/golf umbrellas.
Knives or weapons of any kind, or anything that could be used as a weapon.
Illegal drugs or substances.
Alcoholic beverages.
Signs, banners or flags on poles, staffs or selfie sticks.
Animals (except service animals to aid persons with disabilities).
Air horns, whistles, cowbells, drums or other noise-making distractions.
Projectiles (Frisbees, beach balls, footballs etc).
Aerosol cans (hairspray, deodorant etc).
Fireworks, confetti or glitter bombs or sprays.
Balloons.
Use of wheeled footwear, skateboards, roller skates.
Food.
Masks and helmets.
Large studs and chains (studded belts and straps etc).
Anything else which we deem could ruin the enjoyment or viewing experience of others or that may compromise safety and public order. 
3. Stadium Information

The National Football Stadium at Windsor Park is located at Donegall Avenue, Belfast BT12 6LU.

The vast majority of fans will enter the stadium via Boucher Road and this is the recommended entrance.

All ticket holders are advised to check seat details. Entrance information is as follows:
North Stand A-G & L -Q, South Stand, West Stand & Pitch seating:  Enter via Boucher Road
North Stand H-K & R-T & East Stand: Enter via Donegall Avenue
Hospitality Lounges will open at 2.30pm and will be accessible via the Boucher Road entrance.
Gates for General Admission will open at 3.30pm.
Last entrance to the stadium will be 9pm.
4. Getting there and public transport
There is no parking available in the residential streets around the National Football Stadium at Windsor Park. The best way to get to the ground is by public transport. 
Plan your journey now to take advantage of additional train services (use Adelaide Halt). Check Journey Planner for additional Metro services.
5. Stadium Map
The following map shows the seats by block and entrance locations. CLICK HERE for an expanded version.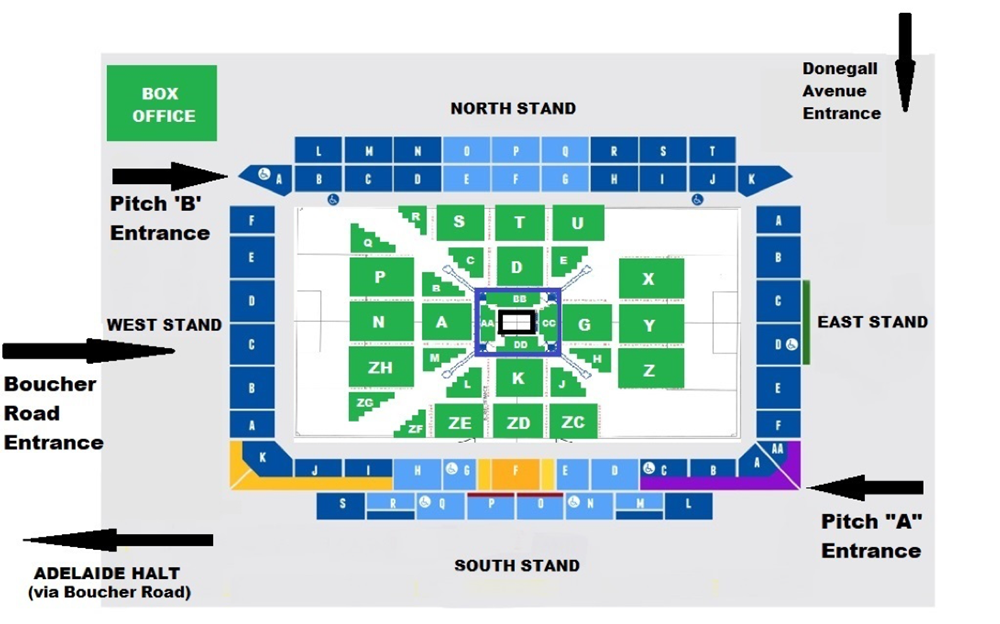 6. Hospitality Tickets 
If you have a hospitality ticket please note:
All ring side and outer ring hospitality ticket holders should report to the Box Office on arrival to collect lounge information and passes.
All hospitality ticket holders in the Billy Bingham Lounge, Pat Jennings Lounge and Danny Blanchflower Lounge should enter the stadium via the Boucher Road entrance and proceed to the VIP Entrance in the South Stand.
7. Food & Beverage Concessions 
Hot food, snacks, soft drinks and a bar service will be available from the stadium kiosks from 3.30pm.  
All food and drink will stop being served at 9.45pm ahead of the last bout of the evening.   

All kiosks under the stands will take both card and cash payments. 

Mobile bar facilities and concessions wagons will be cash only.
When buying food any fans with severe food allergies must advise food servers prior to purchase to allow staff to offer suitable options.  
Fans may be requested for identification when purchasing alcohol, in line with legislation in NI.          
8. Ticket Queries 
The Box Office will be located to the left of the Boucher Boulevard entrance. 
Please make your way there should you have any ticket queries. Please note ID will be requested. 

Any ticket purchaser who has selected print at home should ensure they print their tickets in advance of arriving at the stadium.
9. Residents 

The National Football Stadium at Windsor Park is located in a residential area. 

We would ask all boxing fans to be mindful of this and to respect our neighbours who live in the streets surrounding the stadium.