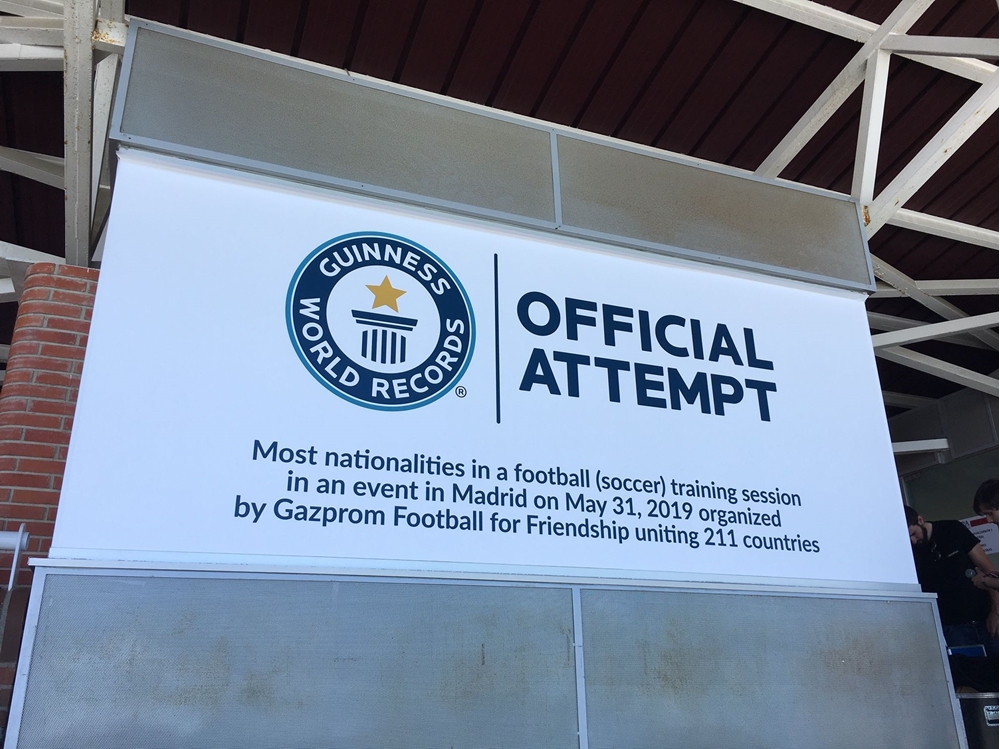 Four young footballers from Northern Ireland will be part of a group aiming to set a new Guinness World Record in Spain tomorrow.
The quartet, who are currently participating in this year's Football For Friendship (F4F) key events near Madrid, will be among around 200 youths lining up for an official record attempt for the most nationalities ever to take part in a football (soccer) training session.
The annual F4F football jamboree has already featured a friendship camp and activities plus a forum and tomorrow another key event will be the annual Football For Friendship World Championship.
The major global five-a-side tournament is set to involve players from more than 100 countries and before it kicks off they will all be taking part in a mega training session which could earn a place in the record books.
The venue for the 32-team tournament is the 3000-seater Polideportivo Municipal Dehesa de Navalcarbónstadium, home of Spanish third division club Las Rozas CF, which is in the greater Madrid area.
Three of the Northern Ireland players - Whiteabbey girl Aimee Kerr (13 tomorrow), Belfast boy Reece Lyttle (13) and Randalstown-based Kayden Letters (12) - are guaranteed to take part in the festival of football, while a fourth, Elijah Weathered (13) from Portadown, is on standby.
Aimee, Reece and Kayden have been placed in teams featuring other players from around the world. All of the teams trained at the home of Las Rozas today.
Initially the teams will be battling it out in four-team groups. The winners of each group will progress to quarter-finals and then semi-finals at Navalcarbon. However, the final will be played on Saturday at a specially-built mini stadium within Playa Mayor in central Madrid in the run-up to his year's UEFA Champions League final between Liverpool and Tottenham Hotspur.
All the participating teams, who are based at the Capfun camping site at Escorial outside Madrid, are named after endangered species of animals.
Striker Kayden, who is part of the Northern Ireland CP (Cerebral Palsy) set-up, is in Tonkin Snubnosed Monkey. His team-mates come from France, South Korea, Hungary, Russia and Montenegro. The Monkeys, led by a young male Portuguese coach, will be facing Philippine Crocodile, Queensland Wombat and Patagonia Opossum in Group B.
Midfielder Reece, a member of the Irish FA's JD Club NI elite player development programme, has team-mates from Germany, Azerbaijan, Serbia and Russia in the European Mink side. And they will be led by a young Qatari male coach as they come up against Chinchilla, Red Panda and Red Wolf in Group F.
Aimee, a midfielder who is in the Irish FA's Girls' Regional Excellence Programme, is in Pygmy Three-Toed Sloth - Monk Sloth for short - along with elite young male players from Croatia, Russia, Iran and Qatar. In charge of them is a 16-year-old female coach from the Netherlands. They will be taking on Przewalski's Horse, Atlantic Sturgeon and Tatu-Canastra in Group H.
Elijah Weathered, who is also part of JD Club NI, is in Spain to cover the F4F key events as a young journalist, however he is on standby to enter the fray tomorrow. He usually plays as an attacking midfielder or a striker.
All F4F participants will be attending the Champions League final following the F4F final on Saturday.
Now in its seventh year, the global FIFA-backed Football For Friendship programme, sponsored by Gazprom, is aimed at fostering social values such as respect for other cultures and nations, equality and peace as well as encouraging young people to adopt healthy lifestyles.