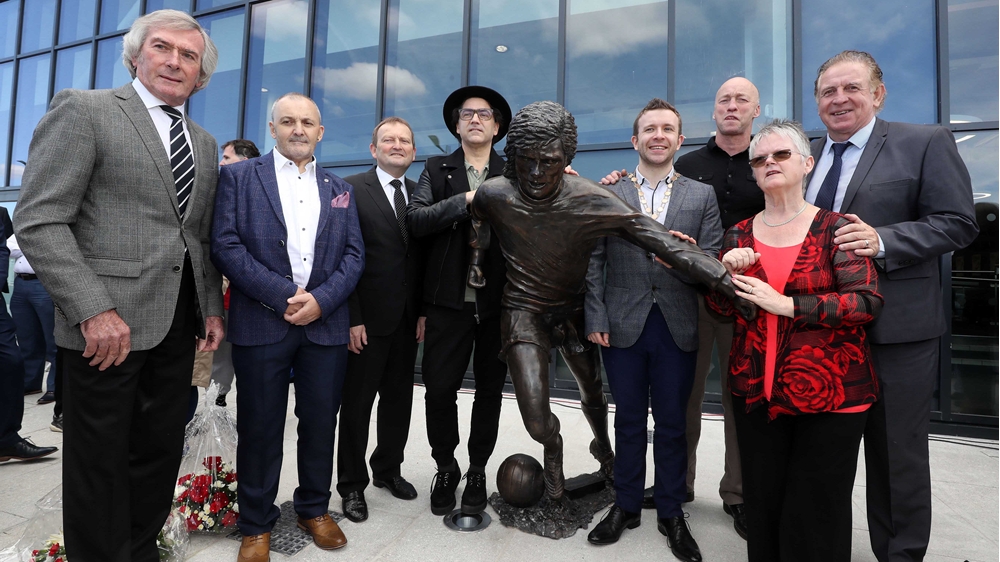 Today a life-size bronze statue of football legend George Best was unveiled in Belfast on what would have been his 73rd birthday.
Belfast sculptor Tony Currie from the art group 'Lecale Bronze' created the statue, which was funded by fans through public donation. It captures Best's famed movement and balance as he dribbles the ball.
The statue, which was officially gifted to Belfast City Council today, will be on permanent display outside Olympia Leisure Centre at the main entrance to the National Football Stadium at Windsor Park.
Accepting the statue on behalf of Council at an official unveiling ceremony, deputy Lord Mayor, Councillor Peter McReynolds, from Belfast City Council, said: "I'm delighted to accept ownership of this memorial to George Best, one of Belfast's most well-known sporting stars and a footballer who is considered by many to be one of the game's all-time greats.
"We are delighted to have worked closely with the Best family, Lecale Bronze, the Irish Football Association and the other parties who have come together to help make this happen.
"Given that George's talents made him one of the country's most well-known sporting stars, this statue will undoubtedly be a draw for visitors and tourists alike. Its location beside popular sport and leisure facilities and the main entrance to the National Stadium at Windsor Park will hopefully inspire future generations of young footballers to follow their dreams."
Norman and Barbara McNarry said: "This amazing tribute to George is very special and one which live on for many generations.
"In July 1961, the road from Belfast took George to far off places and glittering heights. In December 2005, that road brought him back to Northern Ireland where tens of thousands lined the streets to say farewell.
"Today that road has finally brought our Belfast Boy home forever to the city, to the people and to the family who love him most of all."
Belfast-born artist, Tony Currie from Lecale Bronze, who sculpted the statue said: "I would like to thank all fans for their donations to the project via our crowd funding appeal. They have hopefully enabled me to fulfil George's wish to be 'remembered for the football'. 
"In completing this project we have always recognised that George faced difficulties in his life and that these were at times immense for both himself and those close to him.
"I would therefore like to record our thanks to Barbara and Norman for buying into our vision and supporting us every step of the way. I would also like to thank Belfast City Council for helping us manage this project throughout, and the Irish Football Association for all the help that they have given."