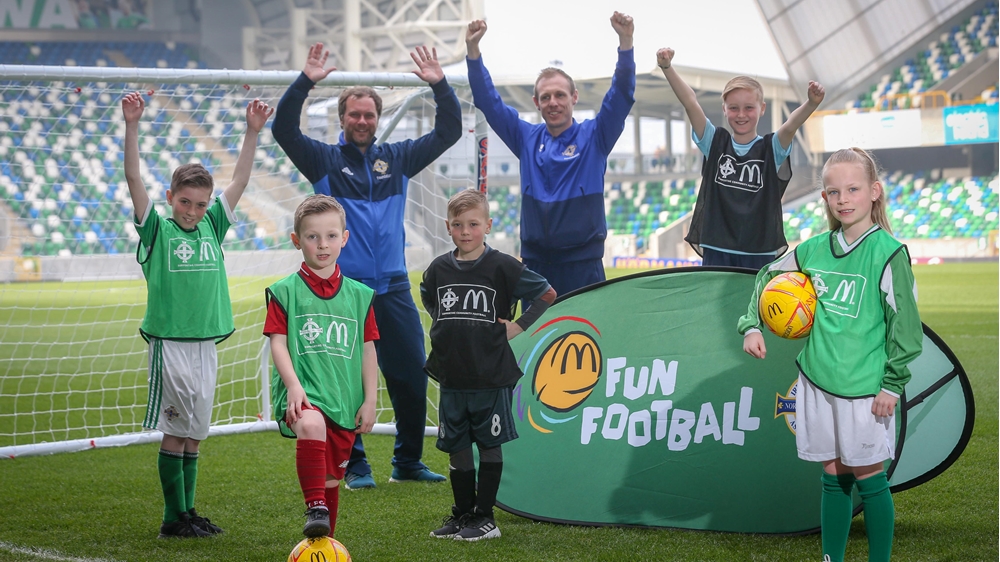 The McDonald's Irish FA Foundation Fun Football Festival at the National Football Stadium at Windsor Park on Sunday (12 May) is now sold out.
The 3,000 free tickets for the event were snapped up in record time. Sunday's event is part of the McDonald's Irish FA four-year partnership which will run until 2022.

Fun Football Festivals are a core element of the programme along with Fun Football Sessions and the annual Grassroots Football Awards. McDonald's is now the longest-standing supporter of grassroots football across the UK, with 2019 marking 17 years in partnership.

Through 'turn up and play' coaching sessions and more Fun Football Festivals than ever before, McDonald's will provide thousands of children with the opportunity to try football for the first time.

These FREE Fun Football Festivals and Sessions are designed to introduce thousands of children, aged 5-11, regardless of gender or disability to football and will deliver 250,000 hours of coaching, games and fun to more than 75,000 children from across Northern Ireland.

For further information on McDonald's involvement in grassroots football and to find out how your club could benefit visit www.mcdonalds.co.uk/funfootballor follow @FunFootballUK on Twitter and Instagram.