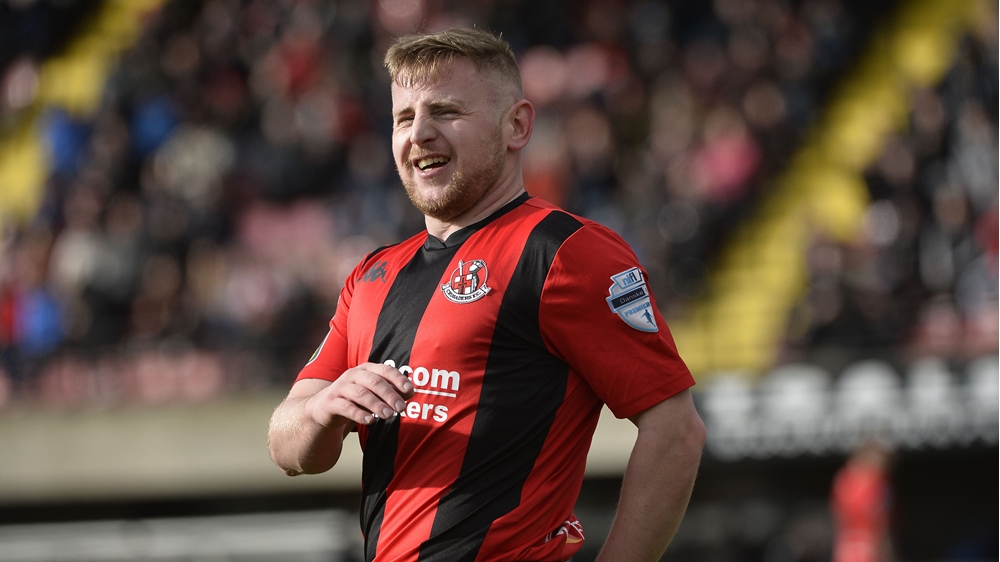 Crusaders frontman David Cushley is primed and ready for Saturday's Tennent's Irish Cup final – and he's determined to get his hands on a winner's medal.
The striker was a beaten finalist with Ballymena United in 2014, suffering the heartache of a 2-1 defeat at the hands of Glenavon. Now he has another shot at glory with the Crues but plucky Ballinamallard United stand in the way. 
"The anticipation among the fans and around the club has been building up for the last week or so," he said. "The players have had their suits fitted and we picked them up on Tuesday night. The whole run-up to the final is exciting but hopefully we can calm the nerves on the day and do what we do to win. 
"I'm relaxed at the minute but the whole week leading up to the final is good," he added. "We've got a couple of good training sessions in and one again tonight. We'll relax on Friday and then all eyes will be on Saturday." 
Cushley is one of several players at the Seaview club who has Irish Cup final experience under his belt but there are a few players in the camp– including one of their star men, Paul Heatley – who have never played in Northern Ireland's knockout showpiece. The 29-year-old insists the knowhow of the leaders in the Crues camp should help channel any nervous tension when the big day arrives.  
"Our skipper Colin Coates brings everything to the changing room, as do other experienced players like Sean O'Neill and Declan Caddell who have all been in finals, but the Irish Cup is the biggest day of the season. The whole lead-up to the match is exciting," he said.  
"Players will get butterflies on the day but as soon as you walk over the white line, football is football. Hopefully that's the way it will be for everyone in our squad and hopefully we can go on and win it.  The nerves should go when you have your first touch or your first pass. As a player you've just got to do the best you can do and hopefully it's good enough." 
On a personal note, Cushley has an eye on rounding off his medal collection this weekend but he's taking nothing for granted against Harry McConkey's Ballinamallard.  
"The Irish Cup winner's medal is the only one I'm missing in my collection so it would mean everything," he said. "That's why we play football to win the big trophies and the medals to savour. But Ballinamallard have done brilliantly to reach this stage. No team gets to cup finals without beating good opposition and no doubt they've done their homework on us and we've certainly done the same with them but we'll put into practice what we can do to win it."