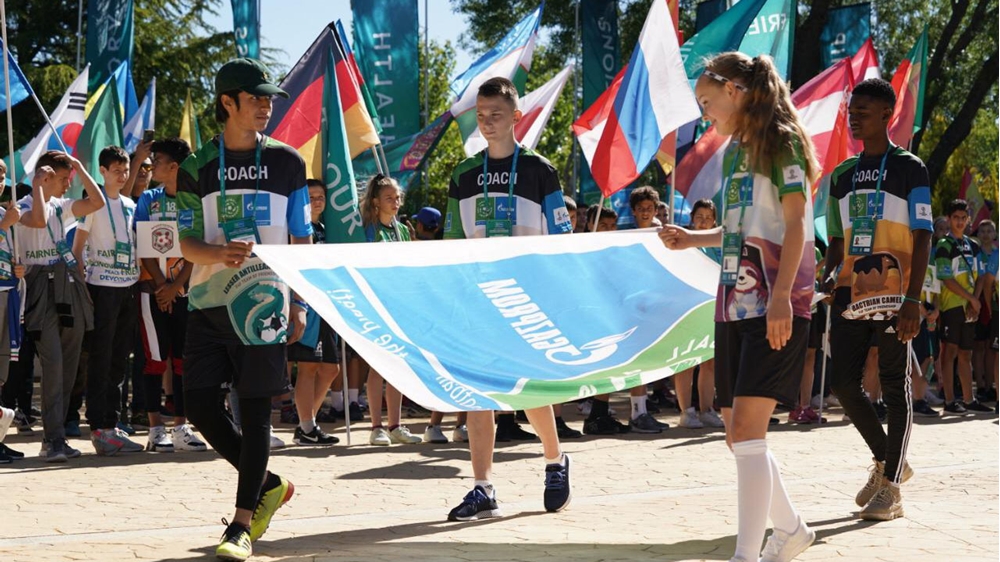 Four youths from Northern Ireland taking part in this year's Football For Friendship key events have been settling in to their surroundings in the countryside outside Madrid.
The quartet participating in an F4F global football camp, forum and tournament this week are based at the Capfun camping site at Escorial.
Today was day one of the four-day football jamboree and it saw Whiteabbey girl Aimee Kerr being chosen to help unfurl the flag to mark the start of the F4F events.
Also taking part in the camp, forum and tournament alongside Aimee are Belfast boy Reece Lyttle (13), Kayden Letters (12) from Randalstown and Portadown boy Elijah Weathered (13).
Now in its seventh year, the global FIFA-backed Football For Friendship programme, sponsored by Gazprom, is aimed at fostering social values such as respect for other cultures and nations, equality and peace as well as encouraging young people to adopt healthy lifestyles.
During their first day at the camp the Northern Ireland delegation, led by Irish FA Foundation coach Lauren Moore, took part in training, lessons outlining the values of the programme and team-building exercises.
Midfielder Aimee, midfielder Reece and goalkeeper Kayden, who can also operate outfield, will be in training tomorrow for the Football For Friendship World Championships, a major global five-a-side tournament featuring players from more than 100 countries.
The group stages of the tournament are being staged on Friday, with the finals being held in a specially constructed arena in the centre of Madrid ahead of this year's UEFA Champions League final in the Spanish capital.
Reece is part of the Irish FA's JD Club NI elite development programme – as is Elijah, who is in Spain to cover the tournament as a young journalist but may get a late call-up to participate in matches. Aimee is a member of the Irish FA's Girls' Regional Excellence Programme, while Kayden plays within the Northern Ireland CP football set-up.
Image: Aimee Kerr helped to unfurl the flag to mark the start of F4F activities in Spain.