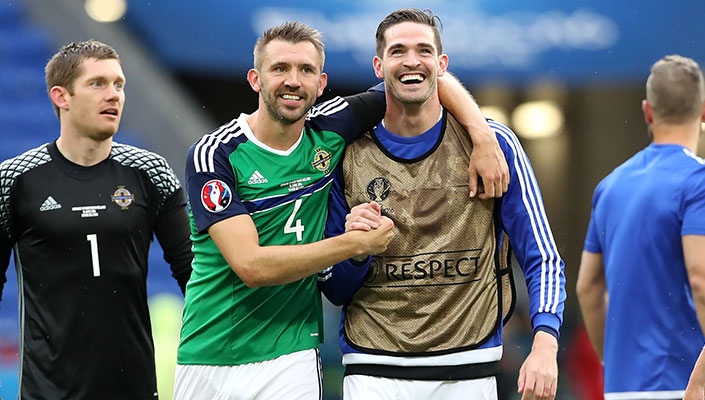 Michael O'Neill says a lack of playing time is the reason behind leaving Kyle Lafferty and Gareth McAuley out of his latest UEFA Euro 2020 qualifying squad.
Northern Ireland face Luxembourg in an International Challenge Match before welcoming Germany as the hunt for a place at Euro 2020 continues.
The duo are notable absentees from the squad and O'Neill shared his reasons behind the decision, he said: "Neither player has had a club really since the end of last season.
"Kyle has just signed for Sarpsborg in Norway and hasn't had any specific football training. At this minute in time with a game the stature of Germany he wouldn't be ready. If he came here there's a risk of him getting injured and that wouldn't help us in the long run.
"Gareth hasn't had a club since leaving Rangers, he is keeping himself fit but it would be unfair to ask him to play. We decided between us it was the right decision that he just keeps looking for a club and we hope to have him back soon."
One notable call-up to the squad is Motherwell midfielder Liam Donnelly who has impressed this season in the Scottish Premiership and is joined by fellow SPL player Callum Morris of Ross County.
Sharing his thoughts on both players, O'Neill said: "Liam is a player we have had in the system for a long time and I remember working with him when he was 15/16.
"He has played consistently well for our Under-21s, has been captain, but this season at Motherwell he has played really well and it's great to have a player with huge potential in the squad.
"Callum is a player we have had before, but has suffered with injury. He has played every game this season in the Scottish Premiership so he's in to replace Daniel Ballard who is injured."