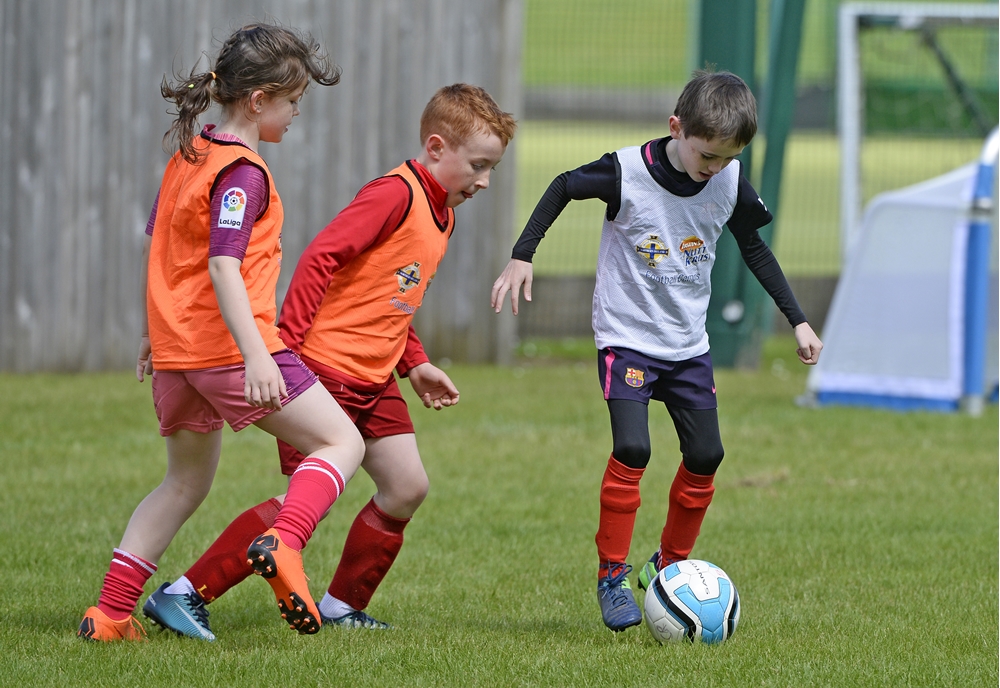 The Irwin's Nutty Krust Summer Football camps have yet again been a big hit over the school holidays - and there's still time for your child to get involved in the last week of fun! 
We're operating 11 more camps across Northern Ireland from 19-23 August and if you book your child for one of the remaining venues this weekend, you'll automatically be entered into a draw for two tickets to Northern Ireland v Luxembourg on 5 September (see terms and conditions below).
The camps are an exciting opportunity for children to develop and improve their football skills over a short period of time in a structured, fun environment with professionally trained and vetted coaching staff.
Important aspects of the game such as passing, dribbling, one v ones, attacking, defending, shooting and small-sided games are included in a jam-packed five days of fun.
We still have availability at the following camps set to be held 19-23 August. 
What to bring
- Healthy packed lunch with extra water (no fizzy drinks)
- Football boots or trainers (depending on surface)
- Shin guards
- Rain coat
- Any medical requirements (e.g. inhaler, EpiPen etc.)
- Sun cream (applied before arrival)
 What you receive?
- 5 days of top-class coaching
- Opportunity to learn new skills
- Opportunity to have fun and make new friends
- Nutty Krust goodie bag
- Adidas Capitano European Championship football
- To be automatically entered into the draw to win two tickets for Northern Ireland v Luxembourg  (September 5, 2019) you must book at least one space on any of the camps listed above (running 19-23 August 2019) over the period of (running 16-18 August 2019).
- Children booked on a camp must be aged 5-13
- The draw will be made on Tuesday 20 August, with the winner informed as soon as possible afterwards.
- The winner of the prize draw will receive two tickets to Northern Ireland v Luxembourg (5 September, 19:45, National Football Stadium at Windsor Park). There will only be one winner.
- Winner's contact details on registration for will be used to make contact
- The prize is not refundable, transferable or exchangeable and cannot be redeemed for cash or any other form of compensation.