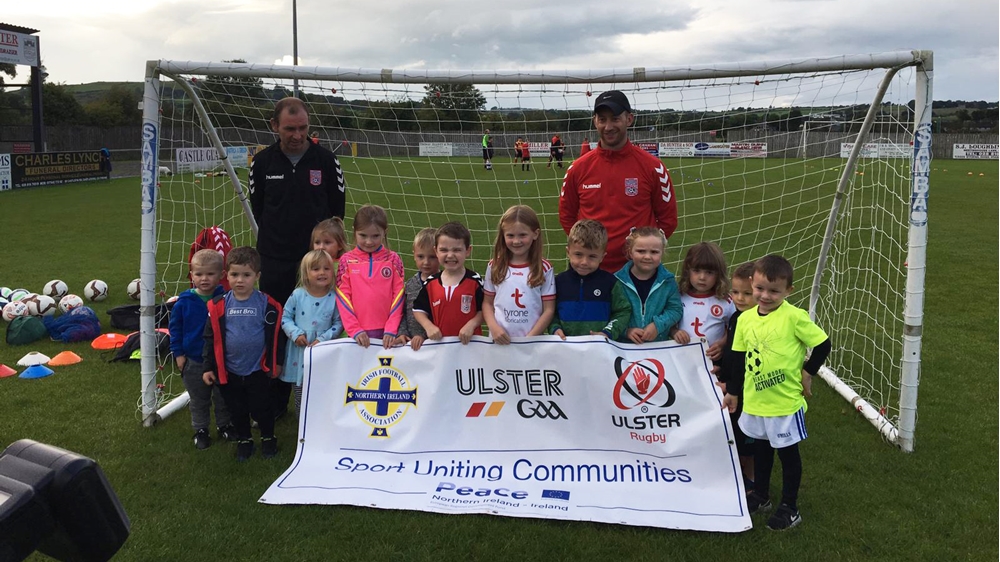 Dergview FC along with Community Sports Development Officers from the Irish FA, Ulster GAA and Ulster Rugby delivered a cross-community 'Club Development Sport for Peace Day' on Wednesday 28
 

August at Darragh Park.

GAA and rugby clubs from the surrounding area were also invited to take part in what was a fun filled evening for all the participants.

The Club Development Sport for Peace Days, which are PEACE IV funded, are initiatives from club/community partnerships that aim to deliver a peace and reconciliation focused event in their area. 

The aims of this event were to:
          

Promote positive values

          

Provide opportunities for social contact with people from different backgrounds

          

Promote mutual understanding

          

Promote peace in divided communities

          

Develop sport specific skills and knowledge
Over 100 children and their parents from Dergview FC, Castlederg GFC, Aghyaran GFC and Strabane RFC came along to the event. The children were mixed with others from different community backgrounds and received fun, safe and inclusive coaching from club coaches, had lots of fun using our 'Sport Uniting Communities' inflatables and enjoyed some great food after.
Participants got an opportunity to play a sport that they may not have played before and to interact and build relationships with other children from a different community background.
Stephen Clarke, Youth Development Officer at Dergview FC said: "The event was a tremendous success and the cross-sport, cross-community angle married in superbly with the Sport Uniting Communities project. The kids are our priority and really enjoyed what was on offer. I am delighted to have had the full support from the other clubs involved, Strabane RFC, Castlederg GFC, and Aghyaran GFC. It bodes well for the future and reflects the ethos of Dergview FC, a local club for local people. I thank the governing body staff in attendance, Proinsias O'Kane (Ulster GAA), David McKay (Ulster Rugby) and especially Daniel Chambers (Irish FA) who helped co-ordinate proceedings'.
If your club would like to get involved in the 'Sport Uniting Communities' project you can find more information on our webpage.