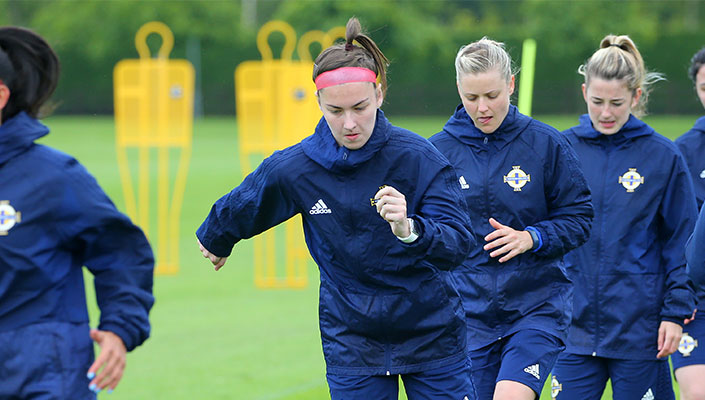 In the first of our Q&A series of getting to know our Senior Women, we spoke to Northern Ireland International Chloe McCarron! Find out more below...
Q. Position?
A. Centre Midfield 
Q. Favourite Team(s)?
A. Liverpool 
Q. When did you first start playing football?
A. I first started playing by having a kick about with my mum in the garden when I was no age, then she took me to play for a boys team at aged 7.
Q. Favourite football memory as a kid watching?
A. Champions League final 2005, Liverpool vs AC Milan.
Q. Tell us which clubs you have played for and favourite memories?
A. Eastend and Liam Beckett (Boys clubs) then Ballymena Allstars, Mid Ulster Ladies and current club is Linfield Ladies. Favourite memories include winning my first women's senior league with Linfield and getting the chance to play Champions League football. 
Q. What does playing International Football mean to you?
A. It's always an honour to pull on your country's jersey to play. Everyone wants to play at the top level, and I'm grateful to have been given the opportunity from under age to now. 
Q. If you've made an appearance at any age group, what game is your favourite and why?
A. It was an Under-17s match against Italy where we beat them 1-0 to top the group and secure a place in the elite rounds!
Q. Best mate in the Northern Ireland squad?
A. Lauren Perry (LP) 
Q. Favourite artist(s) to listen to?
A. Hayley Kiyoko
Q. Favourite film(s)?
A. Matilda 
Q. What is currently on the continue watching on Netflix?
A. Orange is the New Black 
Q. Favourite place in Northern Ireland and why?
A. Barry's Amusements, Portrush. Love amusements and theme parks and it is very close to home 
Q. What do you hope for from the upcoming UEFA EURO 2021 qualifying campaign?
A. To win and compete with the other top sides in the hope of qualifying and on a personal level play as many minutes as possible.