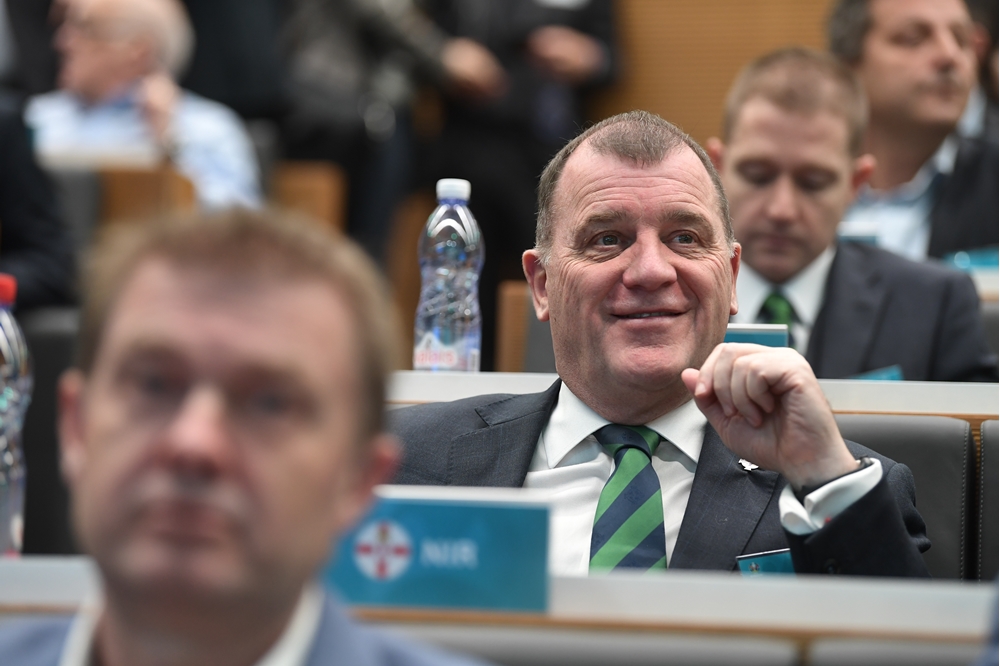 Irish Football Association chief executive Patrick Nelson has promised Northern Ireland will be "fully prepared" for the UEFA EURO 2020 play-offs – with Michael O'Neill at the helm.
Northern Ireland have been given the incentive of a home tie if they reach the Path B final of the play-offs next March.
Michael O'Neill's team will face Bosnia and Herzegovina away in their first match in the Path B play-off route on Thursday 26 March.
And at Friday morning's Euro 2020 Play-Off Draw in Switzerland it was confirmed they will play at home against the winners of the other Path B semi-final, which pairs Slovakia and Republic of Ireland, if they defeat the Bosnians. The final will take place on Tuesday 31 March next year.
After the draw Patrick Nelson said it will be a tough game against Bosnia and Herzegovina.
He pointed out Northern Ireland played well against the Bosnians in two Nations League group games last autumn even though they did not pick up any points.
"(Bosnia coach) Robert Prosinecki will turn out a good side. It will be a tough game but we will be fully prepared," the chief executive added.
He further promised current Northern Ireland manager Michael O'Neill, who is also the new boss at EFL Championship club Stoke City, will be in the dugout and on the touchline when the play-offs come around next March.
"We had some great (contract) negotiations with Stoke City and with Michael and as part of Michael leaving the IFA we have agreed that Michael will be in charge for any play-off games that we have," he said.
The chief executive added: "Our target is to make it to UEFA Euro 2020. That's the one target we have. We have to get past Bosnia and Herzegovina on the 26th of March and we are delighted that if we do that we've got a home final, against either Slovakia or the Republic of Ireland.
"We are very experienced at hosting games at the National Football Stadium at Windsor Park. We will prepare very thoroughly both on the field and off the field and if we are hosting a game on the 31st of March it will be a great occasion."
The winner of the Path B final will secure a place at the 2020 European Championship finals, which run from 12 June to 12 July.