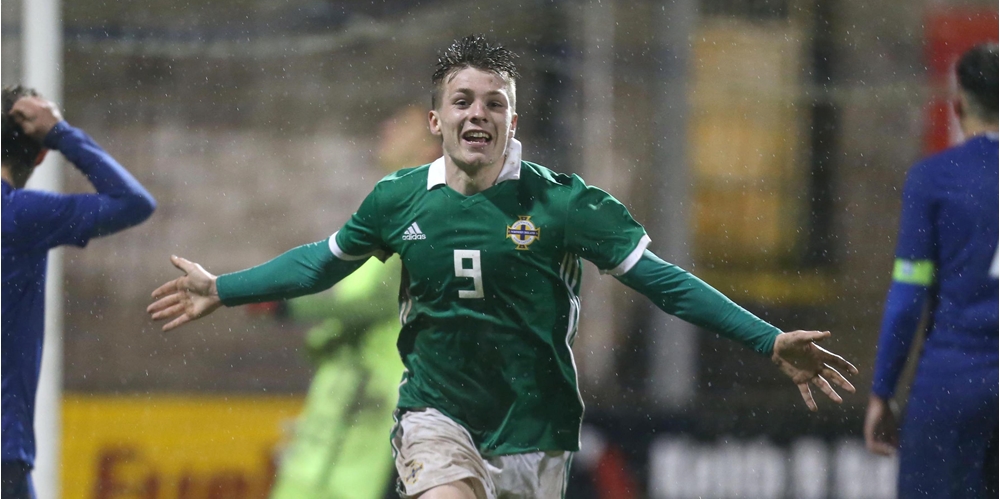 Northern Ireland's build-up to next summer's UEFA Under-19 Championship will move up a gear next week when they take on Norway, Germany and Portugal over the course of six days.
From Nov 12-18, Stephen Frail's boys will be put through their paces as part of a four-team preparation tournament for the 2020 U19 Championship, which is set to be staged here in Northern Ireland.
The UEFA tournament will run from 19 July to 1 August and will feature eight teams with matches being played in Belfast, Ballymena, Lurgan and Portadown.
Rising stars of European football are set to play at next year's event which will see up to 16 matches played over 14 days. 
Next week's action kicks off when Portugal and Germany go head-to-head at Ballymena Showgrounds on Tuesday 12 November (1pm) before NI welcome the Norwegians to Mourneview Park in Lurgan later the same day (5.30pm).
Fast forward three days and its Germany versus Norway at Shamrock Park, Portadown (2pm) on Friday (15 November) and then Northern Ireland go up against Portugal at Mourneview (7.30pm).
The final round of the tournament lands on Monday (18 November) when there's even more football to enjoy as Northern Ireland take on Germany (Mourneview, 7.30pm) and Norway play Portugal (Shamrock Park, 7.30pm).
NI boss Frail has named 22 players in his panel for next week's three games:
Goalkeepers: Dermot Mee (Manchester United), Scott Pengelly (Fleetwood Town), David Walsh (Linfield).
Defenders: Kyle McClelland (Rangers), Daniel Finlayson (Rangers), Sam McClelland (Chelsea), Jake Corbett (Linfield), Patrick Burns (Glenavon).
Midfielders: Darragh Burns (St Patrick's), Christopher Conn (Burnley), Ben Wylie (Celtic), Carl Johnston (Fleetwood), Ryan Carmichael (Portadown), Trai Hume (Linfield), Dylan Boyle (Fleetwood).
Forwards: Lewis McCann (Dunfermline), Callum Ferris (Portadown), Barry Baggley (Fleetwood), Chris McKee (Rangers, pictured main image), Ben Wilson (Brighton), Eoin Teggart (Portsmouth), John McGovern (Newry City).