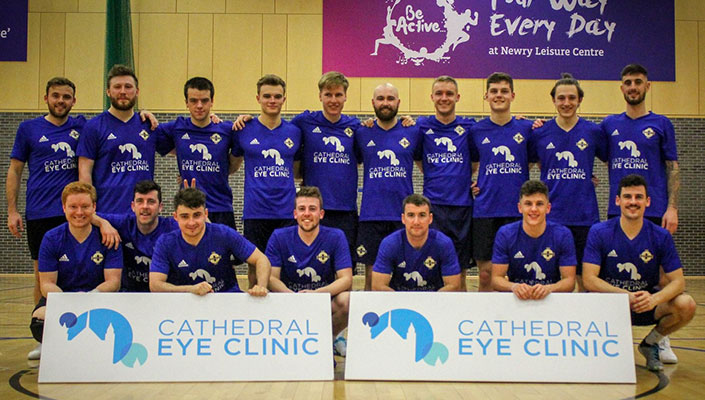 Northern Ireland Futsal Head Coach Jonathan Michael has named his squad for the upcoming Home Nations Championship taking place at St. George's Park in England this weekend. 
The competition will take place at the FA's performance centre on Friday 29th November, Saturday 30th November and Sunday 1st December.
Northern Ireland first face Wales at 5pm followed by the hosts England on the Saturday at 4pm and finish off against Scotland with kick off at 1pm.
Speaking about the Championship, Michael said: "The players and backroom staff are excited about being involved in another Home Nations Championship this year.  We are continuing to make great strides in our futsal journey and believe we are as competitive as we have ever been."
The Head Coach added: "This Home Nations Championship weekend is a fantastic opportunity for people to engage with the game of Futsal and witness exciting International matches. 
"I hope that we can get some of the GAWA to St. George's Park to get behind the boys and help them raise their performance.  For those that can't make the journey the games can be access via the BBC Red Button and the BBC Sport website." 
Northern Ireland futsal squad
Goalkeepers: Matthew McErlain (Sparta Belfast Futsal Club), Philip Irvine (World United Futsal Club)
Defenders: Adam Barr (Baku United Futsal Club), John Gibson (Banbridge Town Futsal Club), James Gould (Banbridge Town Futsal Club), Ryan Dabbs (Cardiff University Futsal Club)
Wingers: Scott Gunn (Durham Futsal Club), Craig Taylor (Belfast United Futsal Club), Danny Stapleton (Manchester Futsal Club), Jordan Wilson (Sparta Belfast Futsal Club), Conor Glenholmes (Wattcell Futsal Club), Josh Lowry (Sparta Belfast Futsal Club), Conor Kernohan (Bolton Futsal Club)
Forwards: Darius Roohi (E.D. Brunete Futsala), Connor Millar (Reading Royals Futsal Club), Chris Donnelly (Wattcell Futsal Club