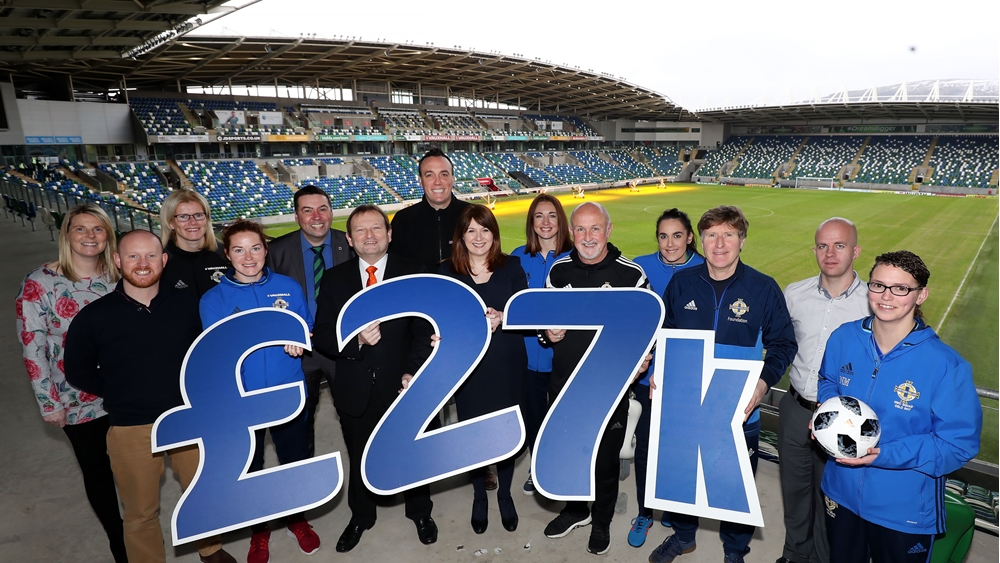 The Department for Communities, through Sport NI, has awarded the Irish FA Foundation funding to deliver a series of projects which support the development of women's and girls' football in Northern Ireland.
Part of the £27,000 funding will support a Participant Activation and Games Development Programme for girls' club teams.
The Irish FA Foundation is keen to create more opportunities to grow the girls' club game at the U8 and U9 age groups and create a project that will improve the standard of coaching and provide necessary equipment to encourage this development.
The funding - it is being delivered through the Department for Communities and Sport NI's Active, Fit and Sporty Legacy Project, which aims to engage more women and girls in sport and physical activity - will also be used to bolster a Female Referee Development Programme.
The aim is to recruit and educate 30 new female officials who will become involved in a mixture of youth and senior football and futsal activities in the future.
The programme will focus on the Armagh, Banbridge and Craigavon and Causeway Coast and Glens council areas due to the popularity of girls' football programmes and a particular need in these areas.
A rollout of the foundation's female-only McDonald's Regional Small Sided Games Programme to four regional sites across Northern Ireland is being supported, too. The creation of these centres for U9 and U11 girls will assist clubs in increasing their membership by providing more playing opportunities.
In addition McDonald's Girls Only Games Programmes will be introduced across Northern Ireland to offer opportunities to play against girls only teams for the first two years of their development.
Another portion of the funding will enable the Irish FA Foundation to work closely with Sport NI and the Department for Communities to deliver a series of volunteer and club development conferences to support the women's game.
And some money is set to be directed to helping the Street Soccer NI organisation, which offers support to marginalised groups in society, set up a player development programme for women.
Gail Redmond, Women's Domestic Manager with the foundation, said: "We are delighted to receive funding from Sport NI to continue our work in developing women's football. We are about to embark on a new journey with a women's football strategy and growing participation will be one of the key pillars in this strategy.
"This funding will help prepare the way to move women's football on to the next level."
Welcoming the announcement, Sport Northern Ireland Chief Executive Antoinette McKeown said: "2017 was a momentous year for women's and girls' football, and Sport NI is delighted to be continuing to support the sport in 2018 through the Active, Fit and Sporty Legacy Project.
"The initiatives being delivered through this investment will not only create more opportunities for female participants to get involved but also help develop the officials and leaders that will help the sport grow and develop in the longer term.
"We are excited to be continuing to work in partnership with the Irish FA Foundation and the Department for Communities to help more women and girls get active, fit and sporty through football."
Image: Irish FA President David Martin and Sport NI Chief Executive Antoinette McKeown (centre) joined players and Irish FA staff at the announcement of the Department for Communities/Sport NI funding boost for the development of women's football in Northern Ireland.