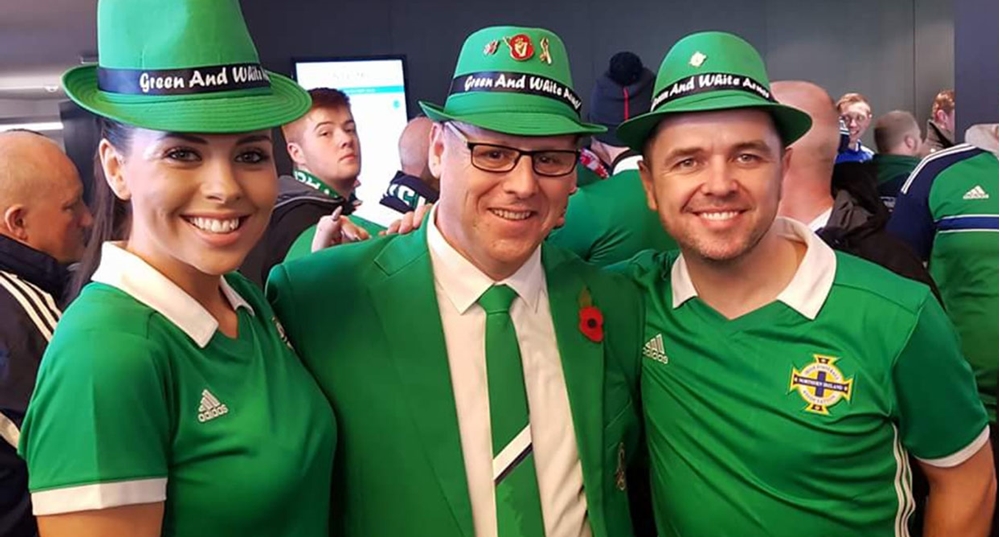 December's Fan of the Month award and the last of 2017 goes to long-time Northern Ireland fan Alan McAleer.
Alan said: "I just love our wee country. I love following them and now with the help of the GAWA I'm going to enjoy raising as much money as possible for kids since I got cancer."
Many of Alan's friends were quick to tell us how much he deserves the title of Fan of the Month. 
Judith White said: "He is delighted with this and is lost for words which is so not like him! He does so much for the GAWA with organising trips away and has been a campaign card holder for years."   
Long time friend Selena couldn't have been happier for Alan on hearing he had been selected. She said:  "Alan has only missed a handful of home and away matches in his life. Every away trip we go on he organises it for absolutely everyone, flights, hotels, transfers, t-shirts, hats, the heap."
She went on to mention the health problems Alan has had to overcome recently. 
"Just before the Germany game he was brought in to the Ulster Hospital and had eight inches of his bowel and part of his bladder removed due to a cancerous tumour. He was more gutted about missing the game and not going to Norway.
"He's currently undergoing chemotherapy but still made it to Basel for five days. Nothing was stopping him, not even cancer and an unhealed wound the length of his stomach."
Alan may be battling cancer but that hasn't stopped his efforts to raise money for charity. He is tirelessly organising a fundraiser in Ards Rangers on 24 February with special guests such as Keith Gillespie, David Healy and Billy Hamilton. All proceeds will be going to the Royal Belfast Hospital for Sick Children. 
Friend Shirley Graham said: "This guy is Northern Ireland through and through. While he was in hospital German fans that we had met in Paris (during Euro 2016) came to visit him. Even in his sick bed Mackers contacted me with info about tickets.
"He always gets to the away destination a day or two early and checks out suitable meeting places for the walk to the ground. At the Euros we had set up camp in the official fanzone of Germany and by the end of the Euros we all had new pals."
Selena added: "I know there's a lot of deserving supporters out there. We all support and love our country equally but in my opinion this honour should definitely belong to Alan McAleer for the sheer fight for life mentality he has at the minute and for what he has been through this last year yet managed to get away and support his country despite battling this life-threatening disease."
You can see a gallery of images of Alan below. 
If you know someone you think deserves to be our Fan of the Month for January send us a message on Twitter or Facebook with your nomination.
Alan McAleer FotM December