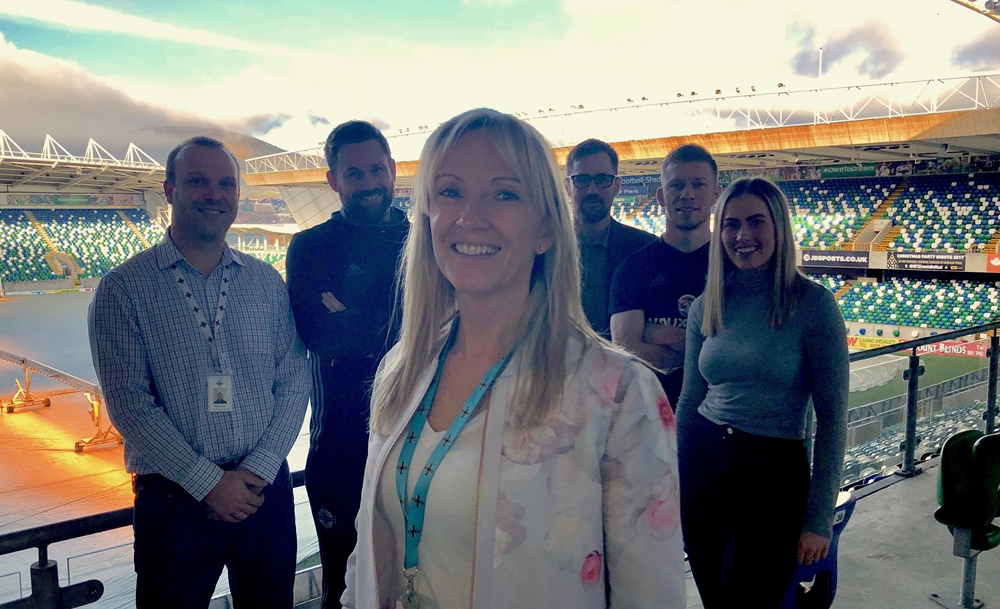 In an ongoing Q&A series we are highlighting the people who make the Irish Football Association tick...
Name: Louise Doyle
Job title: Stadium Director
How long have you worked for the IFA?
Three and a half years.
What's the Stadium Development Company all about and what's your role within it?
The SDC is responsible for all operations and facilities within the National Football Stadium at Windsor Park site.
Describe a typical working day for you.
There is no such thing as a typical day, thankfully. I'd say 30% of my time is dedicated to the physical structure of the building/grounds. My team also manages the Education and Heritage Centre, IT, all the contracts and contract personnel within the stadium, including the pitch, security, catering, cleaning and facilities management. 
We work closely with Linfield FC on their match, facilities and training requirements, too.
Finances play a key role, producing and then managing of various budgets that form part of the SDC. 
We always have ongoing infrastructure projects as part of the development of the stadium such as the new Legends Way and the new entrance this will create for the site both day-to-day and for events.
A major part of the role is planning for internationals. Having over 18,000 people on site requires a great deal of planning internally and when co-ordinating all requirements with the pitch team, all other contractors and the emergency services.
What's the best thing about your job? 
Working with an amazing team within an iconic building.
Where did you work - and in what roles - before you joined the SDC?
I worked at Wembley Stadium in London as an event manager from October 1995 to January 2001. I then moved to Belfast to the Odyssey Arena, now the SSE Arena, where I was Senior Event Manager from January 2001 until October 2010. I subsequently worked with Aiken Promotions in Belfast as a Promoter's Representative, from October 2010 until October 2014, before taking up my current role with the IFA.
What are your plans for the National Football Stadium at Windsor Park going forward?
I'm really excited about Legends Way, the new entrance from Boucher Road. There is a great deal of planning and works to carry out in order to complete this project by 22 May. There are several infrastructure projects that are ongoing, too. This year is also our scheduled year for the biennial pitch renovation which we have been planning for several months now.
What are the biggest challenges you face in your role?
There are never enough hours in the day. It's definitely not a nine to five role, it's more of a 24 hours a day role. Trying to juggle all the balls, from calculating capacities to liaising with promoters to sorting out commercial contracts, can be a challenge to plan. It's pretty common for me to work late into the night and most weekends.
What are you most proud of?
Holding successful events throughout the stadium build process was challenging to say the least, especially when we had the additional curve ball with the demolition of the West Stand. I am really proud of how the build was planned and managed without any major issues. I am also especially proud of the SDC team. They have such determination and support each other at all times. They are all passionate individuals who have amazing futures ahead of them. 
What qualifications do you have?
NEEBOSH certificate in Health and Safety, BA (Hons) 2:1 in Business, Leisure and Tourism Management, HND in Leisure Management and an NC in Sports Management.
Who (if anyone) has provided inspiration for you during your career?
Quite a few people. When watching Live Aid in the '80s I decided that I wanted to work in the amazing venue that is Wembley. At the time I lived in a small village in the middle of Scotland and it was seen as a pipe dream by all around me. Nevertheless, I focused and took some unique paths to fulfil my ambition. One day when I was working in a posh gym in a hotel in Scotland I got chatting to a gent after taking a class and that man happened to be Melvin Benn, the Chairman of the Mean Fiddler Music Group, who was staying at the hotel. Mean Fiddler run numerous world famous events, festivals and concerts. Melvin probably still has no idea that he gave me the final push to follow my dream!
What advice would you give to someone starting out?
Get as much experience as you can. Volunteer for anything that is relevant to your career aspiration. Work experience is just as important as qualifications. Be prepared to put in the hours. This career isn't for the nine to five bunch. And always think of your team, never let them down. Also learn to stand up for yourself. It's a different world now to a certain extent but starting off in this industry as one of the very few women working in a world of men you cannot be intimidated at any time. I needed to be 10 times as tough and knowledgeable. I'm hoping things are not quite as difficult for today's young women.
Any other interesting facts about you that we should know?
I am an animal obsessive and can't walk past an animal without speaking to it.
Image: Louise Doyle (front) with some members of her stadium team.