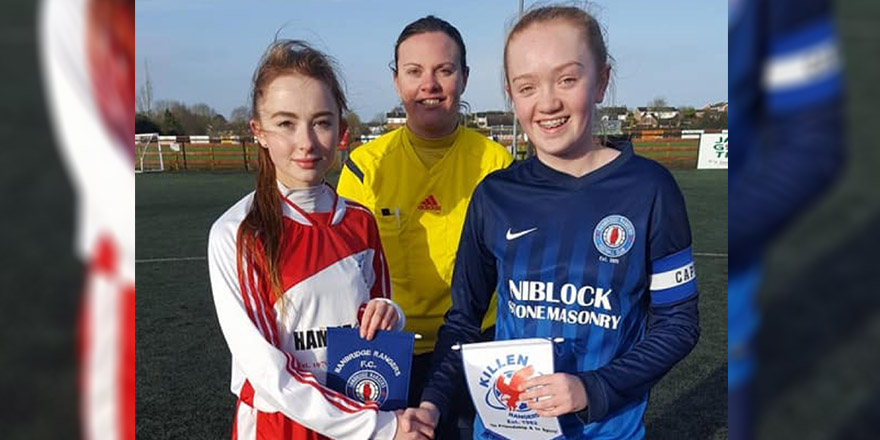 Something had to give when Banbridge Rangers and Killen Rangers met in the final of the Northern Ireland Southern Girls' League Under-15 Cup at the tail end of the festive season.
The sides drew twice in the NISGL Development League during 2017 and the expected close encounter in the cup decider materialised with Banbridge pipping league champions Killen in the last minute of an entertaining match at Lurgan Arena to claim the trophy.
With a strong wind at their backs Tyrone side Killen dominated their Co Down opponents in the first half.
Killen took the lead on 15 minutes when forward Lauren McCann fed the ball to Chelsea Scott in space and she outpaced the Banbridge defence to finish neatly past goalkeeper Robyn McKinstry.
After the break Banbridge Rangers began to come into the game more and equalised 10 minutes into the half.
After some tenacious work by winger Amy Niblock a loose ball dropped to Hannah Nickels at the edge of the box. Nickels, who was moved from centre back to midfield for the second half, showed great composure to sidefoot the ball into the bottom corner beyond the reach of Killen keeper Kacey Reid.
A swift counter attack presented Killen with an opportunity to finish the game off with five minutes remaining - but a rasping effort from one of their players came back off the inside of the post.
The miss proved costly. In the last minute a corner was only partially cleared by Killen and Nickels fired the ball back towards goal. Her effort took a wicked deflection which saw the ball loop up over the keeper into the far corner of the net.
Nickels' strike sealed a 2-1 victory for Banbridge Rangers in a very competitive match which was a superb advert for girls' football in Northern Ireland.
Referee Tracy Orr selected Banbridge left back Megan Clyde as player of the match with Chelsea Scott also impressing for Killen Rangers.
Banbridge Rangers: Robyn McKinstry, Kathryn Copes, Hannah Nickels, Laura Gallagher, Megan Clyde, Molly Hoey, Danielle Megaw, Cara Henry (captain), Lia Jones, Amy Niblock, Catherine Clark. Subs: Rachel Hodgen, Naomi Magill, Amy McKinstry and Abby Niblock.
Killen Rangers: Kacey Reid, Sophia Bogle, Abbie Watson, Charlene Campbell, Natalie Watson, Lauren McCann, Amy McFarland, Amy Vennard, Abbie Lecky, Emily Crawford (captain), Chelsea Scott. Subs: Brooklyn Baird, Jenna Forsythe, Courtney Stewart, Charlotte Keatley and Nicole Davis.
Images shown below in gallery: The Banbridge Rangers (red and white) and Killen Rangers squads. Banbridge Rangers captain Cara Henry and Killen captain Emily Crawford swap pennants prior to kick-off as ref Tracy Orr looks on.