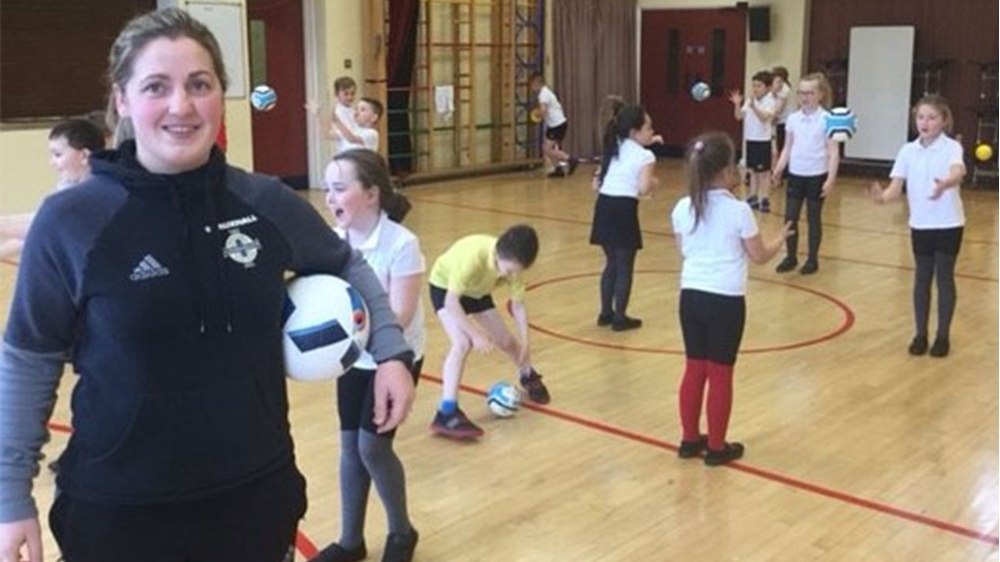 In an ongoing Q&A series we are highlighting the people who make the Irish Football Association tick.
Name: Judith Reid
Job title: Irish FA Primary Schools Coach for Dungannon and surrounding areas
How long have you worked for the IFA? 
I have worked for the association as a PSC since May 2014. At first I was given a maternity cover but then got offered a full-time post in my local area. Before that I did a lot of volunteering and casual coaching within different programmes.
What's the Curriculum Sports Programme all about and what's your role within it?
CSP is geared towards P1 to P4 pupils and encourages them to have a healthy lifestyle from a young age as well as improving their health and wellbeing. Within my area I cover seven schools a week. I work in both mainstream and special schools and engage with around 800 children on a weekly basis. The programme helps to develop the children's fundamental movement skills through participation in an enjoyable game. Throughout the academic year the association's primary school coaches help develop children's spatial awareness, balance, agility and co-ordination, ball familiarisation, dribbling, passing and shooting.  
Describe a typical working day for you.
Two days are never the same. My working day is typically split into day and evening sessions. During curriculum time I would start at 9am. I would deliver around six to seven lessons a day, usually four to five lessons before lunch and two lessons after lunch. Each lesson lasts between 30 and 45 minutes, and I would engage with about 160 children daily.  Outside of curriculum time, depending on the day, I would be delivering afterschool football to Key Stage 2 children, a Games Changer Centre, co-ordinating the Small Sided Games Programme and delivering on the Schools' District Player Development Programme. I also coach on the Tyrone/Fermanagh Girls' Excellence Programme based at MUSA in Cookstown. When the women's season begins I will have commitments with Glentoran Ladies twice a week. The season runs from January to August.
What's the best thing about your job?
Fulfilling my dream to have a career within a sport I am passionate about. It's great to have a chance to get active, express your passion and help play a positive role in other people's involvement in sport from a young age. I also like the fact that I coach in a variety of programmes to boys and girls of all ages. The best thing about my job, however, is seeing the enjoyment on the children's faces. It provides a great sense of reward. 
Are you involved in football beyond your role with the association?
I am currently first team coach at Glentoran Ladies; 2017 was my first season with them. I also support my local team, Dungannon Swifts, on a weekly basis in the Danske Bank Premiership. 
Are you involved in any other sports? 
No. Football is my main sport. Mind you, I do try to get to the gym a few times a week to clear my head and get away from football for a little while. It is sometimes needed.
Where did your love of football emanate from?  
This is a real tricky one as my mum, dad, brother and sister have absolutely no interest in football at all. I'm the only sporty one in the house. In my primary school days I was a wee tomboy. I had to have a football at my feet and hung about with the boys during break and lunch - the rest is history! Now the majority of my time is spent either coaching, playing or spectating.
Why did you become a coach?
I always had a passion for football and sport when I was at school. It was one thing I enjoyed doing every day, whether that was playing or watching football. Through school/college the majority of my work placements were based around football and a few of these were through the Irish FA working alongside Rodney McAree (Dungannon Swifts manager) when he was a Grassroots Development Officer. That's where I realised I wanted to become a coach. From there my first real experience in the coaching environment was with Dungannon United Youth where I spent many years coaching boys and girls of different ages. It was there where I developed my knowledge, built my confidence and gained valuable experience to get me to where I am today.
What qualifications do you have? 
When I left school I went to South West College in Dungannon and completed a BTEC National Diploma in Sport. After that I studied for a BSc (Hons) Sports Studies at University of Ulster Jordanstown (2007-2011). When I was in school I started my journey on the coaching ladder and I now currently hold the UEFA B Licence.
Who has provided inspiration for you during your career?
My family have always been there for me even though none of them have any interest in football. They have always been there to give me the best advice, support and guidance along the way. From a footballing perspective I would say Rodney McAree as my coaching journey all started off with him. He has always been there to give me advice, guide me along the way and has been a big influence in helping me get to where I am today.
Any other interesting facts about you that we should know? 
I recently got engaged (just before Christmas) so the farmer is halfway to getting the wife he's been wanting!