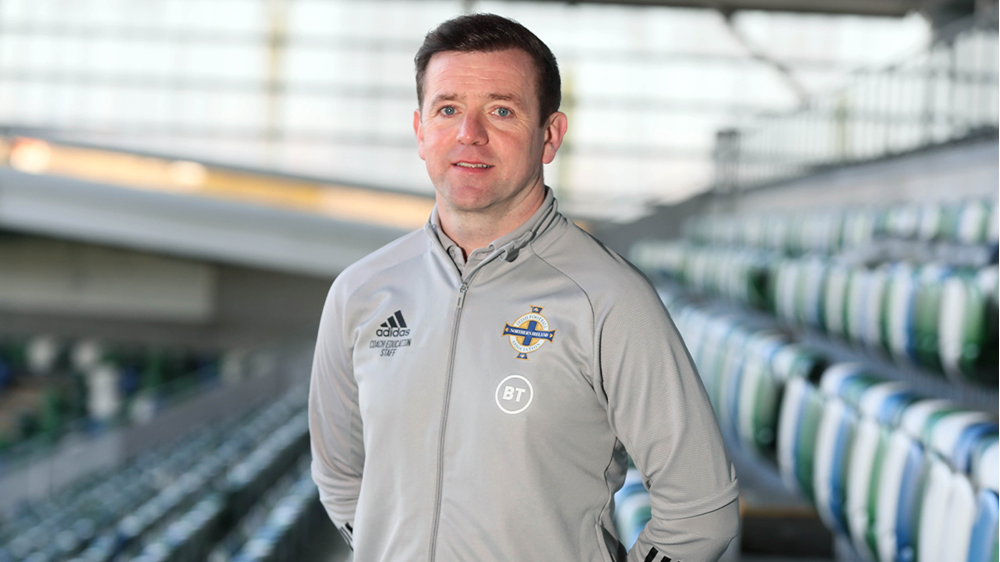 The Irish FA's Coach Education team has a new-look line-up for 2022 and beyond.
Sean-Paul Murray has replaced Nigel Best as the Head of Coach Education and he has been joined by three other well-known names in football circles: Tommy Johnson, Michael Carvill and Kevin Doherty.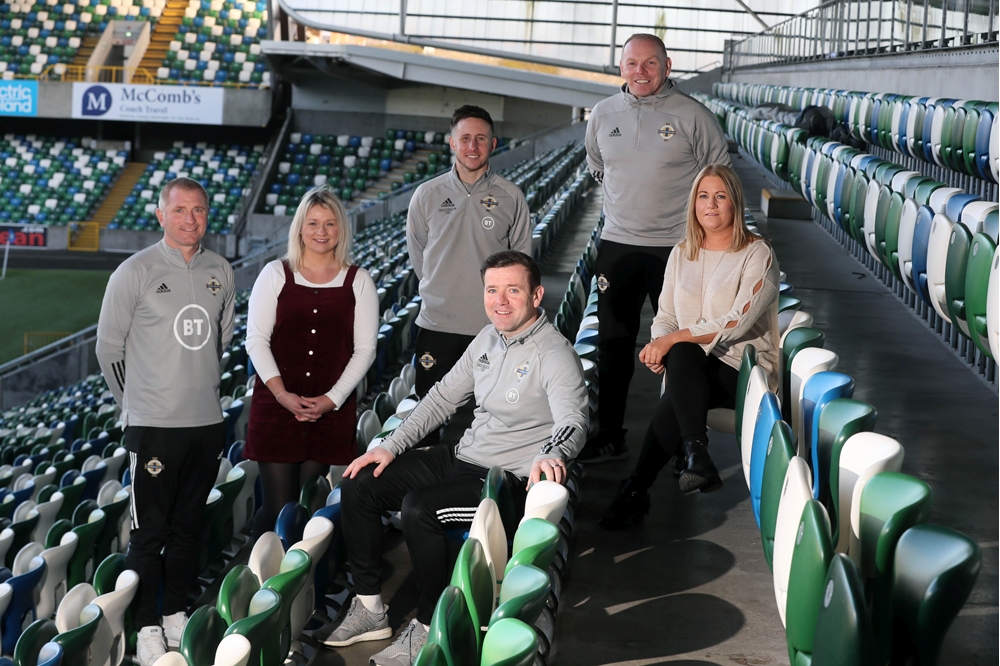 Above: The Irish FA's Coach Education team: Tommy Johnson, Karen Chambers, Michael Carvill, Sean-Paul Murray (Head of Coach Education), Kevin Doherty and Lorna Stewart.
Sean-Paul is a former player, coach and manager at senior, intermediate and Junior level, and he is also the current Northern Ireland Under-16 national team manager.
He joined the Irish FA in 2005 as a Grassroots Development Officer and subsequently worked within the player development and elite performance programmes.
Since 2015 he has been involved full-time with the association's Coach Education department across all levels of awards. He was appointed Head of Coach Education in December 2021.
Sean-Paul is excited to lead a new-look team. He said: "I am delighted to welcome Tommy, Michael and Kevin to the coach education team at the association.
"All three hold UEFA Pro Licences and have vast playing, coaching, managerial and tutoring experience, which will undoubtedly help drive up coaching standards across all levels of the game within Northern Ireland."
A former striker with Notts County, Derby County, Aston Villa and Celtic, Tommy Johnson has also been head of recruitment for several leading English clubs.
He has been involved as a lead tutor with the Irish FA's coach education department for more than a decade and is currently coaching with the Northern Ireland senior men's squad. His area of responsibility will be the UEFA A and UEFA A Elite Youth diplomas.
Michael Carvill starred in the Irish League top flight with Linfield and Crusaders - and more recently with Dungannon Swifts. 
He previously worked with some of Northern Ireland's youth international squads and is currently the manager of Amateur League team Kilmore Rec.
Michael has been involved in the planning and delivery of Coach Ed courses for more than five years. His area of responsibility will be the UEFA B and UEFA B Youth diplomas.
Kevin Doherty has worked within the Irish FA for more than 15 years. During that time he has been involved in the planning and delivery of coach education courses across all levels of diplomas up to and including UEFA A.
He is a former Irish League coach and manager with Institute and has worked within the Irish FA player development programme. Kevin's area of responsibility will be the grassroots coach education programme.
The team also includes administrator Lorna Stewart, who has worked in the department for several years, and administrator Karen Chambers, who has previously worked in various departments across the association.