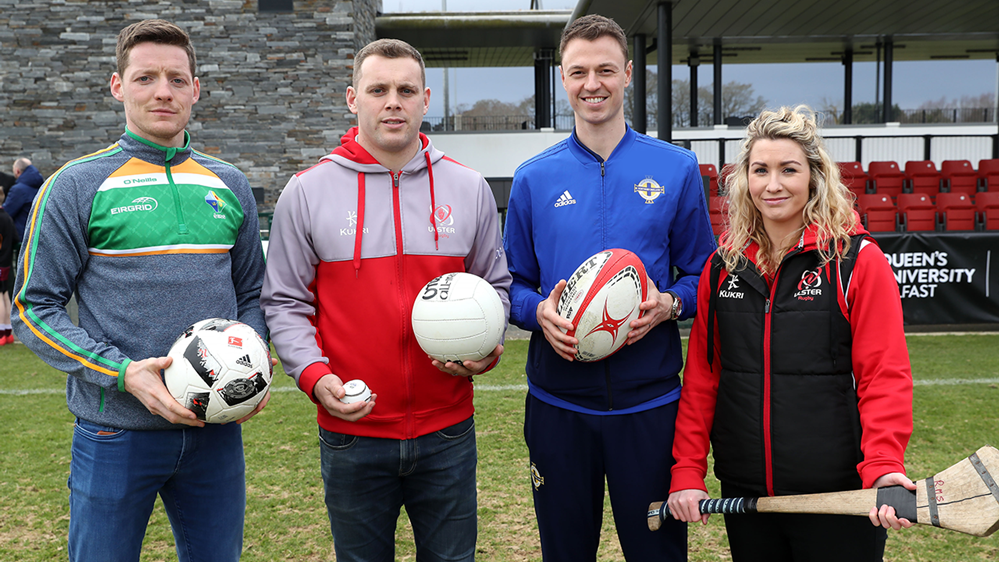 To officially mark the closure of the EU PEACE IV funded 'Sport Uniting Communities' project the Irish Football Association, Ulster GAA and Ulster Rugby produced a legacy video capturing its key achievements. 
Delivered across the province of Ulster, the collaboration project between the three bodies aimed to reach 17,000 people of differing backgrounds, particularly across the political divide, to help change perceptions and build sustained relationships.
The project exceeded this target, with 20,000 participants set to have benefited by its end.
Sport Uniting Communities was funded through the European Union's PEACE IV Programme, which is managed by the Special EU Programmes Body. Match-funding was provided by the Executive Office, Northern Ireland and the Department of Rural and Community Development, Ireland.  
Research has shown that sport delivers its most positive impacts on behaviour when it incorporates integrated mentoring, training, volunteering, and work experience programmes.
Based on this research the project partners designed a range of activities including education, training, empowerment and leadership for volunteers and clubs.
The key projects and activities delivered under Sport Uniting Communities included:
- The multi-sport partnership (three Community Sports Development Officers from each partner organisation) delivered a range of cultural, educational, social and inclusive sports-based activities that brought people together from different communities over a prolonged period.

- Utilised the Game of 3 Halves initiative across the region with 3673 young people taking part.

- A Volunteer Development Programme to 337 volunteers.

- A BME Engagement and Participation Programme with 102 participants.
- Delivered a Youth Leadership Programme to 216 young people
- 35 Club Development Sport for Peace Days.
- 20 'Have a Go' Days.

- And a number of single-led activities delivered by each individual organisation.
Minister for Rural and Community Development, Heather Humphreys TD, commented: "I am delighted that the partnership between the Irish Football Association, Ulster GAA and Ulster Rugby, which was awarded almost €1.8m under the PEACE IV Programme to deliver the cross-border collaborative 'Sport Uniting Communities' (SUC) Project, exceeded in their original targets, supporting over 19,500 participants from different backgrounds in meaningful, purposeful and sustained contact. I want to congratulate the programme implementers and all the participants on the successful outcomes resulting in clubs becoming more open, inclusive and welcoming to people from different communities.
"I am confident that learnings from the Sport Uniting Communities project will continue to change perceptions and create sustained relationships that will further establish ongoing Peace and Reconciliation for generations to come."
Outlining the impact of the project Gina McIntyre, Chief Executive of the SEUPB said: "Many citizens living in this region continue to be subject to racism and sectarianism, which only serves to hold our society back as we all attempt to move forward. The building positive relations objective of the EU PEACE IV Programme set out with the objective of funding projects in everyday settings, which would address these issues in a meaningful way in order to create real change. 
"The Sport Uniting Communities project is a fantastic example of this type of EU-funded work. It has used various sport activities as a vehicle to connect people who would not normally have had the opportunity to meet, and facilitate important conversations about race and religion, so encouraging new and positive relationships between all sections of the community. I would like to congratulate the project for all that it has accomplished over the past four years and for the many thousands of people it has benefited," she continued.
Irish FA President Conrad Kirkwood said: "Sport has the power to bring people together. We have seen the positive effect that football has on communities across Northern Ireland, both in terms of the health benefits of playing the game throughout the pandemic as well as the shared experience of competing, spectating or volunteering."
Ulster GAA President, Ciaran McLaughlin, said: "The multi-sport partnership between the three major sporting bodies in Ulster has evolved and strengthened over the last decade. By using sport to promote contact between individuals from diverse backgrounds, the partnership has helped to break down barriers within communities. The "Sport Uniting Communities" project has further enhanced this work enabling meaningful, purposeful and sustained contact between communities through sport. Ulster GAA is highly committed to continuing the work achieved by this project.''
IRFU Ulster Branch President, Gary Leslie, added: "Ulster Rugby were delighted to be involved in this fantastic initiative along with our partners in Ulster GAA and the Irish FA. Rugby, and indeed sport in general, offers so much more to people than just the 70, 80 or 90 minutes on the pitch, and through this programme we had the opportunity to deliver these sporting and societal benefits to an even greater number of people right across the Province." 
Jahswill Emmanuel, Project Beneficiary, said: "We at MSCNI (Multi-Ethnic Sports & Culture Northern Ireland) found this programme very beneficial for our youths, most especially the new migrants. The Irish FA, Ulster GAA and Ulster Rugby coming together to facilitate the programme every year signifies united sporting organisations. 
"Also, it shows a positive image to the youth that were in attendance. All the youth thoroughly enjoyed the sessions as they were educated in local sports and signposted to local clubs. It is great to see sport becoming more diverse. We give thanks to the three organisations for their support, amazing delivery of the project and level of professionalism shown," he continued. 
The Irish FA, Ulster GAA and Ulster Rugby look forward to the new PEACEPLUS Programme and continuing to use the reach of sport for cross community engagement to promote peace and reconciliation.
For more information on the Sport Uniting Communities project please contact Sarah Keys, Project & Finance Manager, Irish FA via email sarah.keys@irishfa.com
For more information on the EU PEACE IV Programme, please contact John McCandless, Communications Manager with the SEUPB via mob. 07841 367052 or email: john.mccandless@seupb.eu