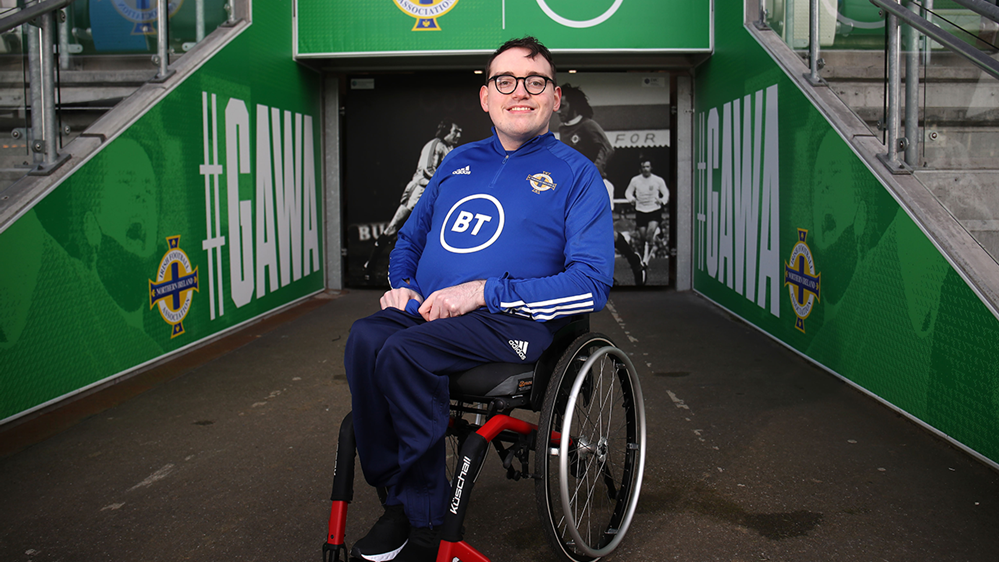 In an ongoing Q&A series we are highlighting the people who make the Irish Football Association tick.
Name: Jason Browning.
Job title: Disability Access Officer (DAO).
How long have you worked for the Irish FA/Irish FA Foundation?
Since January 2021.
What's your role within the association/foundation?
My role as Irish FA Disability Access Officer typically involves working in several areas and with a number of departments.
My primary responsibilities are to provide a dedicated point of contact within the Irish FA for disabled people and synergising multi-department strategies for disability access within the Irish FA.
I want to help create a world where everyone can enjoy watching the beautiful game without any barriers, no matter what their disability or personal challenges may be
The main areas that I would be involved with are the ticketing department, stadium and matchday teams and liaising with disabled fans, supporters' groups, clubs and disability organisations.
Having this role in place will also help to ensure that disability access is at the forefront of football spectating in Northern Ireland, at national and club level. 
As a result an important aspect of my role is to encourage and support best practice accessibility improvements across Northern Irish football - with the ultimate goal of making spectating safe, secure, supportive and easily accessible for all fans.
I want to help create a world where everyone can enjoy watching the beautiful game without any barriers, no matter what their disability or personal challenges may be.
In addition to this I am working to improve accessibility through improvements or changes to facilities, increasing disability awareness and facilitating bespoke training opportunities on various accessibility topics.
Examples of these would be disability and accessibility training for staff and stewards or DAO training for clubs. My role isn't just limited to the Irish FA. I'm also involved in assisting and supporting NIFL clubs with any of their accessibility needs. 
Describe a typical working day for you.
It can vary quite a bit. Sometimes it will be general administrative work, which is usually done from home at the moment. On other occasions I could be meeting with various departments and stakeholders as part of our accessibility plans and projects.
I also assist the ticketing department in the run-up to Northern Ireland fixtures. During the matches themselves I'm usually at the stadium to support disabled fans with any accessibility concerns or feedback that they may have.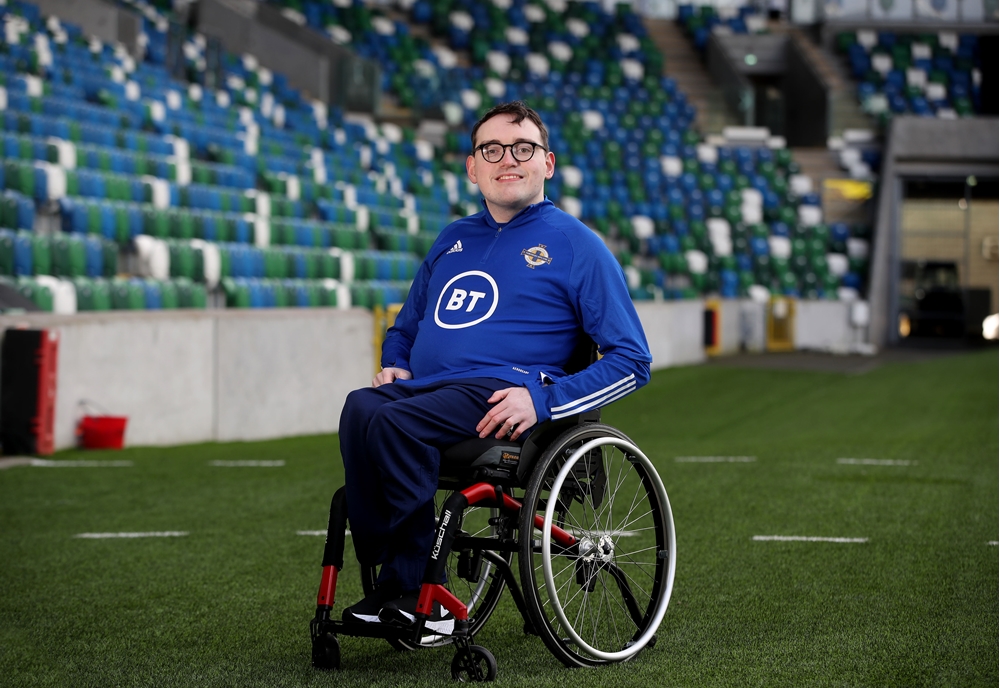 What's the best thing about your job?
Being in a position to make a positive difference for disabled football fans across Northern Ireland.
I'm a wheelchair user who regularly attends Northern Ireland and Irish League fixtures (both men's and women's games), so it's my hope that these experiences in conjunction with my personal challenges give me the best chance to improve the spectating experience in Northern Ireland for disabled people.
What are the biggest challenges you face in your role?
Probably trying to fit everything in because the role is so varied. As with any awareness role the challenge is to constantly educate both myself and others to help make the world a better, more accessible place.
Many people are still unaware of the challenges that disabled people face and the support that they need to have equal opportunities to non-disabled people. There is still plenty of educating and awareness raising to do.
What are you most proud of?
There are many things within my professional, personal and sporting life that I'm proud of.
Examples of these would be becoming the first official DAO at the Irish FA, achieving first-class honours from university, earning my first Northern Ireland cap (Powerchair Football), scoring my first Northern Ireland goal and being selected as the inaugural winner of the Ulster Disability Footballer of the Year (2016).
However, the fact that I work in football and have played football at the highest level for Northern Ireland are easily the achievements I'm most proud of. That was unthinkable growing up. 
Where did you work – and in what roles – before you joined the Irish FA?
My job as Irish FA DAO is my first employed role since graduating from university.
I achieved first class honours in a degree in Sports Coaching and Performance from Ulster University School of Sport. I also attended college, studying sports, prior to this with an emphasis on coaching, administration and management.
Are you/were you involved in football beyond your role with the association?
Yes. I'm a current Northern Ireland international at Powerchair Football.
I was a member of the Northern Ireland squad for the EPFA Nations Cup (Powerchair European Championships) in 2019. I've been actively involved in the sport here since a relatively young age. I also play for and coach Lisburn-based Lightning PFC.
I participated in many IFA-led disability football projects before Powerchair Football was available in Northern Ireland. I've got various coaching qualifications for football and other sports. I was the first wheelchair user in Northern Ireland to participate in UEFA level coaching qualifications and have a national coaching award.
Are you involved in any other sports?
Not actively, however I did participate in many different sports as a child.
Where did your love of football emanate from?
It really started by going to watch local football with my dad. He took me to watch Glentoran as well as Northern Ireland games as a kid, and that's something I still do with him today.
This not only ignited my passion for football in general but particularly local football. I firmly believe that local football is fantastic and underappreciated. Therefore it's vital to incrementally improve the spectating experience so that more and more people can enjoy the sport that had such an influence on me 
What qualifications do you have?
Coaching qualifications for many sports, including football. A first class honours degree in Sports Coaching and Performance. Training in accessibility, with an emphasis on the role and impact of positive disability access. College qualifications in sports, administration and management. Significant life experience as a disabled person and wheelchair user. 
Who (if anyone) has provided inspiration for you during your career?
There weren't too many disabled people within football to look up to when I was growing up, so it's been a goal of mine to blaze a trail for disabled people and show that working in sport is a viable and achievable career path.
Outside of that I had the privilege of being coached by (former Northern Ireland international) Mal Donaghy as a kid. I learned a lot from him, and looking at the career he had was definitely an inspiration for me. I'd say I also look up to Michael O'Neill, Jonny Evans, Steven Davis and Sir Alex Ferguson among many others.
Any other interesting facts about you that we should know?
I love sport. I support Glentoran and have followed them home and away for many years (when my packed schedule allows, of course). I'm also a fan of motorsport, tennis and basketball.
There's always sport to enjoy no matter the time or place. In addition I'm a keen gamer, regularly playing various video games in my spare time.
If you have any accessibility needs or queries, please contact Jason via email at dao@irishfa.com