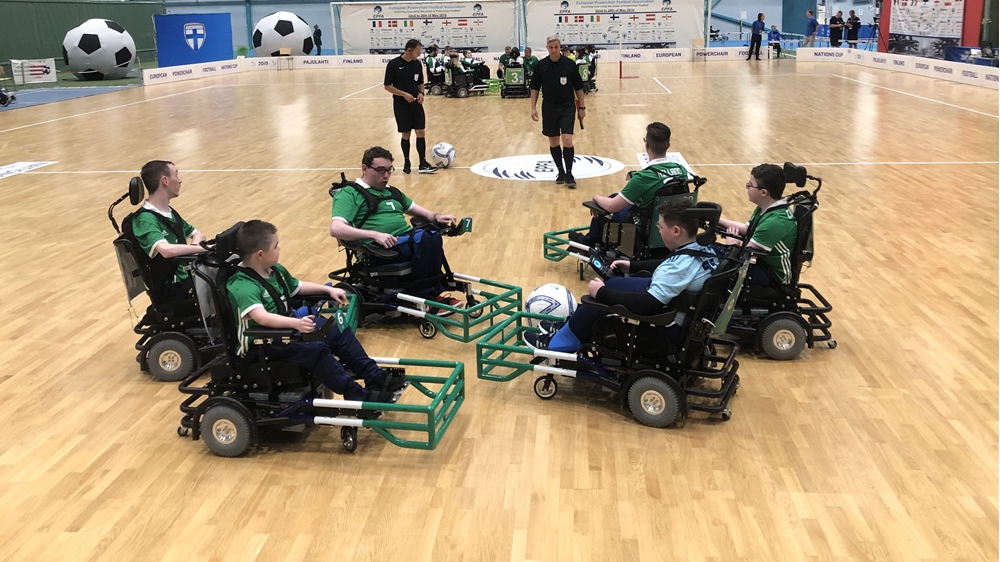 Northern Ireland's Powerchair Football team will have to wait a further year to compete at the Federation Internationale de Powerchair Football Association (FIPFA) World Cup finals.
FIPFA announced today that the 10-team tournament will be held in Australia in October 2023 rather than this autumn.
It is the second postponement of the latest Powerchair World Cup finals. They were originally due to be held in Sydney in 2021 but had to be pushed back due to the Covid pandemic.
Alan Crooks, Disability Development Manager with the Irish FA Foundation, who helps to run the team, said: "Naturally, we are disappointed that we will not be travelling to Australia later this year.
"However, it means we will have another year to prepare for the finals, and the younger players will also be able to gain more experience."
Northern Ireland qualified for their first World Cup finals at the European Powerchair Football Association Nations Cup, the sport's equivalent of the Euros, in Finland back in May 2019. Taking part in their first major tournament, they finished in the top five places to secure their spot at the FIPFA global tournament in Australia.
FIPFA said it was delaying the World Cup for another year due to the impact of Covid and the ongoing variants which continue to affect every corner of the world.
Ricky Stevenson, the association's president, said: "This will be disappointing news for our players and all involved, but ensuring everyone is safe and well before, during and after the event is the key reason for making this difficult decision." 
Dr Andy Harper, chair of the Local Organising Committee, said the decision had been taken after "extremely careful reflection" which considered the breadth and complexity of the impacts of postponement.
He added: "It is felt that the current situation with the SARS Covid II pandemic, and the lack of surety on a range of matters, exposes players and support networks, the tournament and perhaps even member federations to undue and, at this stage, avoidable risk."
He also stressed the LOC continued to be committed to organising the tournament in Sydney next year. It will be the fourth Powerchair Football World Cup.
Powerchair football, a four-a-side game which was first played here in 2010 at the Valley Leisure Centre in Newtownabbey, has been developing steadily in Northern Ireland in recent years, although the pandemic lockdown did curtail its development for several months.