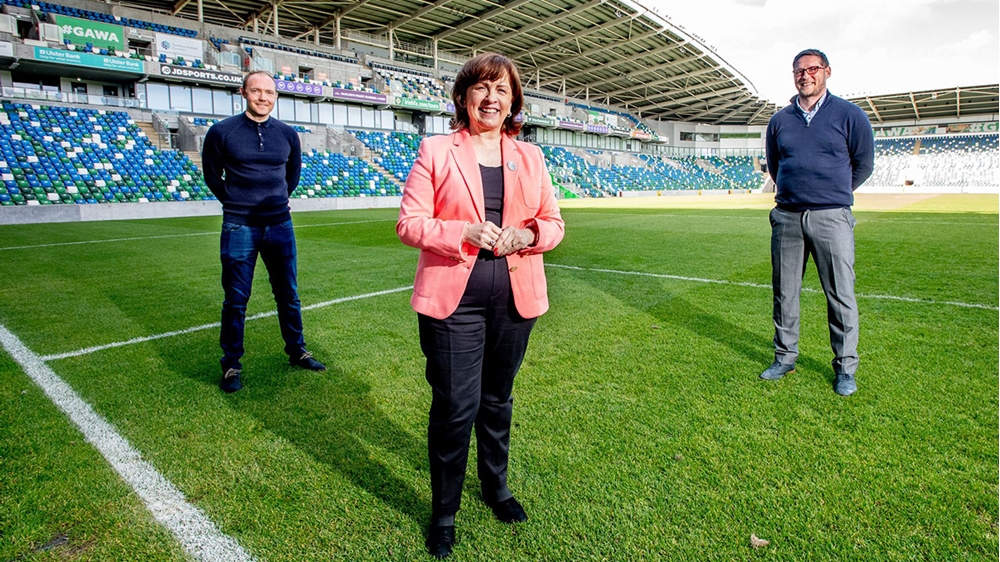 Northern Ireland's Economy Minister, Diane Dodds, has praised the work of the Irish Football Association in helping build the skills base of the local community.
The Minister met with community outreach staff from the Irish FA and heard about the work of the Irish FA Foundation, which has helped thousands of young people acquire a range of accredited qualifications since it was established in 2017.
She said: "The IFA Foundation does excellent work in the local community building the skills base of young people. The foundation helps young people attain vocational qualifications that not only make them more employable but also boost their confidence and desire to potentially go on and study for more qualifications in future.
"This in turn embeds a culture of lifelong learning in young people. I know the IFA Foundation is keen to further build on its work by introducing apprenticeships and it has begun engaging with my department to explore how this might be achieved." 
Keith Gibson, Acting Director of the Irish FA Foundation, said: "We were delighted to be able to welcome Minister Dodds to the National Football Stadium at Windsor Park to discuss our employability programmes.
"We also talked about our vision for engaging young people, including the possibility of introducing apprenticeships at the Irish Football Association." 
The Irish FA Foundation has an ongoing Education and Employability programme for young people in schools and colleges across Northern Ireland.
The programme has been delivered to thousands of boys and girls in post primary schools across the country since 2017. 
In addition to completing their academic qualifications candidates can acquire the following Irish FA qualifications and many more: Grassroots Intro Award; National Coaching Certificate; Futsal Intro Award; Futsal Level 1; Full Referee Award; OCN Level 2 in Football Business; Coaching Disabled Footballers Level 1.
The Irish FA Foundation's work experience programme has gone from strength to strength, although it has been hampered by Covid-19 over the past year or so.
In 2019 a total of 95 students completed work experience with placements ranging from one week to one year. In 2020 a total of 12 students had completed work experience before the programme had to be suspended due to the pandemic.
Since 2016, as part of the Let Them Play strategy, the Irish FA/Irish FA Foundation placement initiative has provided excellent opportunities for young people in Northern Ireland.
Students are given the opportunity to shadow Regional Grassroots Development Officers and Let Them Play Officers and assist in the work of the Football Development team as well as marketing, communications and elite development.
The Foundation is also hoping to be able to deliver apprenticeship programmes in the future. 
Image: Economy Minister Diane Dodds was welcomed to the National Football Stadium at Windsor Park by Ross Redman, Schools' Officer, Irish FA Foundation, and Kris Lindsay, Community Sports Development Officer, Irish FA.