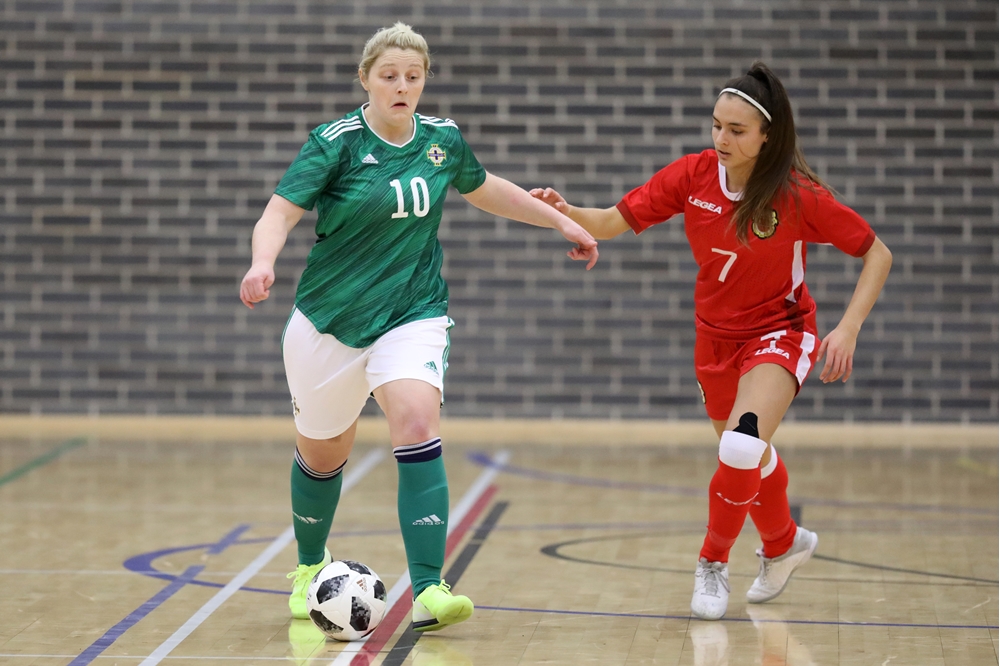 Northern Ireland's senior women's futsal team suffered defeat in their opening qualifier for the UEFA European Women's Futsal Championship 2022.
Keith Gibson's side took on Serbia this afternoon in the first of three matches they are playing in Lithuania this week in Group A of the preliminary round of the Women's Futsal Euro – and they lost 4-1 to the top seeds in the group in Jonava.
Northern Ireland opened the scoring in the first half at the Jonava Arena, however the Serbians fought back hard after the break to claim maximum points.
In the early exchanges Serbia piled on the pressure and produced a flurry of chances. Defenders Milana Knezevic and Nikolina Batinic fired a couple of efforts wide, while forward Marija Vukovic also went close.
Northern Ireland's first chance came after six minutes when Amber Dempster shot just wide of the target and then Shannon Dunne forced a save out of Serbian keeper Andrea Sipetic.
The Serbs continued to fire in shots before Dempster had a couple of snapshots blocked. And then the Northern Ireland striker (pictured above) scored with a great strike from a free-kick.
Northern Ireland keeper Alice Harkness was the busiest player on the court for several minutes as she repelled a handful of Serbian attacks.
Both Megan Weatherall and Rachel McConnell went close before the Serbs had further attacks. Next to have an effort for Gibson's side was Beth McKay, whose drive was blocked, before Olivia Brown forced Sipetic into another decent save.
In the 16th minute the Serbians were awarded a penalty, however Harkness was equal to Vukovic's spot kick. It was a superb stop.
Both sides had chances as the game flowed from end to end - and as the break approached Vukovic hit the woodwork.
Harkness was called into action again early in the second half as Serbia piled forward.
The Serbians equalised in the 23rd minute when Brown tried to keep out Batinic's effort but put the ball into her own net.
Dunne and Dempster both missed opportunities before Vukovic fed Knezevic and she slammed the ball home to make it 2-1 to Serbia.
McConnell, Dunne, Weatherall and Heather Mearns all had efforts after that, while the opposition also created several more chances, before Batinic hit the woodwork on 32 minutes.
Harkness made a couple of decent stops before Serbia extended their lead through Vukovic on 35 minutes.
Batinic produced a few more shots before McKay, McConnell and Dunne brought the best out of Sipetic in the Serbian nets.
Lana Colic hit the woodwork for the Serbians before they notched the final goal of the contest right at the death. Barbara Izgarevic fired a shot towards goal which Mearns could only turn past her own keeper. 
A final scoreline of 4-1 suggests it was a stroll for the Serbians, but it was far from that as Gibson's team produced a decent performance in Jonava.
Next up for Northern Ireland is a game against hosts Lithuania tomorrow followed by a qualifier against Slovakia on Saturday.
The winners of three Women's Futsal Euro preliminary rounds this month (postponed from May 2020) will advance to a main round in October, joining 13 teams given byes. From the main round four teams will emerge for a four-team knockout final tournament in March next year.
After the game, Keith Gibson said: "We are still very much in the development stage of futsal in Northern Ireland. Today these players showed the potential we have against a good side.
"We had to go for it in the last five minutes and conceded two on the break. The final scoreline was definitely a bit harsh on us.
"Having not played a game for 18 months, to put in a performance like that was incredible. I am so proud of the hard work they put in today.
"If we can recreate this level of performance against Lithuania we have every chance of registering our first competitive win."
Northern Ireland: Harkness (GK) (captain), Weatherall, McKay, McConnell, Hennity, Devine (GK), Dunne, Bell, Firth, Brown, Mearns, Dempster.
Serbia: Sipetic (GK), Trisic, Knezevic, Andric, Vukovic, Dujovic (GK), Malijar, Armus (captain), Batinic, Vasiljkovic, Colic, Izgarevic.