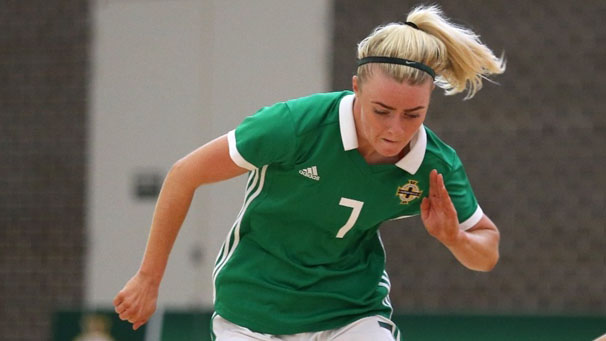 Northern Ireland's senior women's futsal team made history in their second qualifier for the UEFA European Women's Futsal Championship 2022.
The team registered their first competitive victory when they defeated the host nation 1-0 in the second of three matches they are playing in Lithuania this week in Group A of the preliminary round of the Women's Futsal Euro.
Although Northern Ireland were beaten 4-1 by Serbia in their opening game, team manager Keith Gibson felt the final scoreline was somewhat harsh on them.
And his prediction that they could bounce back against the Lithuanians, who lost 7-0 to Slovakia in their first encounter, was spot on as midfielder Olivia Brown (pictured) scored the only goal of the game in Jonava this evening.
Against the host nation – the game was played at the Jonava Arena– they produced several chances and were rewarded for their attacking verve.
In the opening minute Beth McKay had two shots blocked and Megan Weatherall had a drive saved by Lithuanian keeper Kleveckaite.
Weatherall missed another couple of chances before it was Brown's turn to have an effort blocked. And McKay tested Kleveckaite once again.
Northern Ireland pinned Lithuania back and it took five minutes for the hosts to register an effort on goal. Skudutyte had a rasping shot blocked.
Amber Dempster and Weatherall had further opportunities before Luizinaite and Dockaite had shots blocked.
Siobhan Bell's strike was well saved and Northern Ireland had a few more efforts before Hannah Firth hit the woodwork in the 12th minute.
Gibson's team continued to create the bulk of the chances as the half wore on, although the Lithuanians also had efforts pushed away by Northern Ireland keeper and captain Alice Harkness.
Towards the end of the half the visitors pressed hard with Bell, Brown and Dempster all having good efforts.
After the break Weatherall hit the woodwork before Harkness saved from Dockaite. 
Brown, Weatherall and McKay all had opportunities before Brown was fed by Weatherall on 22 minutes and slammed the ball home to make it 1-0.
Erin Hennity and Rachel McConnell tried their luck before Dempster put a shot wide on 24 minutes.
Kleveckaite saved from Dempster, who then had a couple of shots blocked before Harkness pulled off two fine saves down the other end.
At the midway point in the second half the hosts had a handful of chances, however Weatherall and Firth continued to fire in shots, followed by Brown, McKay and Bell.
Towards the end of the encounter Lithuania pushed hard in search of an equaliser and Harkness had to produce a string of fine saves, however Northern Ireland held on to secure the famous 1-0 win.
Next up for Gibson's team is a game against high flying Slovakia on Saturday. The Slovakians defeated Serbia earlier today to top the Group A table with maximum points after two matches.
The winners of three Women's Futsal Euro preliminary rounds this month (postponed from May 2020) will advance to a main round in October, joining 13 teams given byes. From the main round four teams will emerge for a four-team knockout final tournament in March next year.
Northern Ireland: Harkness (GK) (captain), Weatherall, McKay, Brown, Hennity, Devine (GK), Dunne, Bell, Firth, Mearns, McConnell, Dempster.
Lithuania: Kleveckaite (GK), Romanovskaja, Aidukaite, Liuzinaite, Antonovic, Sukstulyte (GK), Dockaite, Geceviciute, Apkeviciute, Ciapaite (captain), Skudutyte, Bagaviciute.