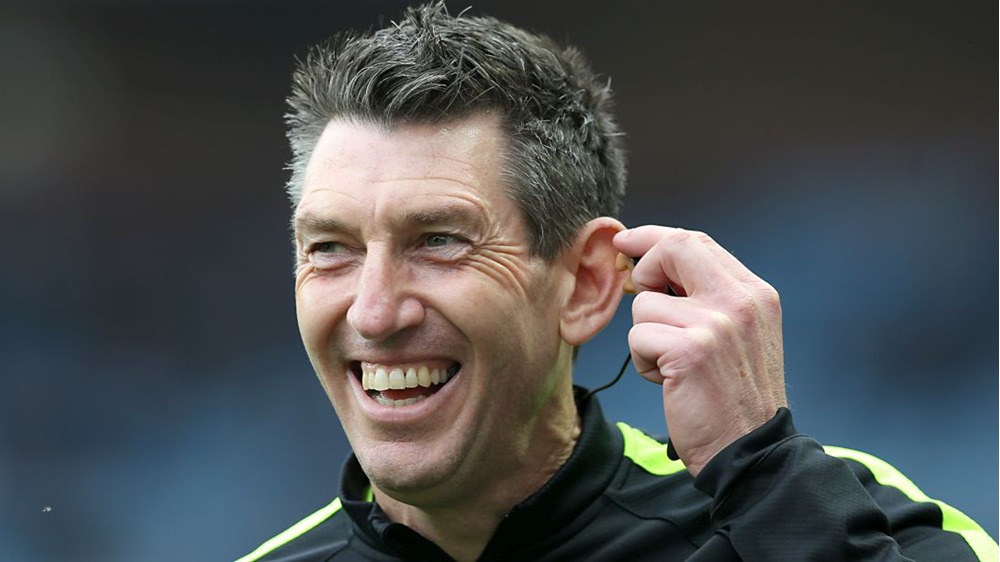 Lee Probert will kick off webinar series with talk on game management
The Irish FA's refereeing department is continuing to help officials at all levels across Northern Ireland to upskill during the current lockdown.
As part of its ongoing referee education and development work it is set to launch a series of webinars featuring some top current and former officials as well as experts on everything from nutrition and fitness to psychology and technology.
'This series of webinars has been created to continue referee education and development, via virtual means, in these challenging times'
There will be 11 different speakers during the series, which has been themed 'Learning throughout Lockdown'.
It kicks off tomorrow night with Lee Probert as the chief guest. Probert, a former full-time professional referee who officiated in the Premier League from 2007 until 2019, will deliver a talk on game management.
In particular Probert, who refereed the FA Cup final in 2014 and was on the FIFA referees list for 12 years, will be focusing on communication, dealing with difficult situations and positioning.
Trevor Moutray, the Irish FA's Head of Refereeing, explained: "This series of webinars has been created to continue referee education and development, via virtual means, in these challenging times.  
"It has been developed with every match official in mind, from the recently qualified match official with much to learn to the very experienced official who is always open minded and looking for ways to make even small or modest improvements. In summary there is learning for everyone."
He pointed out 'Learning throughout Lockdown' has been developed to touch on the key aspects of a match official's performance – both on and off the field of play.  
And he added: "The 11 guest presenters will be sharing considerable individual knowledge, experience and insights. Collectively they provide powerful and significant learning opportunities."
The webinar series will also feature talks by former World Cup and FIFA referee Alan Snoddy (10 March), nutrition expert Dr Richard Allison (17 March), strength and conditioning coach John Cochrane (24 March), former Wales international David Cotterill (31 March), psychologist Stuart Carrington (7 April) and communications specialist and ECB umpire manager Chris Kelly (14 April).
Former Welsh international player Cheryl Foster, who is now a FIFA referee, will look at the referee journey on 21 April, while the FA's National Referee Development Manager, Daniel Meeson, is set to focus on managing dissent on the pitch on 28 April.
Current Premier League ref Rob Jones will be the main guest on 5 May – he will be focusing on getting difficult decisions right on the field of play – before the acting head of match officials with the Rugby Football League, Phil Bentham, completes the series on 12 May with a look at the use of technology in rugby league.
The webinars are only open to officials affiliated to the Irish Football Association. For more information email: trevor.moutray@irishfa.com