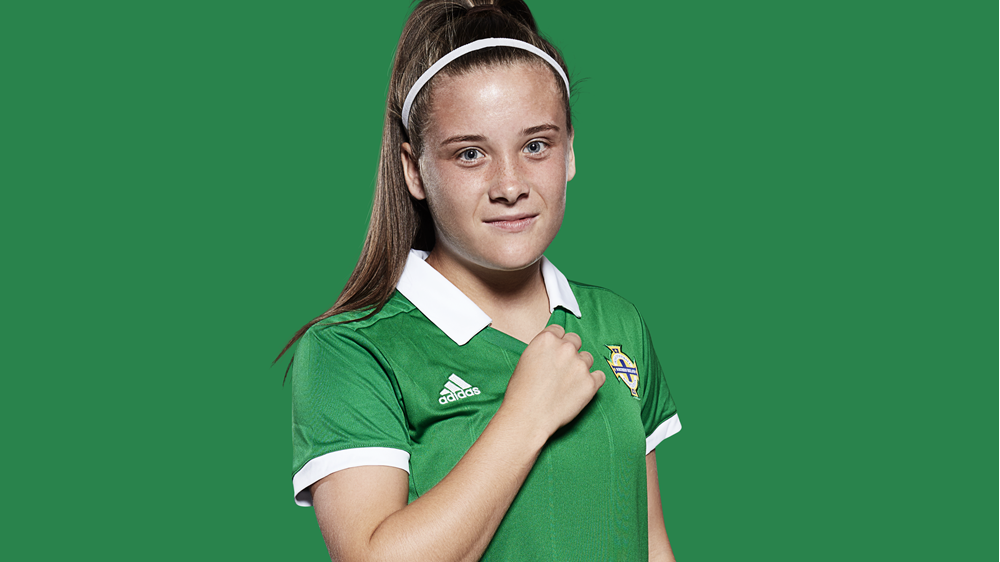 In the run-up to the Women's Euro 2022 play-off matches in April we are highlighting the players who have helped the Northern Ireland senior women's squad reach the play-offs for a major tournament for the first time in the team's history.
Megan Bell has all the attributes to be a star for the Northern Ireland senior women's team for many years to come.
The 19-year-old attacking midfielder has already captained her country at Under-15, U17 and U19 levels and would love nothing more than to undertake the same role one day with the senior team.
She already has 19 senior caps and a senior goal to her name, while her desire to represent her country can clearly be seen from her record at underage levels. She played eight times for the U15s and on six occasions for the U16s before making 10 appearances for the U17s.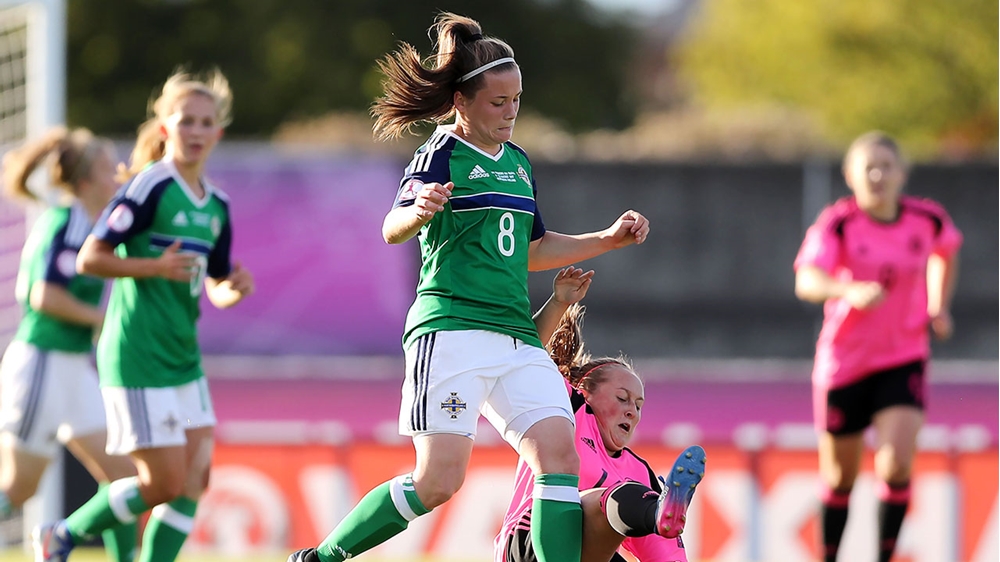 And with the U19s she played all three group games - aged just 16 - at the Women's U19 Euros staged in Northern Ireland back in 2017 and 12 in total. She said playing at that U19 tournament is one of her favourite experiences in football to date.
The attacking midfielder, however, will miss out on next month's play-off matches against Ukraine Women. She broke a bone in her leg last spring and although she returned to fitness and played for her club, Rangers Women, back in December, she still has pain in her leg and she will need an operation to sort it out. She will be going under the knife any day now.
'Fall in love with football, have fun, work hard and chase your dreams, and don't be afraid to make mistakes because that's how you learn'
Megan said: "Representing Northern Ireland and wearing that shirt is my greatest privilege. Although I have been struggling with an injury for the past nine months and wasn't able to be there for the last four qualifiers, and now have an operation ahead of me which makes me set to miss the matches against Ukraine, I have never felt so proud of the team watching them make history by qualifying for the play-off."
Her last appearances for the senior women's team were at the Pinatar Cup in Spain last March. Before that she was involved in the Women's Euro qualifiers against Wales (home and away) and Norway away in late 2019. She made her senior debut, aged 16, against Slovakia in a Women's World Cup qualifier in 2017.
Naturally, she is hoping Northern Ireland can now qualify for the Women's Euros in England next year – and that she can play her part.
The Dundonald teenager started kicking a ball "from no age" and began to take part in matches at the age of seven.
And football was her number one sport from the start. "I did a bit of sprinting in school but I am a bit of a one trick pony when it comes to sport," she joked.
Megan played boys' football for eight years until the age of 16 - for Dungoyne and Ards Rangers – but was also part of the Linfield Ladies set-up for several years.
She actually joined the Linfield Ladies Academy at the age of nine and such was her ability that she trained with the first team from the age of 14.
And in August 2015 aged just 14 she scored two goals for Linfield on her first team debut - in a 6–1 home win over Sion Swifts Ladies. And she went on to win three consecutive NIFL Women's Premiership titles with Linfield between 2016 and 2018.
From the Blues she moved to FA Women's Championship side Durham Women in the summer of 2019. She was a part-time professional with Durham – the move to England's North-East coincided with her starting a degree at Durham University – but then Rangers Women came calling with the offer to go full-time and she jumped at the opportunity. She signed a two-year professional contract with the 'Gers in January 2020.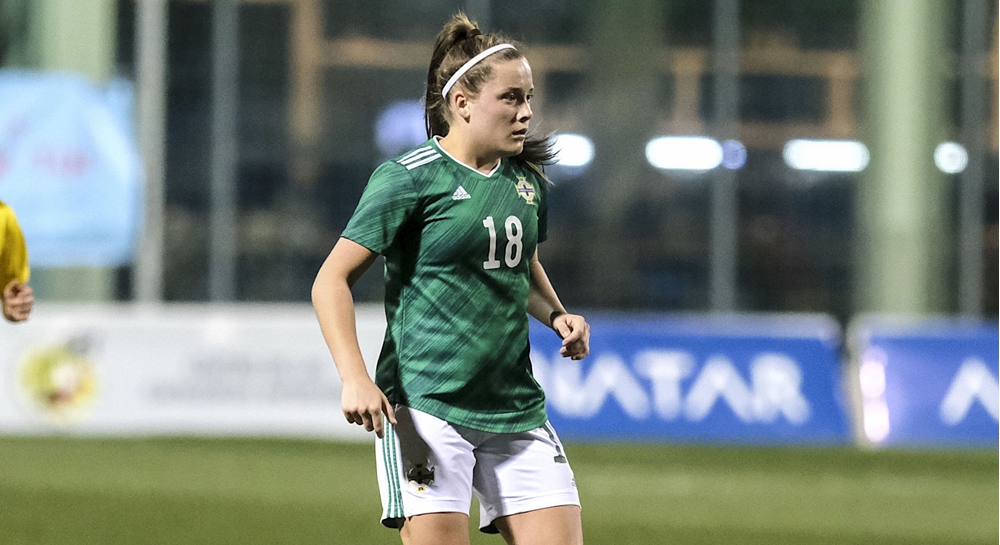 Signing for Rangers Women was a proud moment for her, especially because she is now representing a team she has supported since she was a kid. 
The Liverpool and Rangers fan lists Steven Gerrard and Sadio Mane as her favourite players of the past decade or so, while Liverpool boss Jurgen Klopp and the now Rangers boss Gerrard are her favourite managers.
Megan reckons Netherlands are the best team she has faced on the international stage, while the Philips Stadion in Eindhoven, where she played for Northern Ireland against the Dutch in front of more than 30,000 people in 2018, is the best surface she has played on. She also said playing in front of so many people was "so surreal". 
Norway midfielder Caroline Graham Hansen has been her most difficult opponent to date. "You just can't get the ball off her," she quipped.
Megan also revealed her parents and family have been a massive inspiration throughout her career.
She pointed out: "They sacrificed a lot for me when I was younger so that I could chase my dreams, always kept me grounded and encouraged me to strive for more and look ahead to the next thing I could achieve, and they still do to this day. 
"At a young age it also helped to have players like Ashley Hutton at Linfield and the older players in the Northern Ireland squad to look up to." 
And what advice would she give to someone starting out? "Fall in love with football, have fun, work hard and chase your dreams, and don't be afraid to make mistakes because that's how you learn," she said.