To help mark International Women's Day 2021, we caught up with Northern Ireland striker Simone Magill to ask her about the challenges she has faced in the women's game.
This year's IWD theme is Choose to Challenge, focusing in on calling out gender bias and inequality. From challenge comes change, so let's all choose to challenge.
We asked Simone about challenging stereotypes and the importance of inspiring the next generation of girls in the game. 
Here's what the 26-year-old NI and Everton Women's star had to say: 
With this year's theme being Choose to Challenge, how important is the Northern Ireland Women's senior team in challenging stereotypes around women playing football? 
I think it's really important. There are a lot of stereotypes out there regarding women's football saying we shouldn't be playing and what not.  I think that's slowly changing and we'll just continue doing what we're doing and that's playing and inspiring young girls to go out there and dream and make football a reality for them one day.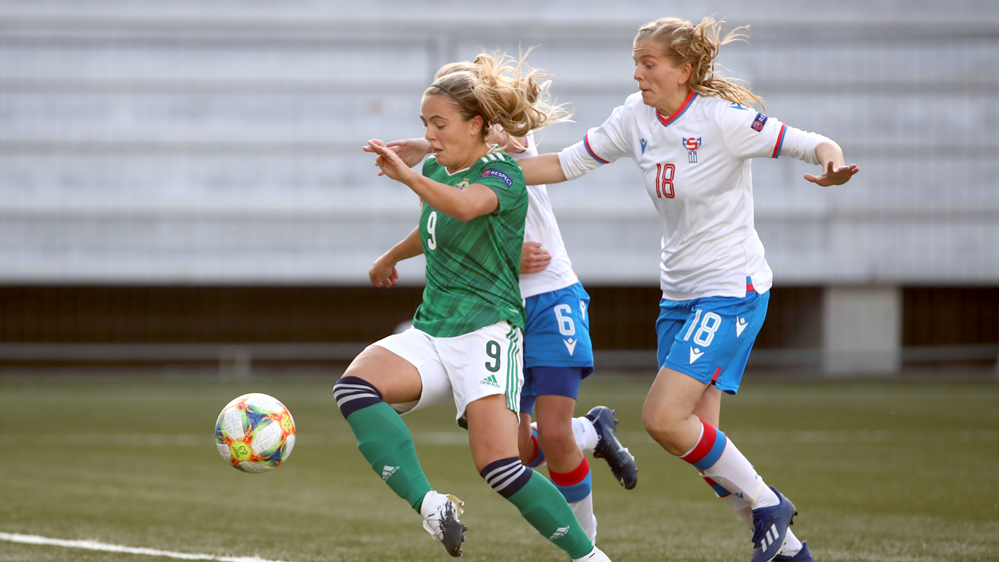 Above: Simone Magill in action for Northern Ireland against the Faroe Islands
What sort of a challenge does this forthcoming UEFA Women's Euro play-off pose to the team?
It's massive. These are the moments you play football for and you dream of playing play-offs and trying to qualify for major tournaments so we're really looking forward to the challenge and putting in the preparation for that. Hopefully, come April, we'll be in a really strong position. 
How important is it that this team inspires women and girls right across Northern Ireland to pull on that green jersey?
That's what it's all about. Hopefully we're inspiring the next generation of girls coming through. Whenever I was young there wasn't much out there in terms of being a professional player and getting to play football as a job. It's so important now that we can be role models for these young girls and they can look up and say that one day I want to play for Northern Ireland.