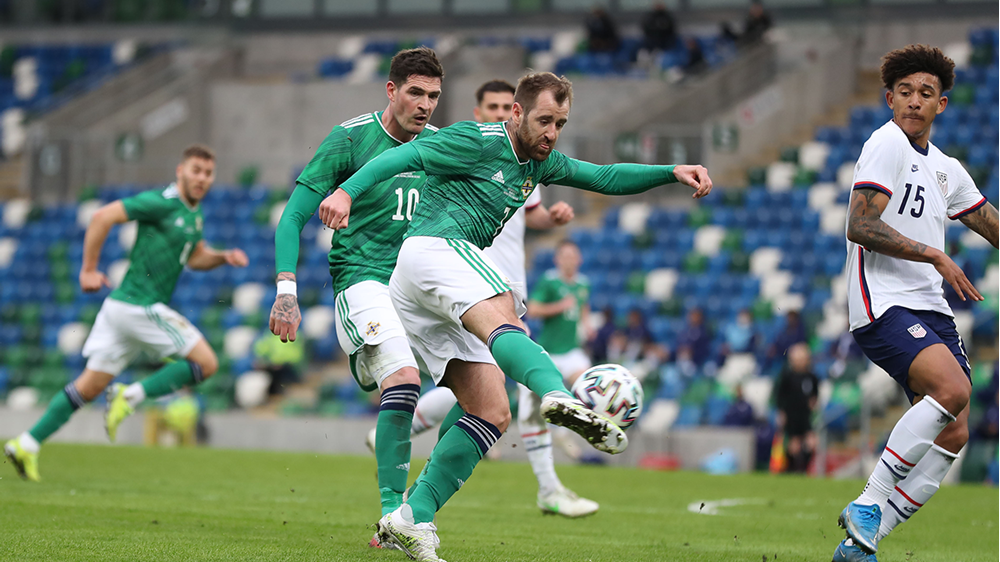 Niall McGinn scored a late wonder goal for Northern Ireland in tonight's 2-1 defeat to USA at the National Football Stadium at Windsor Park.
We caught up with him after the match to get his assessment of the game and to get his reaction to his remarkable half volley.
"The USA were working us hard but I thought we pressed well at times and at other times we didn't really press as well as we could have. 
"We had good chances in the game. Kyle had a good chance in the first half and Shayne had a chance. All in all we're disappointed – we definitely had the chances to but we probably need to go in front to breed that confidence throughout the squad. 
"They got lucky with the first goal and maybe it was a dubious penalty as well and it's probably Pulisic being quite cute. He's a talented player and you could see that in the game how good he is. 
"Wednesday is a must-win now. We've just got to regroup and we'll look forward to that to turn things around."
On his goal, McGinn said: "I've just ran on to it and called for it and I've just hit it. I'll probably never ever hit a sweeter ball than that."
Watch the full video below