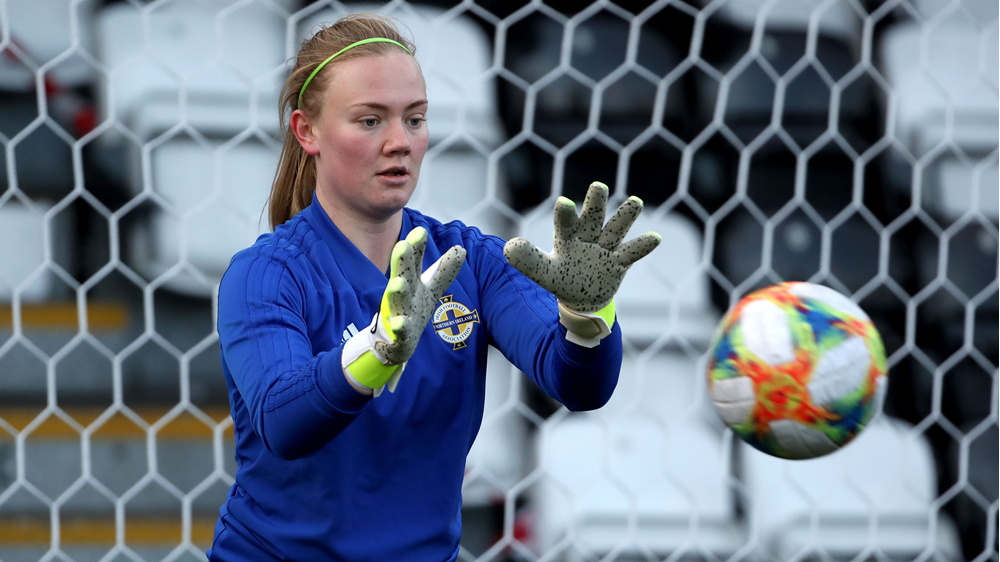 In the run-up to the Women's Euro 2022 play-off matches in April we are highlighting the players who have helped the Northern Ireland senior women's squad reach the play-offs for a major tournament for the first time in the team's history.
Jackie Burns has gone from throwing javelins in the international arena to stopping shots on the international stage.
At secondary school the 24-year-old goalkeeper was a talented all-round sportswoman.
She played netball and hockey as well as being part of the athletics team, in which her discipline was the javelin. And she was able to compete in each sport at an international level.
"It was really exciting and fun," she said, however football was always her main passion growing up in Cookstown.
Jackie started playing football at the age of eight alongside the boys at Cookstown Youth. She played with the club up until U14 level when she joined Mid Ulster Ladies.
She spent four years with the Cookstown-based women's team before going to the United States on a football scholarship.
Her destination in the States was Carson-Newman University in Tennessee and she made more than 60 appearances for the Carson-Newman Eagles in US college leagues between 2015 and 2018.
In 2017 she was part of the Eagles team that made it to the national championship game in the US for the first time in the university's history. She captained the side and fellow Northern Ireland international Lauren Wade was one of her team-mates.
The following year she was awarded All-American honours and she is actually currently back in America at Lee University (Cleveland, Tennessee) doing a Master's degree and playing her final year. She will, however, be available for the play-off matches against Ukraine.
In August last year she returned home and signed for Glentoran Women in the NIFL Women's Premiership – and won a league title with them.
Jackie made her senior debut for Northern Ireland in 2013 at the age of 16 in a friendly against the Netherlands and she has since gone on to win 26 more caps for her country.
She played in four of Northern Ireland's eight qualifiers in Group C, including the home and away victories over Faroe Islands and the away win over Belarus (although she was sent off in that game) which helped to secure the Women's Euro 2022 play-off. And she says being part of the squad that made the play-offs is her proudest moment in football to date.
The Tyrone woman has been pulling on a Northern Ireland jersey for more than a decade, playing at U15, U17 and U19 levels as well as the seniors.
"I played two years at the U15s where we successfully won the Bob Docherty (home nations) tournament twice. I had one year at U17 where we went to the elite stage of Women's U17 Euro qualifiers for the first time. And I was with the U19s for three years. We got to the elite stage of WU19 Euro qualifiers in two of those years," she explained. 
Simone Magill was a big inspiration for me because she grew up playing for the same club as me and I was able to see her progression into the professional game. It just gave me a drive to do something like that some day
The Tottenham Hotspur fan says France and Spurs keeper Hugo Lloris is her favourite player. She also thinks Northern Ireland and Leeds United defender/midfielder Stuart Dallas is a quality player. "I am not biased at all," she joked when praising the man known as the Cookstown Cafu.
And she is a fan of Spurs boss Jose Mourinho. "I watched the Spurs documentary (All or Nothing) and I like Mourinho. He shows a care for his team but also a sense of humour. He is honest," she explained.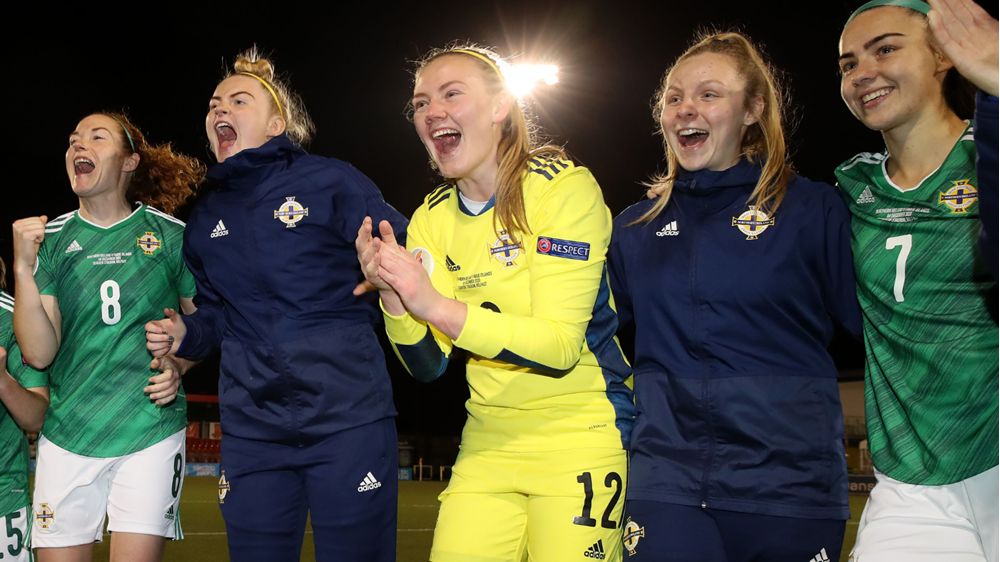 Jackie reckons Norway and Netherlands are the best teams she has played against on the international stage, while she jokes that a waterlogged Oval in east Belfast is the best pitch she has played on!
Although she operates between the sticks she revealed she has taken inspiration from an outfield player during her career.
"Simone Magill (Northern Ireland and Everton Ladies striker) was a big inspiration for me because she grew up playing for the same club as me and I was able to see her progression into the professional game. It just gave me a drive to do something like that some day," she said.
The Northern Ireland goalie knows many young girls, just like boys, want to be outfield when playing a game of football, but she insists goalkeeping can be fun. 
And her advice to young girls taking up the game is to work hard and take every opportunity you get because it may not come around a second time.
When asked if there any other interesting facts about her that we should know about, the all-rounder revealed: "I can finish a Rubik's cube and I play the flute."