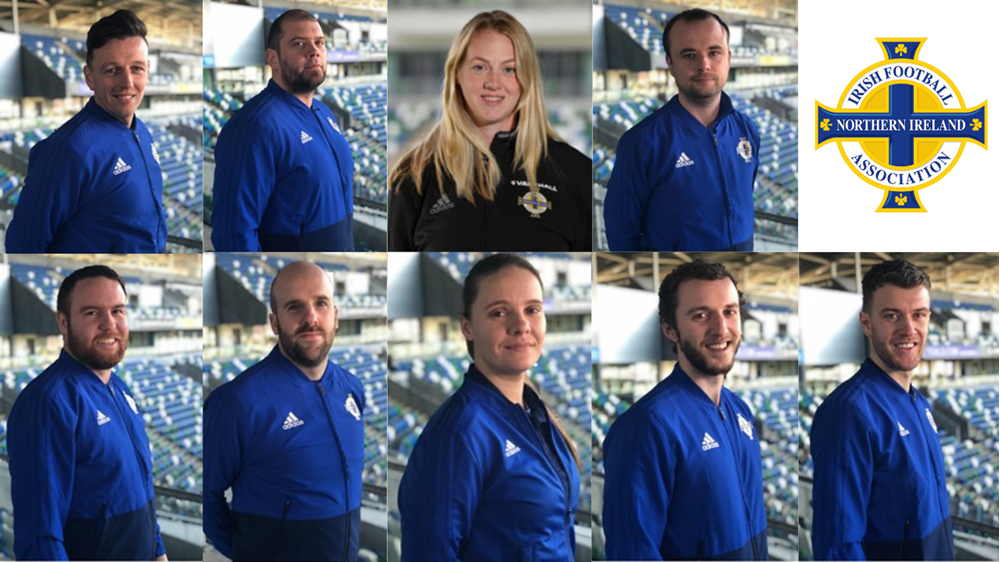 Let Them Play officers encourage schoolkids to stay active during lockdown
Irish FA Foundation coaches working on the Schools Sports Programme have revealed some of the innovative ways in which they have been encouraging kids to remain active during the Covid-19 pandemic.
The Department of Education-funded programme – it is run by the foundation and Ulster GAA – is currently being offered remotely to primary schools in the 11 council areas across Northern Ireland due to the coronavirus crisis.
And Let Them Play officers who deliver the programme on behalf of the Irish FA Foundation have disclosed how they are continuing to support teachers and children in participating schools: 
Damian McLaughlin (North and West Belfast) 
It is vital to us as a group that we are still able to communicate and support the staff and children we work with in schools. Throughout the lockdown we have been in constant contact in order to maintain and enhance the relationships we have built. 
The Let Them Play officers have been developing fun sessions which the children can use when at home as well as running a 'Footie's Fun Day Event' with prizes which was really popular among schools. 
Lockdown has been a challenging time for us all but from the beginning we knew as a team that we could play a vital role and try and give children that bit of routine and normality back while offering the support that our teachers need and deserve. 
Liam Gerrard (Mid Ulster) 
Throughout the pandemic we have become innovative in the ways we deliver our services. We have developed several lockdown resources such as session plans and home game ideas, video resources and daily challenges. 
Gareth Porter (Derry and Strabane)
We have remained in constant communication with a number of schools within our council area throughout this difficult period, providing a variety of challenges for pupils to complete in the absence of our in-school delivery. And we have a number of new projects in the pipeline.
Brendan Lynch (South and East Belfast)
Throughout the pandemic we have been creative with the teachers and children, coming up with new ways to interact.  
It has also been a good time for making links with new schools and developing our after care, helping schools we have been in previously to feel they still have a connection to us and the Irish FA. 
Amanda Morton (Sports Programme Co-ordinator) 
We have been very proactive during the course of the pandemic, planning for all eventualities. As well as video, PE and cross-curricular resources we have created for pupils we have also been designing online camp programmes and a teacher education webinar based around fundamental movement skills.
Ben Crossley (Mid and East Antrim) 
We have tried to be innovative in our programme by creating activity sheets such as 'History of the Irish FA' that support cross-curricular learning and habit trackers to educate our pupils about healthy lifestyles. 
We now have numerous video resources covering a range of functional movements and games that children can try at home. 
We miss delivering the programme in schools and rest assured our team will be ready to return as soon as it is safe to do so. 
Andrew Hardy (Armagh, Banbridge and Craigavon)
Over lockdown we have used the time to not only create new relationships with schools but further strengthen and support schools we had previously engaged with.
This has been done through weekly emails providing activities/resources. The feedback has been great. One school even commented how the resources have helped a placement student who wanted to have a focus on PE for her studies.
Ronan O'Donnell (Causeway Coast and Glens) 
We have kept the kids engaged through daily challenges and also shared resources from our partner at EFL with their winter games pack. As well as engaging pupils we have been interacting with teachers making sure to support them with online resources. In the near future we will be delivering a webinar to help teachers with their personal development. 
Heather Kerr (Lisburn and Castlereagh) 
The first lockdown really got us thinking on our feet. We started adapting games and tasks so that children could play at home with their families. Filming the games in action with my own boys as the guinea pigs was another challenge all together! 
Ryan Mullen (Omagh and Fermanagh)
The Let Them Play team have been very thorough and flexible during the course of the pandemic, planning and adapting to the constantly changing climate.  
Having provided online videos, PE and cross-curricular resources for our pupils, we have also been creating an Easter online camp as well as hosting teacher training webinars with the focus on fundamental movement skills.
Martine Power (North Down and Ards) 
We understand the importance of physical activity and hope that we have been able to support schools in these times. In early March we will be staging a webinar with teachers to outline our plans for the coming months. 
Francis Brennan (Newry, Mourne and Down) 
As a team we have been working hard to come up with fresh ways to help and engage with children and teachers during these challenging times. We have done this by developing session plans in a fun and interactive way which include videos, worksheets and webinars. 
Delivered by 24 coaches across the Irish FA Foundation and GAA, the physical literacy and health education Schools Sports Programme is designed to interact with 32,000 Key Stage 2 students across Northern Ireland during the school year, and the coaches work closely with around 700 teachers.
The foundation and GAA coaches are also tasked with delivering both cross-curricular and healthy lifestyle themes in association with physical literacy work in curriculum time.