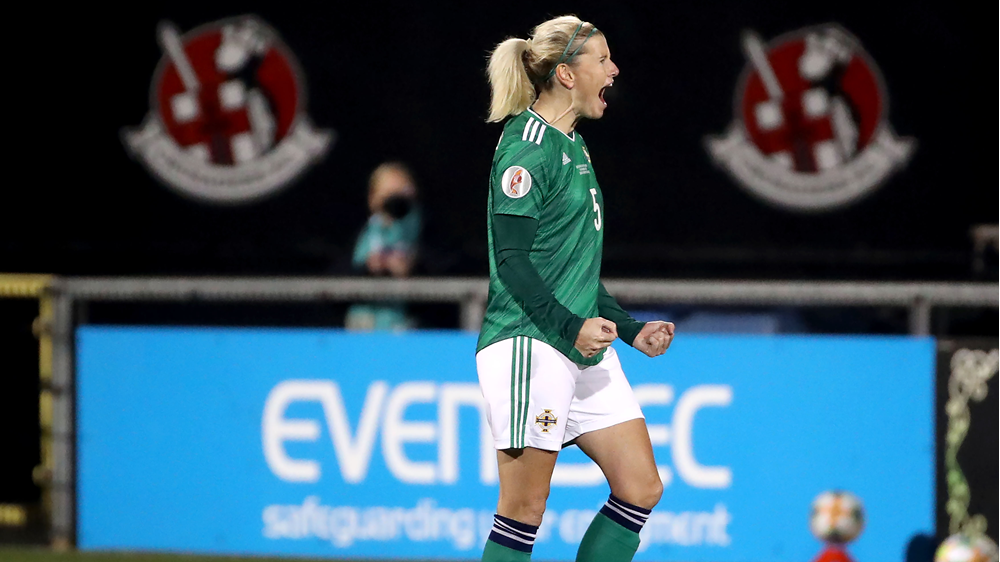 In the run-up to the Women's Euro 2022 play-off matches in April we are highlighting the players who have helped the Northern Ireland senior women's squad reach the play-offs for a major tournament for the first time in the team's history.
To say Julie Nelson is a well-travelled footballer is an understatement.
The first female international to reach the 100-caps milestone for Northern Ireland has played in various countries down the years.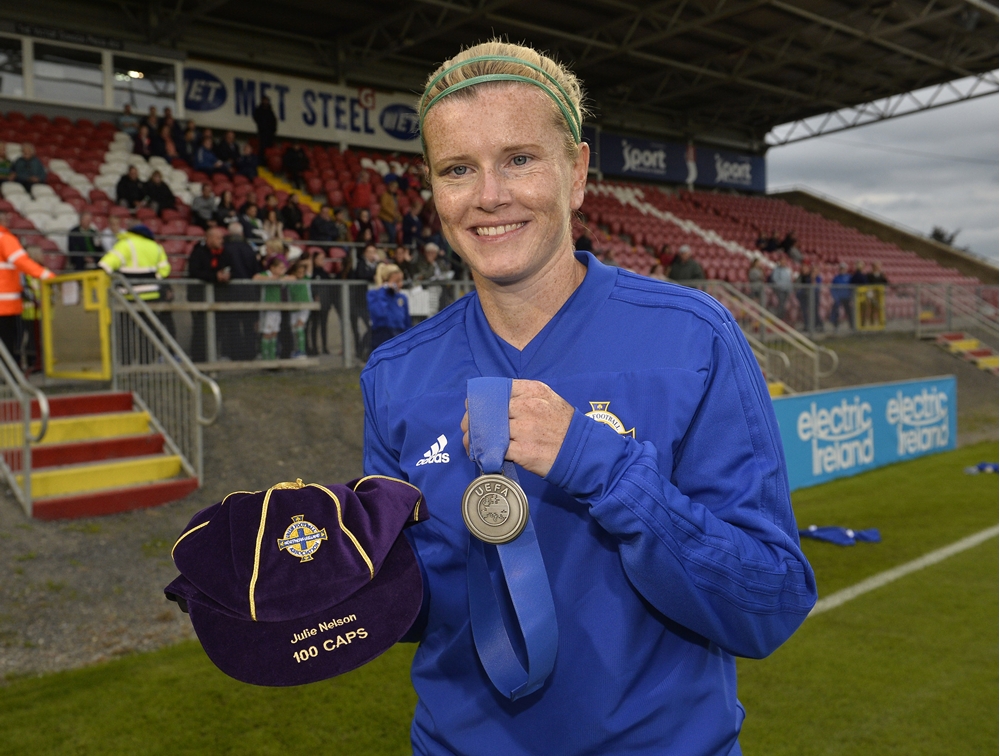 And the one constant during her travels was that she always made herself available to play for her country.
Now aged 35, the central defender from Larne made her senior debut at the age of 18 in March 2004 when she faced Portugal in the Algarve Cup tournament in Portugal. Since then she has gone on to win a further 113 caps for Northern Ireland.
She also represented her country at underage level – at U15 and U19 – and it means a lot for her to pull on the green jersey.
Julie said: "Representing Northern Ireland at underage and senior level for so many years has been an honour and becoming the first female to reach 100 caps for Northern Ireland is a standout personal achievement. 
"I'm also very proud to be part of this current generation of players with Northern Ireland creating history by reaching the play-offs and I hope that we can inspire young girls in Northern Ireland to take up the sport."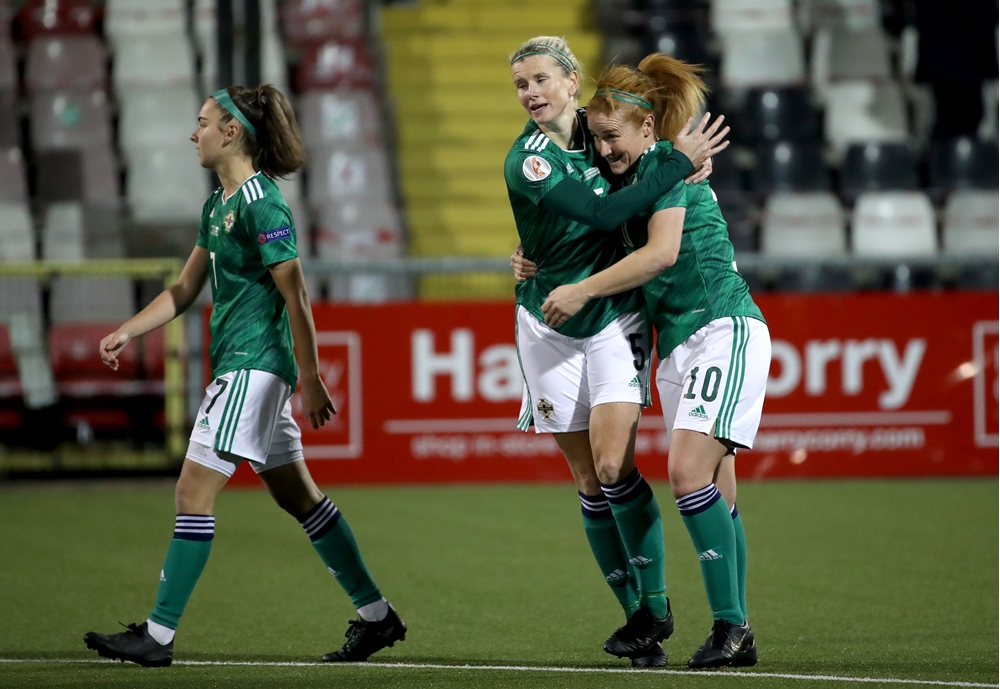 She started kicking a ball around with her brother when she was about five or six but only started playing competitively in the Moyle Primary School boys' team when she was nine or 10 and she then joined Larne-based girls' side Gilmour Gals when she was 11. 
From there it was on to Newtownabbey Strikers (who evolved into Crusaders Strikers) at the age of 15 and she went on to win five league titles with the Strikers between 2002 and 2010.
In 2004 she won a football scholarship to Carson-Newman University in the US state of Tennessee. She played in the States for three autumn/winter/spring seasons before returning home to play for the Strikers each summer. 
She ruptured a cruciate ligament in 2005 when earning her fifth cap for Northern Ireland in a friendly against Sweden, however she managed to get over the injury and carve out a great career.
After her successful spell with the Strikers – she played in the UEFA Women's Cup with Newtownabbey Strikers in 2003 and 2004 and in the UEFA Women's Champions League (which evolved from UEFA Cup) in 2010 when they had become Crusaders Strikers - she joined Icelandic side IBV in 2011 following a trial.
Julie played in Iceland for two seasons before switching to Everton Ladies (now Everton Women) in FA Women's Super League 1 for a short spell in 2013.
Next stop was Glasgow and a trophy-laden two seasons with Glasgow City that included two Premier League titles, two Scottish Cups and a League Cup. She also got to play in the UEFA Women's Champions League again. In her first season, in 2013, the team reached the last 16, while in her second year they made it to the last eight for the first time in their history – and were the first Scottish team to do so.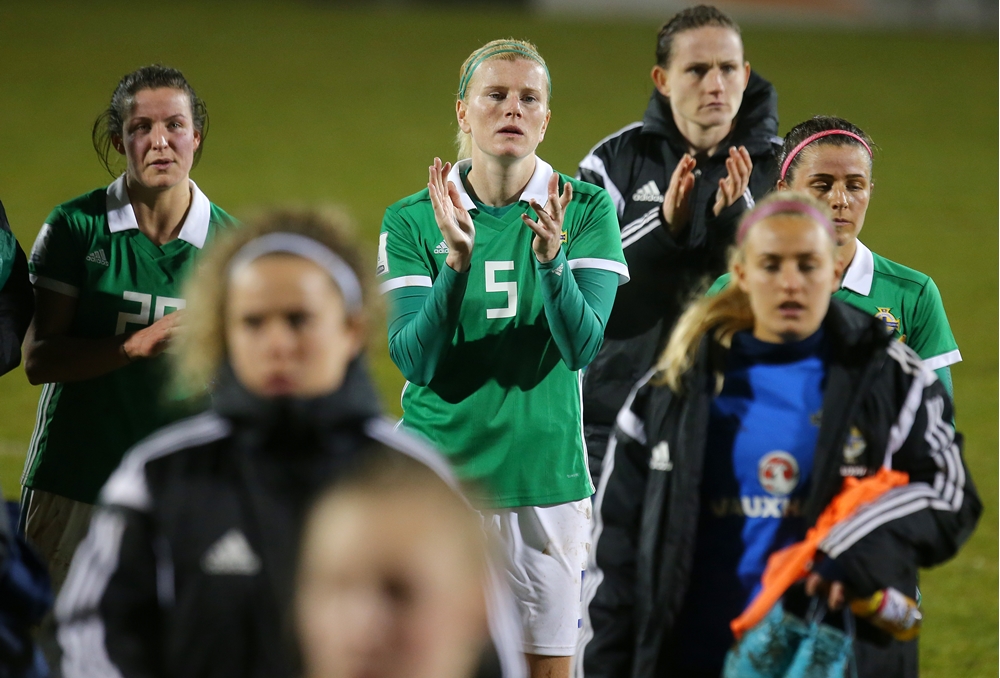 In 2015 WSL 2 side Durham Ladies (now Durham Women) came calling and Julie played for a season in the North-East of England before returning home in 2016 and re-signing for Crusaders Strikers – and she's still going strong with the Strikers.
She reckons UMEA IK are the best club side she has played against. That was back in 2003 in the UEFA Women's Cup and the Swedish team were the reigning champions of Europe at the time.
"At international level it's a close call between the French team we faced in 2010 and the Netherlands in 2018. Both teams were full of world class players and it was such a difficult challenge for us to try and compete with them," she revealed.
Julie, who won her 100th cap for Northern Ireland in 2018, also said PSV Eindhoven's Philips Stadium in the Netherlands is the best pitch/stadium where she has played. That was also in 2018 when the girls in green and white faced the Dutch in a World Cup qualifier in front of more than 30,000 fans. 
On the subject of the most difficult opponents she has faced, she explained: "There have been so many over the years, like Kelly Smith (England), Eugenie Le Sommer (France) and Vivianne Miedema (Netherlands), but most recently I would say Caroline Graham Hansen from Norway. She's so fast and dynamic and was Norway's most influential player in the two matches against us."
The Arsenal fan also revealed her favourite players: "I enjoy watching Virgil Van Dijk (Liverpool and Netherlands) in action as he's one of the best central defenders in the world, and midfielder Kevin de Bruyne (Manchester City and Belgium) is a fantastic player with his vision and technical ability. As an Arsenal fan I enjoy watching Pierre-Emerick Aubameyang (Gabon) when he's on top form." 
And when it comes to managers and coaches, she pointed out: "I don't really have a favourite. Jurgen Klopp's and Pep Guardiola's achievements in the Premier League for Liverpool and Manchester City respectively stand out over the last few years and I like the brand of football they play. 
"I've been impressed with the progress that Brendan Rodgers has made with Leicester City this season and also the influence of Graham Potter at Brighton. I worked with him during my time at Leeds Metropolitan University in 2008-9 where I completed my Masters degree on a football scholarship. Graham worked at the university and helped to coach us at the time. Emma Hayes (Chelsea Women boss) stands out in the women's game." 
Although her mum and dad have always provided great support to her, Julie says no one person has provided inspiration for her during her career.  She explained: "I just have the drive and desire to continue learning and improving and to be the best player that I can be. I love playing for Northern Ireland so I try to make sure that I am as best prepared as I can be to be chosen to do that."
When it comes to advice to someone starting out, she said: "Don't be afraid to make mistakes or go out of your comfort zone. Being involved in football is a great way to stay active and healthy, meet new friends, build character and confidence and to get the opportunity to travel the world doing what you love."
And the experienced defender has not only enjoyed plenty of success on the football pitch.
"I played most sports when I was younger with rugby being my first sport, but hockey was my other main sport. I represented Ulster U16, U18 and U21 and Ireland U16 teams and played for many years for Ballymoney Hockey Club in the Ulster Premier League," she revealed.
"I won the Schools' Cup with Larne Grammar School and Ulster Premier League and Ulster Shield with Ballymoney Hockey Club and also got the opportunity to play in European competition with Ballymoney."