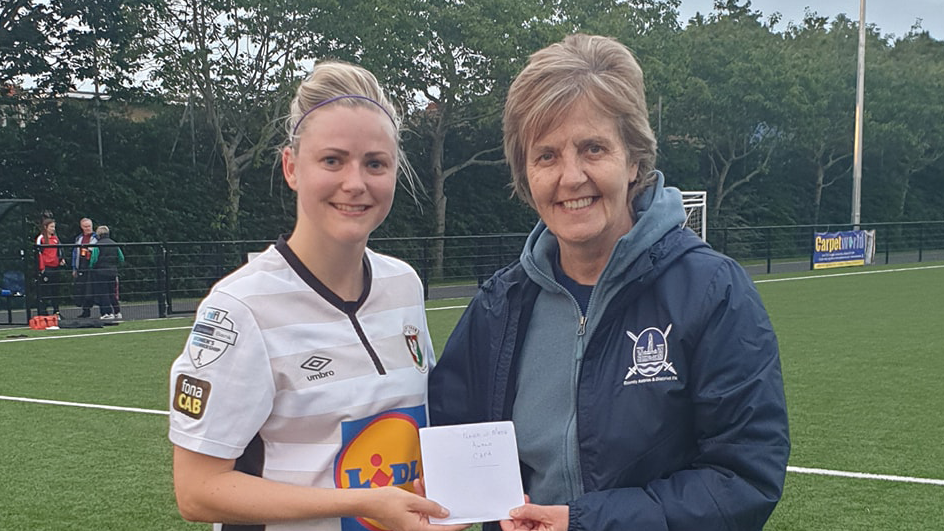 Above: Cheryl Lamont (right), seen here with Northern Ireland international and Glentoran women star Nadene Caldwell (Image: Archive)
Cheryl Lamont joins Irish FA Board as women's football representative
The Irish Football Association Board, which is chaired by Stephen Martin, has three new members.
The appointments of Cheryl Lamont, Mervyn Martin and Simon McCoy were confirmed at a meeting of the association's council on Monday evening.
Cheryl Lamont, who is the Co Antrim FA President and has played, coached and been a football administrator for many years, will be the women's football representative on the 10-strong board.
At an EGM in December it was decided the board should have a representative for the women's game in Northern Ireland going forward – and Ms Lamont is the first person to fill that role.
Mervyn Martin and Simon McCoy, who are also members of the Co Antrim FA and have been football administrators for many years, will take their places on the board following an Irish FA Council election - featuring three candidates - to fill two vacancies. 
The pair secured the most votes in the council election this evening ahead of Brian Adams of Ards FC.
The vacancies were created when Robert Haworth (Co Antrim FA) and Alan Willis (Mid Ulster FA) stepped down from the board back in October having served three terms of three years, which is the maximum permitted.
The board also includes Irish FA President David Martin, Jack Grundie, Non-Executive Director Helen Kirkpatrick, Gerard Lawlor, Non-Executive Director Norman McKeown and Michael Wilson.
Two further vacancies on the board will be filled at the next council meeting in June.