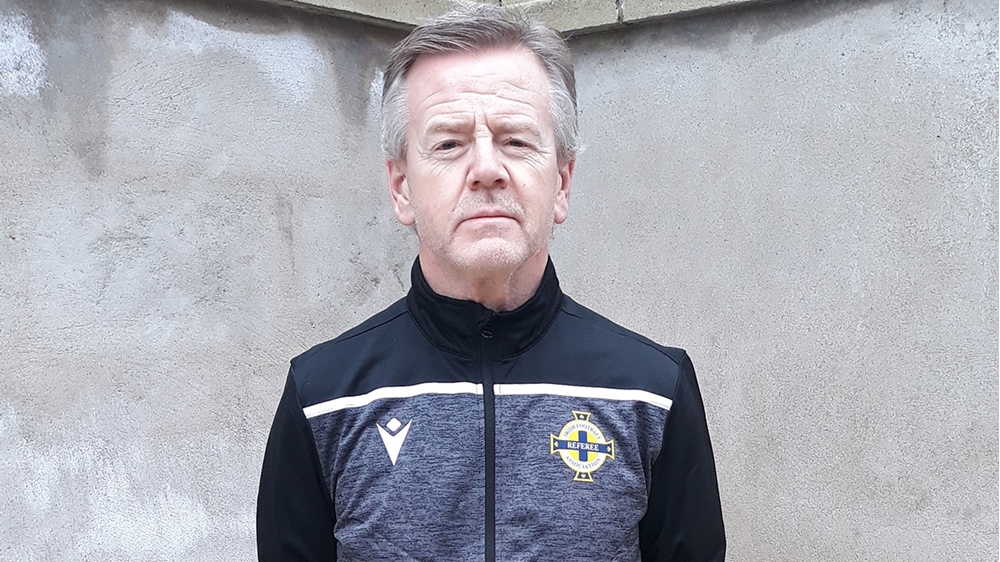 The Irish FA's Head of Refereeing, Trevor Moutray, has reinforced the important role of referees and match officials in football's lockdown landscape.  
"The good physical and mental health of our referees is crucial. They are a key component to the smooth running of our game," said Moutray.
"The refereeing community, like nearly every other part of the game, has had to pivot in light of the Covid pandemic. Physical meetings are no more, long journeys are undertaken alone because of restrictions on car sharing and the increase in games means that there has been an impact on structured rest recovery. 
"On the whole I feel we've embraced this well and it is my role to ensure we collectively keep a positive mindset, particularly when you consider the combination of a hectic match schedule and the small group of officials available to cover those games.
"There is no doubt that these are changing times and our officials continue to demonstrate the utmost resilience."
Moutray is in the middle of facilitating 'Learning through Lockdown' webinars, a series of bespoke sessions delivered to the registered match officials across the country from the likes of Alan Snoddy and Lee Probert offering advice and guidance on referee specific matters as well as nutrition and psychology.    
"This is a great way to keep connected and to help guard against any sense of isolation some of our officials may be experiencing," he said.
"The series has been developed with every match official in mind, from the recently qualified match official with much to learn to the very experienced official who is always open minded and looking for ways to make even small or modest improvements. In summary there is learning for everyone."