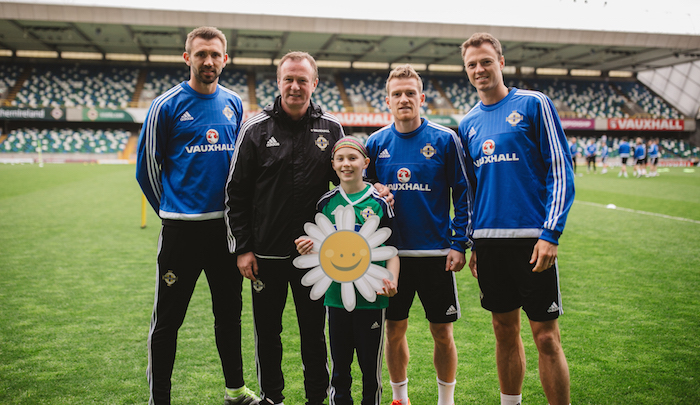 Cancer Fund for Children will be the Northern Ireland team's official charity for Euro 2016, it was announced today.
The members of the squad who will be representing Northern Ireland at the major football tournament in France next month have signed up to support the leading local children's cancer charity.
The team are keen to give something back to the Northern Ireland community by meeting families affected by cancer and fundraising to support Cancer Fund for Children through various initiatives, including auctions, donating match fees and selling limited edition ties from the Irish Football Association's official menswear provider, Bogart.
Team captain Steven Davis will lead his team in supporting a charity close to the hearts of hundreds of families across Northern Ireland. Every week in Northern Ireland another three children are diagnosed with cancer.
As the leading local children's cancer charity, Cancer Fund for Children understands the devastating impact a cancer diagnosis and treatment can have on the whole family and that beyond essential medical care there is a family life that needs to be rebuilt.
Cancer Fund for Children's Chief Executive Officer Gillian Creevy said: "We are delighted to have the support of the Northern Ireland football team during Euro 2016. As a local charity we receive less than 0.5% of our income from the Government and rely on voluntary support of local businesses and the community to help us raise vital funds to support children and young people living with cancer.
"The Northern Ireland football team have shown that with self-belief and passion you can achieve so much, and we hope to pass that positivity on to our families through therapeutic and emotional support at a time when they most need it."
To find out more about Cancer Fund for Children and keep up to date with upcoming fundraising activity with the team and the Irish Football Association, you can find us on Facebook or visit www.cancerfundforchildren.com