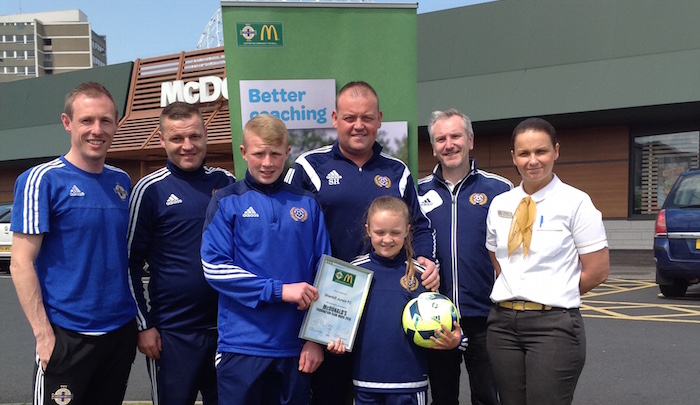 Shankill Junior FC have recently completed the Irish FA McDonald's Foundation Club Mark.
The aim of the programme is to support the development of clubs and to implement good practice policies and procedures and is a benchmark for club quality. The Foundation Club Mark prepares clubs to successfully work towards the Club Excellence Mark.
The 12 week process also involves coach bursaries, coach mentoring and club development planning. Successful clubs are also rewarded with free footballs and cones along with access to the Adidas free kit scheme.
Pictured with their certificate and equipment are representatives of Shankill Junior FC, Jordan Reid (Irish FA Regional Grassroots Development Officer for North & West Belfast) and Katrina Fox (McDonald's Business Manager).
Jordan Reid said "I am delighted to award Shankill Junior FC their McDonald's Foundation Club Mark. This is reward for their hard work in trying to develop their club and their commitment to raising standards. I look forward to working with them further in the future."
The 6th annual McDonald's Irish FA Community Football Awards aim to recognise and reward the people and clubs that are driving grassroots football in Northern Ireland.
Click here to nominate your club or an individual in your club now!