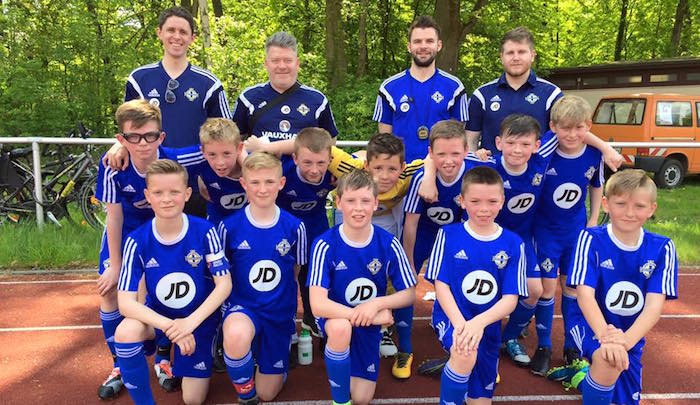 The Club NI U12s created their own little piece of history last weekend as they won the prestigious Westend Cup in Berlin.
It was the third success of the weekend, with the U16s winning their UEFA Development Tournament in Latvia and the U13s winning the Plate at the Elite Neon tournament in Athens.
Competing against the likes of Borussia Dortmund, Hertha Berlin, Augsburg and Bohemians from Prague, the Northern Ireland U12s produced a stunning display of intelligent and attractive football and they received a number of plaudits from local supporters and coaches from across Europe for their style of play and behaviour on and off the pitch.
After arriving late on Friday evening, the boys arrived at the venue early on Saturday morning and in their opening game they claimed a 3-0 win against Oranje Berlin, who had beaten off some stiff local competition to qualify for the tournament. Two goals from Charlie Lindsay and a strike from Conor Falls got the boys off to a fantastic start.
Game two saw the Club NI U12s take on the host club and the Northern Irish side continued from where they had left off and defeated the hosts by 6-1, with Liam Mullan, Conor Falls (2), Michael Forbes, Callum Marshall and Dylan Sloan all on target.
Next up was a clash against Union Berlin, who play in the second tier of German football. Northern Ireland continued to impress with some fine passing football, with every player showing their undoubted talent with the ball at their feet. Goals from Callum Marshall and Charlie Lindsay saw them claim a 2-0 win.
The fourth game was their biggest test of the day, a clash with Bundesliga giants Borussia Dortmund and the lads struggled to deal with a slick Dortmund side in very warm conditions. The fifth and final game of the day saw Club NI play out a 0-0 draw with Sydney Olympic.
However, their accumulation of 10 points saw them finish in third spot in the group and claim a place in the top tier round robin league on Sunday.
After a hearty evening meal and some post-match recovery and cool-downs, the panel got an early night and got ready for another big day of football.
First up for Club NI was another clash against Sydney Olympic and two goals from the inspirational Charlie Lindsay, who drove at every opportunity at the Australian defence saw them get off to a perfect start.
Northern Ireland knew their second game against the mighty Borussia Dortmund could determine whether or not they could compete for the top prize and in a stunning performance they won 1-0, with Conor Falls scored a fine individual goal. In defence Harry Wilson and Liam Mullan stood strong, with Michael Forbes and Charlie Lindsay thriving in their full-back role.
Jamie McDonnell and Oisin Gallagher worked their socks off in midfield and Conor Falls held the ball up superbly and chased and harried the Dortmund defence. In goals Dylan Graham provided a reassuring presence between the sticks and NI secured an impressive three points.
Next up for Club NI was another clash against Bundesliga opposition and a fine performance from Padraig Lynch saw NI claim a 3-0 win against a very talented Augsburg side. Further goals from Dylan Sloan and Conor Falls saw NI claim another three points.
The penultimate game of the competition saw NI take on Bohemians of Prague and goals from Lindsay, Falls and Callum Marshall saw Northern Ireland seal another 3-0 win!
Northern Ireland went into their fifth and final game knowing a point would seal the trophy, but with Dortmund breathing down their necks the local lads defeated Hertha Berlin by 2-0 with goals from Padraig Lynch and Conor Falls. Forwards Callum Marshall and Patrick Kelly wreaked havoc against the Bundesliga giants and NI eased their way to victory and secured the Westend Cup!
In the final stage of the competition, the Club NI side scored 11 goals and didn't concede once. They received a rapturous applause from the large crowd in attendance as they lifted the trophy and not only did they receive plaudits for their superb performances and style of football on the pitch, but also for their behaviour off it.
That evening they proudly carried the trophy through Tegel Airport and on the flight home they were given a huge round of applause by the entire plane as they returned home!
The players were coached by Conor Marlin, Stephen Lynch and Sam Gamble, with Andy McConnell looking after all the knocks and niggles as the physiotherapist for the trip. Thanks also must go to the organisers of the competition for running such a fantastic tournament and thanks also to all the staff at the Holiday Inn for all their help.
Club NI U12 squad- Dylan Graham (Glentoran), Michael Forbes (Cookstown Youth), Liam Mullan (Maiden City), Oisin Gallagher (Newell), Jamie McDonnell (Lisburn), Harry Wilson (Glentoran), Charlie Lindsay (Glentoran), Dylan Sloan (Ridgeway), Callum Marshall (Glentoran), Patrick Kelly (Coleraine), Padraig Lynch (Dungannon) and Conor Falls (Dungannon).